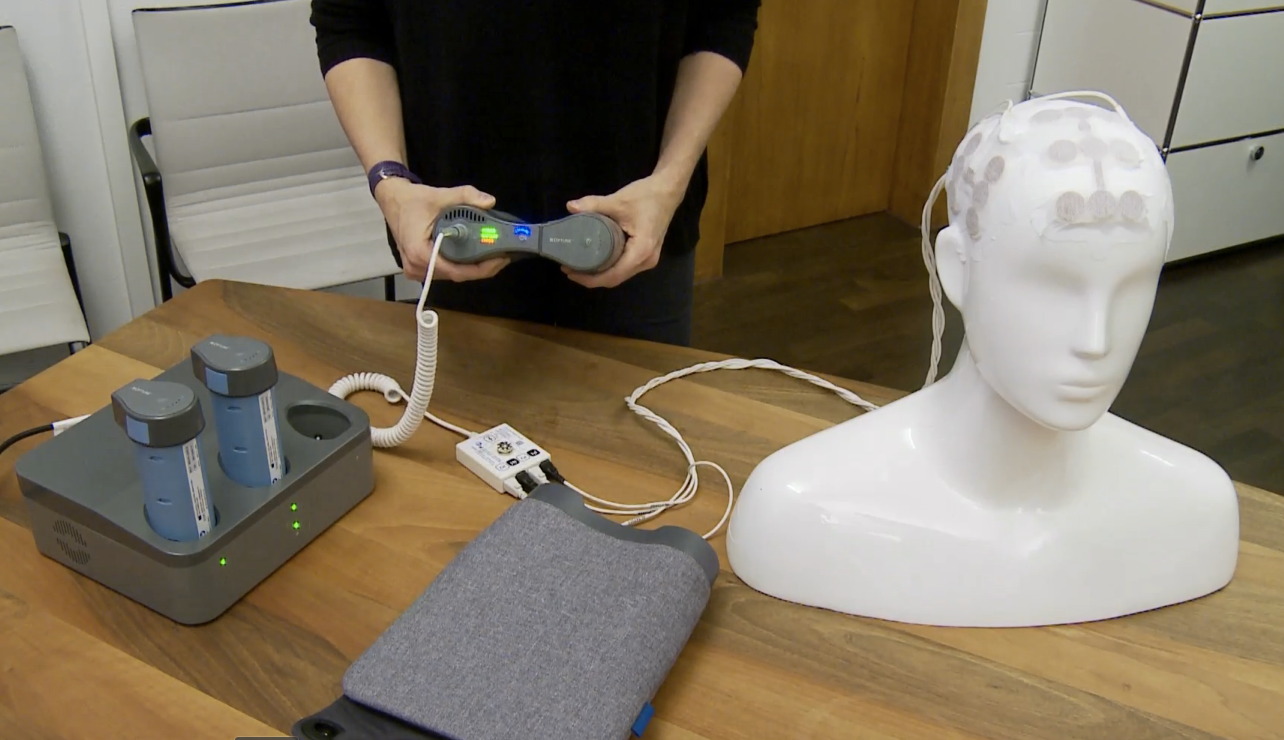 Electromagnetic therapy shows promise for patients with brain cancer
A type of electromagnetic field therapy called tumor-treating fields may help extend the lives of patients with a brain tumor who also undergo routine chemotherapy, early research suggests.
Researchers tested the therapy in people with glioblastoma -- one of the most devastating forms of brain cancer in adults. Most patients die within a year or two of diagnosis, and attempts to improve survival rates over the past decade have failed, the study, published in JAMA, points out.
Tumor-treating fields, also referred to as TTFields, work by selectively disrupting the division of cells by delivering low-intensity, intermediate-frequency alternating electric fields to the head. The device, which fits into a special backpack, contains electrodes which are attached to the patient's shaved scalp.
For the study, Dr. Roger Stupp of University Hospital Zurich and the University of Zurich, Switzerland, and his colleagues recruited 695 patients with glioblastoma from over 80 centers in the United States, Canada, Europe, Israel, and South Korea, who completed standard chemo and radiation therapy. The researchers randomly assigned 466 of the participants to receive treatment with TTFields plus the chemotherapy drug temozolomide, while the other 229 patients received temozolomide alone.
TTFields were administered continuously for 18 hours or more per day and temozolomide was given for five days of each 28-day cycle. The researchers followed up with patients at an average of 38 months. The study was funded by Novocure, an oncology company specializing in TTFields.
The results, which reflect an analysis of 210 of the participants treated with TTFields plus chemotherapy and 105 of those treated with the drug alone, found that those who underwent the electromagnetic therapy survived longer.
"Both progression-free survival, so the time until the tumor comes back, as well as overall survival is prolonged by a median of three months," Stupp said in a video provided by JAMA.
The researchers said they hope the treatment will become more widely available. "Once we have sufficient follow-up for all 695 patients we should be able to better understand who are the patients who respond and benefit from the treatments and who are the ones who do not benefit," Stupp said in a recorded statement.
But in an accompanying editorial, Dr. John H. Sampson of Duke University noted that the research does not show exactly how TTFields work to treat tumors and how the treatment may leverage chemotherapy.
"Given the survival benefit reported in this study, it should now be a priority to understand the scientific basis for the efficacy of TTFields," he wrote. To do so, he called for the development of "robust and widely available large animal models for glioblastoma, which do not currently exist."
Sampson also expressed concern about the study design, saying "a survival benefit might be associated with use of this device if either the device works or it produces a type of adherence bias. There is no way to tell from this study."
In other words, patients who adhere to prescribed therapies are also more likely to exhibit other healthy behaviors that can affect their survival outcomes -- and that bias may be at play here.
As a result, "doubts may remain as to the true efficacy of this therapy," Sampson wrote.
Thanks for reading CBS NEWS.
Create your free account or log in
for more features.