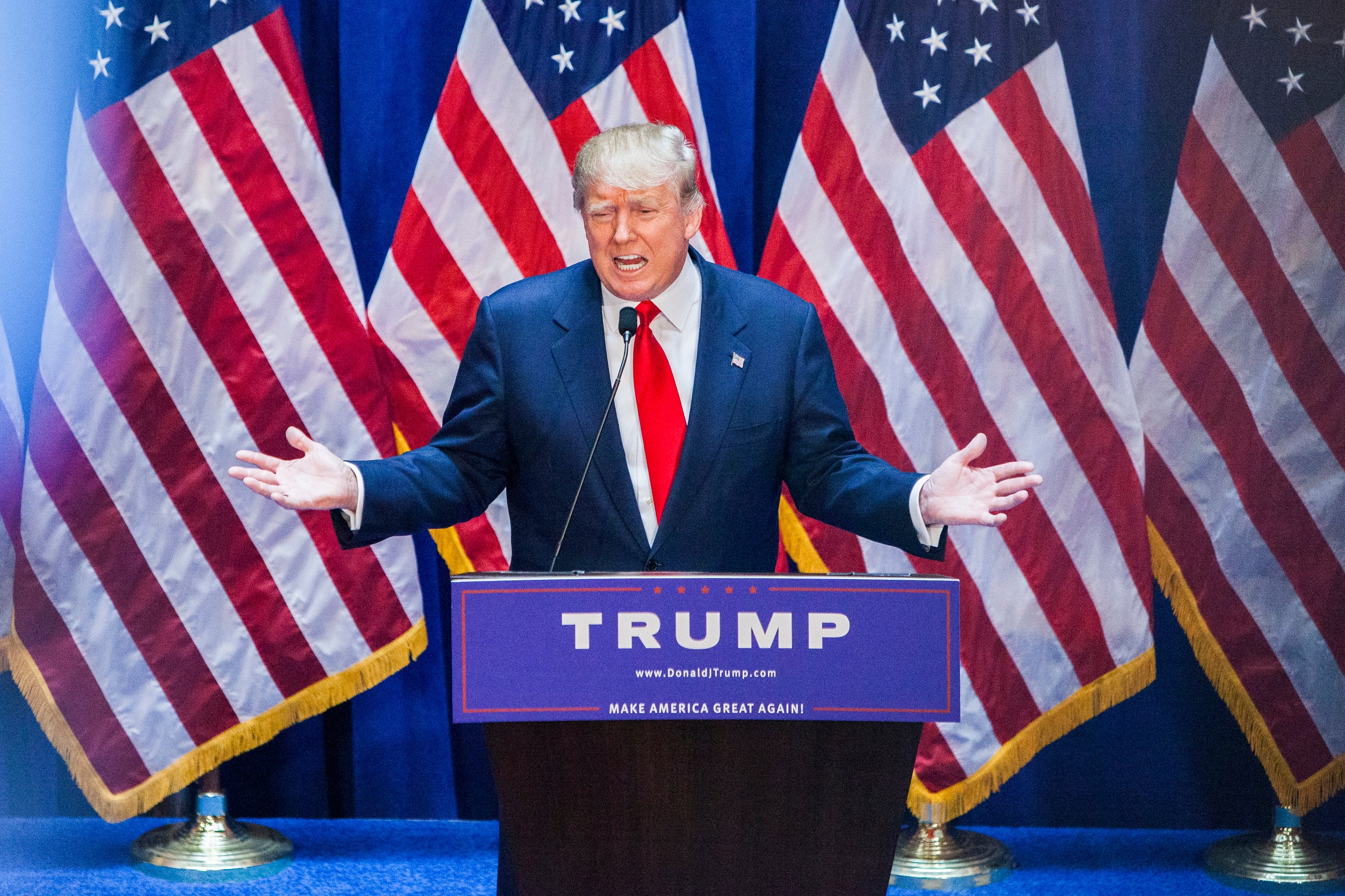 Fact-checking Donald Trump's presidential campaign kickoff
Donald Trump's presidential kickoff speech on Tuesday was many things - sprawling, boastful, grandiose, unorthodox, and, above all, entertaining.
It was also frequently wrong.
In a piece headlined "Trump Tramples Facts," the policy experts at FactCheck.org, which is a project of the Annenberg Public Policy Center at the University of Pennsylvania, catalogued a number of errors, omissions, and outright falsehoods Trump offered during his address at Trump Tower in Manhattan.
Several of Trump's inaccurate statements came during a discussion of the economy.
"Last quarter, it was just announced, our gross domestic product - a sign of strength, right? But not for us. It was below zero," Trump claimed. "Who ever heard of this? It's never below zero."
That statement, FactCheck.org noted, is "pure nonsense." The quarterly change in gross domestic product (GDP) has been below zero 42 times since 1946.
"Trump was referring to the 0.7 percent drop in the annualized rate of real (inflation-adjusted) GDP growth that Commerce Department statisticians reported on May 29," the website explained. "The drop came as no surprise, given the record snowfall that paralyzed Boston and much of the Northeast in February, and the near-record snow that covered the Chicago area and much of the Midwest."
Trump also claimed people are unable to find jobs because "there are no jobs" available.
Again, FactCheck.org noted, that's simply not true: "The Bureau of Labor Statistics reported on June 9 that the number of job openings at the end of April had increased to 5.4 million, the most job openings since the bureau began tracking them in December 2000."
At one point, Trump warned his audience, "Don't believe the 5.6" percent unemployment rate the government is reporting. "The real number is anywhere from 18 to 19 and maybe even 21 percent," he said.
Not one of those numbers was correct. The current unemployment rate, according to the Bureau of Labor Statistics, is 5.5 percent, not 5.6 percent.
It's possible Trump was referring to an alternative measure for unemployment that includes people who are under-employed or who have given up looking for work because they are discouraged, FactCheck.org noted. Even by that measure, though, he's way off - the so-called "U-6 rate" currently stands at 10.8 percent.
Trump also promised to stop the outsourcing of manufacturing jobs, taking issue with a new Ford plant in Mexico and vowing to impose a heavy tariff on any goods that come to the U.S. from that plant.
"Every car and every truck and every part manufactured in this plant that comes across the border, we're going to charge you a 35 percent tax, and that tax is going to be paid simultaneously with the transaction, and that's it," he said.
That proposal, though, would violate the North American Free Trade Agreement (NAFTA). Sean McAlinden, the chief economist at the Center for Automotive Research, told FactCheck.org, "Under NAFTA, new vehicles and parts containing 60 percent North American manufacturing content are allowed tariff free access to all three countries."
It may also be a violation of World Trade Organization rules, the website noted, which do not allow countries to increase tariffs after they've been lowered.
Moving into foreign policy, Trump took aim at President Obama's 2014 decision to approve the release of Army Sgt. Bowe Bergdahl, who was held captive by the Taliban, in exchange for the release of five Taliban-affiliated detainees at Guantanamo Bay.
Bergdahl was charged in March with desertion and misbehavior that endangered his fellow service members. And in light of that, Trump argued, Mr. Obama negotiated a terrible deal.
"We get Bergdahl. We get a traitor. We get a no-good traitor, and they get the five people that they wanted for years, and those people are now back on the battlefield trying to kill us," Trump said Tuesday.
FactCheck.org noted reports that some of the five detainees have attempted to contact their old terrorist associates, but it's still not accurate to claim they're "back on the battlefield trying to kill us."
The five men are, in fact, in Qatar, their movement restricted by a travel ban and their activities monitored closely by international authorities, according to the State Department.
On the subject of healthcare, Trump claimed Obamacare is causing premiums to rise "29, 39, 49, and even 55 percent."
But Trump omitted one crucial detail: Those are "proposed rate increases for 2016 for some plans on the individual market, but it's unclear whether such increases will be approved by state insurance regulators," FactCheck.org noted.
Under the Affordable Care Act, insurers are required to get regulatory approval for any increase in excess of 10 percent, and some of the proposed increases on the individual market are quite high. (FactCheck.org flagged a Blue Cross Blue Shield plan in New Mexico that's proposing a 65 percent increase.)
But it's highly unlikely that request will pass muster with regulators, the website noted, citing an AP story that explained, "Regulators in many states have the power to reject price increases, and many who don't are expected to at least pressure insurers to soften their plans."
And in the realm of employer-sponsored health insurance, which is how must Americans receive coverage, there's growing evidence that Obamacare is actually helping to keep a lid rising health care costs. "The average annual family-plan premium for employer-sponsored policies went up 3 percent from 2013 to 2014, according to the latest annual employer survey from the nonprofit Kaiser Family Foundation and Health Research & Educational Trust," FactCheck.org noted.
Thanks for reading CBS NEWS.
Create your free account or log in
for more features.