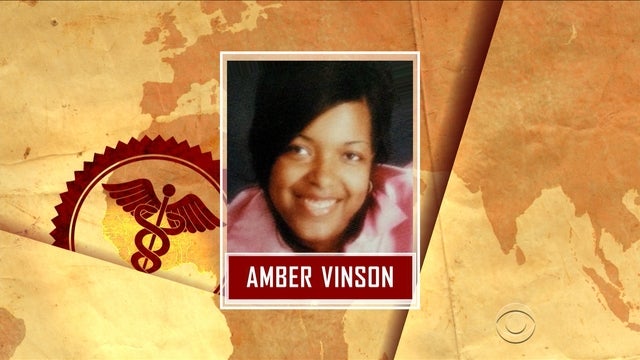 2nd nurse with Ebola called CDC before boarding flight
In the case of Amber Vinson, the Dallas nurse who flew commercially as she was becoming ill with Ebola, one health official said "somebody dropped the ball."
The Centers for Disease Control and Prevention said that Vinson called the agency several times before flying, saying that she had a fever with a temperature of 99.5 degrees. But because her fever wasn't 100.4 degrees or higher, she didn't officially fall into the group of "high risk" and was allowed to fly.
Officials in the U.S. have been trying to calm fears over the Ebola crisis, but time and again events have overtaken their assurances.
In August, before the first U.S. infection, CDC Director Dr. Tom Frieden said: "We're confident that we have the facilities here to isolate patients, not only at the highly advanced ones like the one at Emory, but really at virtually every major hospital in the U.S."
On Sept. 30, Thomas Duncan tested positive in Dallas.
"This case is serious," Texas Gov. Rick Perry said in reaction. "Rest assured that our system is working as it should."
And there was reassurance from the White House.
"Every hospital in this county has the capability to isolate a patient, take the measures, put them in place to ensure that any suspected case is immediately isolated and the follow-up steps that have been mentioned are immediately taken," Lisa Monaco, a homeland security and counterterrorism adviser to President Obama, said Oct. 3.
But health care workers weren't so sure.
"We want to make sure that we have the correct equipment - the protective equipment - to protect both our patients and ourselves," Katy Roemer, who has worked as a nurse in California for 20 years, told CBS News correspondent John Blackstone last week.
Blackstone asked her whether hazmat suits were available to her.
"Not that I know of," Roemer said.
Duncan died Oct. 8. Four days later, nurse Nina Pham got sick. Federal officials were now discovering what health workers had warned about.
"The proof of the pudding, the training, was not adequate," said Dr. Anthony Fauci, the head of infectious diseases at the National Institutes of Health. "It was not adequate. The training was not adequate. We've got to make sure the training is adequate."
The director of the CDC, who in August said he was "confident," said this Tuesday:
"We could've sent a more robust hospital infection control team and been more hands-on with the hospital from day one," Frieden said. "... I wish we had put a team like this on the ground the day the patient - the first patient - was diagnosed. That might have prevented this infection."
The CDC is reacting to the mistakes made in Dallas by turning up the heat on every hospital in the country, saying to be prepared.
Thanks for reading CBS NEWS.
Create your free account or log in
for more features.