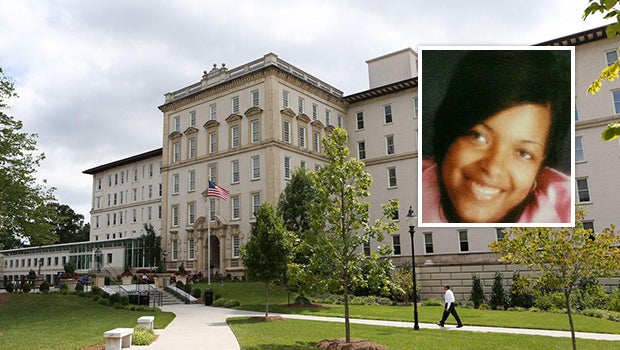 Ebola outbreak: Latest Texas patient taken to Atlanta hospital
ATLANTA -- A second Dallas-based nurse who was recently diagnosed with Ebola after treating a man who later died of the virus arrived in Atlanta for treatment Wednesday night.
Helicopter footage from local television stations showed 29-year-old Amber Joy Vinson leaving a jet and being helped into an ambulance Wednesday night. A police motorcade escorted the ambulance as it traveled to Emory University Hospital, which has already treated three Americans diagnosed with the virus.
Medical records provided to The Associated Press by the family of the first person to die of Ebola on U.S. soil, Thomas Eric Duncan, show Vinson inserted catheters, drew blood, and dealt with Duncan's body fluids before he died last week. It's not clear how she contracted the virus.
Dr. Tom Frieden, director of the Centers for Disease Control and Prevention, said the first nurse, Nina Pham, is in "improved condition."
Emory University Hospital is one of four hospitals with specialized isolation units to care for Ebola with less risk of spreading to health care workers. Emory has treated three other Ebola patients, two of them have recovered and been released. There have been no reports of health care workers at Emory contracting the disease.
U.S. Health and Human Services Secretary Sylvia Burwell said all four hospitals have been asked about whether they can accept more Ebola patients should the need arise.
In a statement released by Emory, the patient still recovering from Ebola there said: "As a result of the virus, my condition worsened and I became critically ill soon after I arrived at Emory. Through rigorous medical treatment, skillful nursing, and the full support of a healthcare team, I am well on the way to a full recovery."
Emory said its isolation unit for Ebola patients where Vinson will be taken is "physically separate from other patient areas and has unique equipment and infrastructure that provides a high level of clinical isolation."
The announcement came on the heels of the revelation that Vinson traveled by air the day before presenting symptoms and being isolated, the CDC announced Wednesday.
The revelation has raised alarms about further spread of the disease, which is transmitted through bodily fluids such as blood and saliva after the victim starts showing symptoms.
In response to the latest Ebola case, the White House announced Wednesday that President Obama is calling off a planned trip to New Jersey and Connecticut and instead will convene Cabinet officials coordinating the government's Ebola response.
The CDC said it is attempting to track down all 132 passengers aboard the plane Vinson took because of "the proximity in time between the evening flight and first report of illness. Officials identified the flight Vinson took as Frontier Airlines flight 1143 from Cleveland to Dallas/Fort Worth on October 13. They said anyone aboard the plane should call 1 800-CDC INFO (1 800 232-4636) immediately.
Vinson exhibited no signs or symptoms of illness while on flight 1143, according to the crew.
While officials have released little information about Vinson, they have said she did provide care to and had extensive contact with Duncan, whom officials refer to as "the index patient" and is the Liberian national who died at Presbyterian on Oct. 8. Duncan was the first person to be diagnosed with Ebola on U.S. soil, although he is believed to have contracted the disease while still in Liberia.
The agency said the positive test result for Vinson was returned from a preliminary test, and that "confirmation testing at the Centers for Disease Control and Prevention's laboratory is being done."
Vinson was in isolation at a Dallas hospital within 90 minutes of her finding she had an elevated temperature, officials said. They also said she lives alone with no pets.
Kent State University in Ohio, where three of Vinson's relatives work, confirmed she was the latest patient.
Kent State said it was asking the workers related to Vinson to stay off campus for 21 days "out of an abundance of caution."
Crews were at Vinson's apartment early Wednesday morning, located in north Dallas, reports CBS Dallas. They began decontaminating the complex's common areas and the space outside of her home, as well as distributing flyers to residents. Vinson's vehicle and apartment unit will be decontaminated starting early Wednesday afternoon.
Officials have said they also don't know how the first health worker, 26-year-old nurse Nina Pham, became infected. But the federal Centers for Disease Control and Prevention said "an additional health care worker testing positive for Ebola is a serious concern."
"What happened there (in Dallas), regardless of the reason, is not acceptable. It shouldn't have happened," Anthony Fauci, director of the Institute of Allergy and Infectious Diseases of NIH, said on MSNBC Wednesday.
The state health agency said the new patient had been interviewed, "to quickly identify any contacts or potential exposures, and those people will be monitored. The type of monitoring depends on the nature of their interactions and the potential they were exposed to the virus."
"We want to remind Dallas County residents not to panic and overreact," said county health director Zach Thompson. "We just want Dallas County residents to stay calm."
Pham, the first person to contract Ebola on U.S. soil, also got the disease while caring for Duncan. She repeatedly visited his room from the day he was admitted to the intensive care unit until the day before he died, medical records show.
Pham and other health care workers wore protective gear, including gowns, gloves, masks and face shields -- and sometimes full-body suits -- when caring for Duncan, but confirmation of the new case came a day after a national nurses union decried an absence of protocols at the Texas hospital.
Pham will be monitored in Dallas to determine the best place for her care, CDC chief Frieden said Wednesday.
The CDC has acknowledged that the government was not aggressive enough in managing Ebola and containing the virus as it spread from an infected patient to a nurse at a Dallas hospital.
"We could've sent a more robust hospital infection control team and been more hands-on with the hospital from day one about exactly how this should be managed," he said.
The second case may help health officials determine where the infection-control breach is occurring and make practices safer for health workers everywhere. For example, if both health workers were involved in drawing Duncan's blood, placing an intravenous line or suctioning mucus when Duncan was on a breathing machine, that would be recognized as a particularly high-risk activity. It might also reveal which body fluids pose the greatest risk.
When Pham's mother learned she was caring for Duncan, she tried to reassure her that she would be safe.
Pham told her: "Mom, no. Don't worry about me," family friend Christina Tran told The Associated Press.
Duncan's medical records make numerous mentions of protective gear worn by hospital staff, and Pham herself notes wearing the gear in visits to Duncan's room. But there is no indication in the records of her first encounter with Duncan, on Sept. 29, that Pham donned any protective gear.
Thanks for reading CBS NEWS.
Create your free account or log in
for more features.