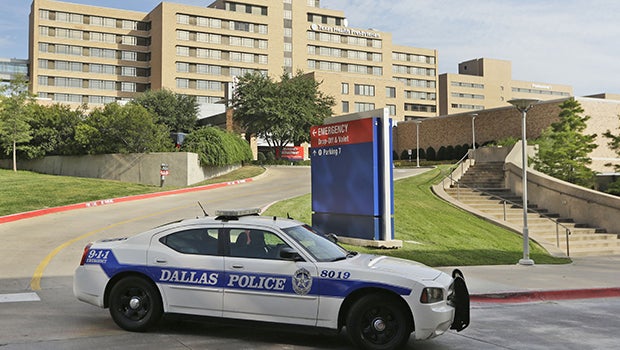 Ebola confirmed in Texas patient; 1st case diagnosed in U.S.
The U.S. Centers for Disease Control and Prevention has confirmed the first case of Ebola virus diagnosed in United States. The patient -- identified by KTVT Wednesday as Thomas Eric Duncan, a Liberian national -- had recently flown here from Liberia to visit family. He was admitted on Sunday to an isolation unit at Texas Health Presbyterian Hospital Dallas to be tested for Ebola after he began exhibiting symptoms.
"This is the first case of Ebola diagnosed in the U.S., and the first case of this strain of Ebola diagnosed outside Africa," Dr. Tom Frieden, director of the CDC, said at a news conference Tuesday evening.
Frieden sought to reassure the public, stating "I have no doubt that we will control this importation, this case of Ebola, so it will not spread widely in this country." He acknowledged it was possible that "a handful" of others in close contact with the patient may have been exposed. He said those people would be tracked down, and he expressed confidence the disease would be contained. "I have no doubt we will stop it here," he said.
In Dallas, Mayor Mike Rawlings told CBS DFW the EMS crew and ambulance that transported the patient have themselves been put in isolation, as a precaution.
Frieden said the patient left Liberia on Sept. 19 and arrived in the United States the next day to visit relatives. He was not experiencing symptoms at the time, and therefore would not have been contagious to any other travelers, experts say. "There is zero risk of transmission on the flight," Frieden said. "Ebola doesn't spread before someone gets sick, and he didn't get sick until four days after he got off the airplane. So we don't believe there was any risk to anyone on the flight." He declined to release any details about the man's itinerary or flight numbers.
Ebola cannot be transmitted through the air; it is only spread through direct contact with the bodily fluids of people who are infected and exhibiting symptoms, doctors say.
Frieden said the patient started to develop symptoms on Sept. 24, initially sought treatment on Sept. 26, and was admitted to the hospital in Dallas on Sept. 28, where he was placed in isolation. He was tested for Ebola on Monday and the results came back positive today. He is said to be critically ill.
"We will contact anyone we think has any likelihood of having had contact with the patient when he was infectious," Frieden said, presumably starting with the relatives the patient was visiting. He said the process of tracing those contacts was still in the early stages.
Once contacts are identified, health officials said they will be monitored for 21 days, the length of the incubation period, to see if they develop a fever. If so, they too would be put into isolation and treatment.
Dr. Edward Goodman, epidemiologist at Texas Health Presbyterian Hospital Dallas, where the patient is being treated, said the hospital has a "robust infection control program" and would take precautions to keep the disease from spreading. "We have had a plan in place for some time now" to deal with the possibility of a patient presenting with Ebola, Goodman said. "We were well prepared to deal with this crisis"
Frieden did not say whether the patient would receive any experimental drug treatments or a serum using antibodies from the blood of Ebola patients who've recovered, which appear to have helped in some other cases. Supplies of one highly promising experimental drug, ZMapp, have run out and will not be an option. ZMapp was credited with helping several earlier patients survive the disease, which is fatal in 50 to 90 percent of cases.
The virus has killed more than 3,000 people across West Africa and infected a handful of American health care workers who were working in the region.
In August, American missionary Nancy Writebol and Dr. Kent Brantly contracted Ebola at the treatment center where they were working in Liberia. Both were flown to Emory University Hospital in Atlanta in strict medical isolation and both recovered. A third patient, Dr. Rick Sacra, was also evacuated from West Africa and received treatment at the Nebraska Medical Center in Omaha, where he recovered earlier this month.
The CDC has said 12 other people in the U.S. have been tested for Ebola since late July, including a man at Mount Sinai Hospital in New York City, but all of those tests came back negative.
Thanks for reading CBS NEWS.
Create your free account or log in
for more features.