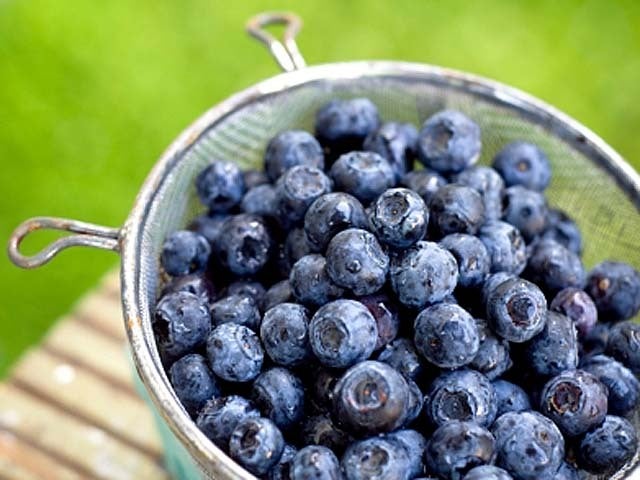 Eating blueberries and strawberries staves off memory decline, study suggests
(CBS News) Berries might provide a safe and easy way to boost brain power, a new study suggests. The study from Harvard researchers shows eating berries could stave off the cognitive decline and memory loss that comes with aging.
What's healthier than blueberries? Say hello to "extreme" berries
FTC pulls plug on fake news sites pushing acai berry diet pills
VIDEO: Berries boost brain power: study

For the study, researchers looked at data from the long-running Nurses' Health Study of nearly 122,000 registered nurses between the ages of 30 and 55 who completed health questionnaires starting in 1976. Every four years the nurses were surveyed on their eating habits and between 1995 and 2001, researchers began testing memory in 16,000 of the nurses who by this time were over 70 years old.
Testing the subjects' memory in two-year intervals, the researchers found nurses who ate the most blueberries and strawberries delayed their memory decline up to 2.5 years compared with those who did not report eating berries. The findings are published in the April 26 issue of the Annals of Neurology.

"What makes our study unique is the amount of data we analyzed over such a long period of time. No other berry study has been conducted on such a large scale," study author Dr. Elizabeth Devore, a researcher in the Channing Laboratory at Brigham and Women's Hospital and a professor at Harvard Medical School in Boston, said in a hospital news release. "Among women who consumed 2 or more servings of strawberries and blueberries each week we saw a modest reduction in memory decline. This effect appears to be attainable with relatively simple dietary modifications."
CBS News medical correspondent Dr. Holly Phillips said on CBS This Morning, that flavonoids were likely behind the brain boost. Flavonoids have antioxidant and anti-inflammatory properties, and according to Philips, stress and inflammation contribute to a decline in brain functioning and increasing flavonoid intake can slow those harmful effects.
A recent study found flavonoids found in dark chocolate may protect against heart disease risk, HealthPop reported.
"I think it's very exciting because there's not a lot that's been reported in the human literature that's focused on these types of compounds," Dr. Brent Small, professor of aging studies at the University of South Florida in Tampa who was not involved in the research, told WebMD.
What else can people do to reduce their risk of cognitive decline? Recent research has showed resistance training exercise, doing challenging puzzles, and maintaining a healthy weight are all ways to reduce dementia risk.
Thanks for reading CBS NEWS.
Create your free account or log in
for more features.