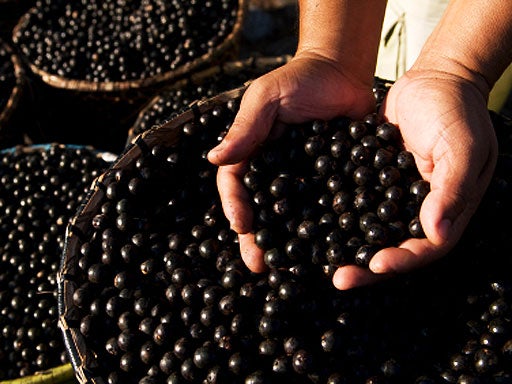 FTC pulls plug on fake news sites pushing acai berry diet pills
(CBS) Ever been directed to a "news" website that contains scientific articles touting the benefits of acai berry pills?
The Federal Trade Commission says those sites are all a scam.
PICTURES: Six weight-loss supplements to avoid
Federal regulators announced settlements Wednesday with six online marketers who were accused of using fake news sites on the Internet to entice customers to buy acai berry weight-loss products. The sites promised rapid and substantial weight loss, sometimes claiming people could lose 25 pounds in four weeks without changing their diets or exercising.
But the FTC accused the marketers of designing websites that falsely appeared as if they were part of legitimate news organizations. The sites boasted investigative-sounding headlines and presented a reporter's "first-hand experience" with acai berry supplements.
The commission went to court in April, seeking temporary restraining orders against the marketers. All six have since taken down their sites pushing the pills.
Acai is a dark purple fruit from a palm found in Central and South America. The marketers advertised their supplement as a weight-loss aid, and often sold with a separate "colon cleanser" product.
Four other similar cases are pending.
"We have ongoing efforts to aggressively challenge deceptive advertisements over the Internet like the fake news sites attacked here, and our enforcement actions can potentially reach anyone in the chain between a seller and the consumer," said Steven Wernikoff, an FTC attorney in Chicago.
FTC attorney Matthew Wernz said consumers paid $70 to $100 for a supply of the pills.

The commission said the marketers who agreed to the proposed settlements were: Ricardo Jose Labra in Michigan; Zachary S. Graham in Minnesota with Ambervine Marketing, LLC and Encastle, Inc.; Tanner Garrett Vaughn in Washington state; Thou Lee in Minnesota; Charles Dunlevy in Pennsylvania; and DLXM, LLC and Michael Volozin in New York.
Under the agreements, they are barred from making deceptive claims and required to make clear that their messages are advertisements and not objective journalism. In all, the six marketers will pay about $500,000 to the commission.
While the FTC says the websites were a scam, acai berries' benefits are still up in the air. Acai berries contain antioxidants and previous research suggests that eating a diet rich in antioxidants may reduce the risk for diseases like heart disease and cancer.
But according to WebMD, "The jury's still out on whether there is something special about acai's ability to shed excess pounds."

Thanks for reading CBS NEWS.
Create your free account or log in
for more features.