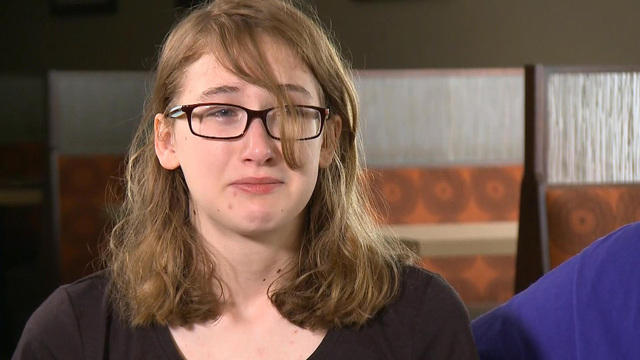 Teen who lost her dad and brother describes duck boat capsizing
Pam Smith wasn't with her husband and children on the duck boat that capsized and sank last Thursday near Branson, Missouri. She said she needed to do some shopping, so the kids and their father, set out to have some fun.
Her final conversation with her husband took place just before the boat sank.
"He says, 'It's not good, Pam,'" Pam told "CBS This Morning: Saturday" co-host Dana Jacobson. "And I told him I loved him, he told me he loved me. And I asked him to take care of the kids. That was our last words."
Moments after the end of that phone call between her parents, 14-year-old Loren Smith says, the duck boat began filling with water. She swam out of the sinking boat to safety.
"It was just murky water. I know I swallowed a lot of it trying to breathe," Loren said.
Jacobson asked, "How did you make it out?"
"I don't know."
Seventeen people died in the accident.
Crying, Loren described trying to help another victim: "I saw someone struggling. I went up to push up their feet so they could get help. But the waves were too big, I couldn't go back to save that person. It could have been my brother. It could have been my dad."
Loren says the waves eventually pushed her toward the dock, and she clung on until someone pulled her out.
Her father, Steve Smith, a 53-year-old church deacon, and her 15-year-old brother Lance were among the 17 people who drowned.
Pam Smith later found her daughter at the hospital.
"I think I kissed her a thousand times because I love her so," Pam said. "But then my heart sunk too because Lance wasn't there."
Jacobson asked, "How do the two of you as a family deal with this loss?"
"Prayers," Pam replied. "We're going to have to lean on people. She's all I've got now. So, we've got to take care of each other."
The Smith family makes the roughly 200-mile trip from their home in Osceola, Arkansas, to Branson, Missouri, nearly every summer. Pam and Steve had been married almost 28 years.
"He liked to talk to anybody," said Pam. "He never met a stranger. He was just an exceptional guy."
Jacobson asked. "How do you want the two of them to be remembered?"
"For their Christian walk," Pam replied. "Lance, he was recently baptized. This past Sunday, he preached. And I was so proud. And his little mini-sermon was on being a good example. He had such a big heart."
"Everybody was his friend," Loren added.
"Yes, everybody just loved him."
Loren said losing her brother "is like losing one of your best friends. One of the closest best friends you'll ever separate from."
Jacobson asked. "Have you thought a lot about that time on the boat?"
"I'm thinking, 'Why me? Why do I have to live?'" Loren said.
"You got to live to share your brother's memory, and your father's."
"And you have purpose,' said Pam. "You have a purpose, Loren. You've got big things ahead of you. And God knows, I needed you."
Authorities have blamed stormy weather for the accident. According to the National Weather Service, winds at the time were blowing as hard as 65 mph.
A lot of people have asked why the duck boat was allowed to go out on the water under those conditions. Loren said on the sky was clear and the water was calm when they first set out. Halfway through the trip, conditions took a sudden turn for the worse, with tragic results.
Thanks for reading CBS NEWS.
Create your free account or log in
for more features.