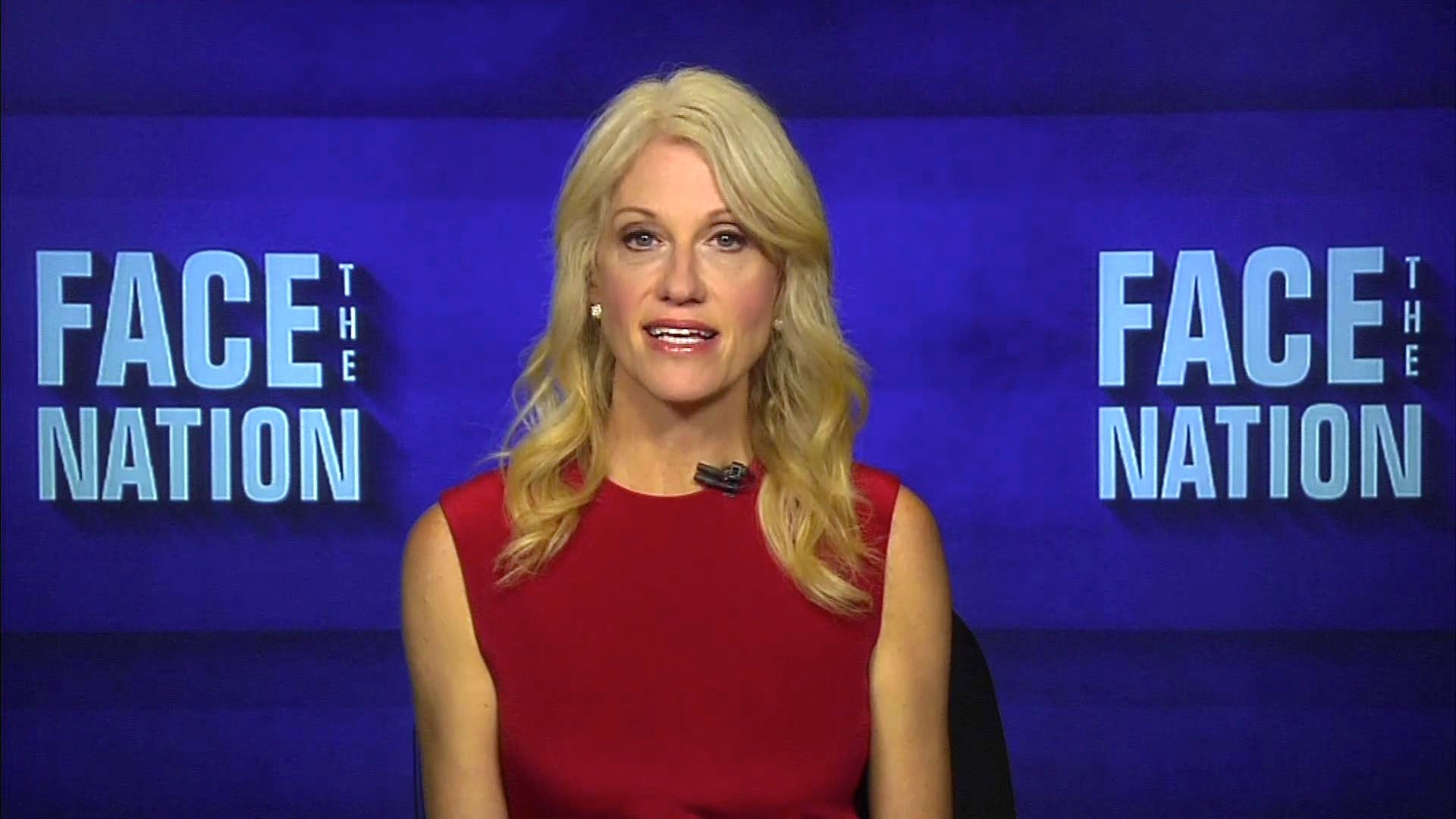 Donald Trump's campaign manager says he's not shifting on immigration
Donald Trump's campaign manager Kellyanne Conway on Sunday pushed back against the idea that the GOP presidential nominee is changing his policy positions on immigration.
On CBS's "Face the Nation," host John Dickerson pointed out that Trump has advocated deporting roughly 11 million undocumented immigrants living in the U.S. and he asked why Trump is shifting on that stance.
"Actually, he's not, John," Conway said. "He's pretty consistent. Immigration is a very complex issue."
Conway continued by laying out the main points of his immigration plan, which she said amounts to "no amnesty," as well as "building that wall," ending sanctuary cities and enforcing the law.
"He has also said that for those 11 million -- if that is in fact the number -- he wants to address that issue humanely and fairly. Those were his words,. He has also said he does not want to cause harm to people," she said. "The question is what to do. He has said if you want to be here legally, you have to apply to be here legally. We all learned in kindergarten to stand in line and wait our turn and he is not talking about a deportation force."
Dickerson then asked Conway if the law is enforced, does that mean he would call for undocumented immigrants to self-deport or if he would create a deportation force.
"That's really the question here, John," Conway replied. "He has to deal with those agencies and those individuals are are already responsible for this who aren't doing the jobs."
Conway added that Trump would "work with law enforcement [and] immigration agencies]" to take care of the issue in a "fair, humane and effective" way.
Her comments come after a week of Trump appearing to sway back and forth on how to deal with the 11 million, first saying that he was open to a "softening" of his policy and then describing it as a "hardening" whereby there would be "no amnesty" and no path to legalization. Trump also said that he had planned to announce something in the next two weeks on immigration. On Saturday, he began to offer hints of what's to come.
Trump also came under fire Saturday for tweeting about Dwyane Wade's cousin being shot in Chicago while walking her baby in a stroller and claiming that black people would, as a result, vote for him in November.
"Dwyane Wade's cousin was just shot and killed walking her baby in Chicago. Just what I have been saying. African-Americans will VOTE TRUMP!"
Asked what that tweet meant, Conway defended him by also pointing out another tweet in which Trump expressed his condolences.
"I think you have to look at both tweets where he expresses his condolences and he says...he reminds everybody he's been trying to make the case that the increase in random crime and senseless murders, the poverty, the joblessness, the homelessness in some of our major cities is unacceptable to all of us."
Asked if Trump will continue to label Hillary Clinton as a "bigot," Conway also defended him by saying, "Do you see what Donald Trump is called by nearly everybody in Clinton's world and by many supporters in the media before he gets out of bed in the morning?"
Thanks for reading CBS NEWS.
Create your free account or log in
for more features.