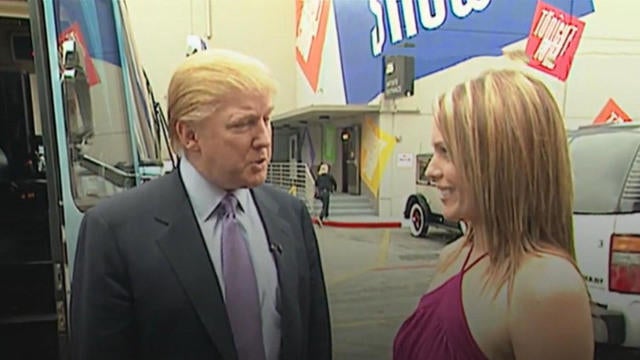 How Trump's coarse statements will influence female voters
The newly-leaked video featuring Donald Trump's comments about groping women draws new attention to his history of questionable statements. The Republican nominee has apologized for the language he used in the 2005 tape. But this latest incident threatens to erode his already-wary support among female voters.
Over the course of his campaign, Trump has insulted comedian Rosie O'Donnell, Republican primary opponent Carly Fiorina, and Fox anchor Megyn Kelly, to name a few. But Trump's history of coarse statements goes back decades -- something many women voters find repulsive, reports CBS News correspondent Jan Crawford.
The leaked "Access Hollywood" video of Trump was not the only thing that put his campaign on the defensive this weekend.
CNN uncovered interviews he did with shock jock Howard Stern in 2005 and 2006, where he talked about Ivanka Trump's appearance …
Stern: "By the way, your daughter ..."
Trump: "She's beautiful."
Stern: "Can I say this? A piece of a**."
Trump: "Yeah."
... And sleeping with beauty pageant contestants:
Stern: "Some of these foreign girls, you know, 'Mr. Trump, in my country, we say hello with vagina.'" (laughs)
Trump: "Well, you could also say, as the owner of the pageant, it's your obligation to do that."
After the first debate, Trump spent days attacking 1996 Miss Universe Alicia Machado, who had accused him of making derogatory comments and humiliating her because she gained weight.
"She was the worst we ever had," Trump said in a post-debate appearance on "Fox & Friends." "The worst, the absolute worst, and she was impossible."
And last week, the Associated Press reported Trump subjected contestants and crew on "The Apprentice" to crass and sexist behavior.
Trump: "You dropped to your knees?"
Brande Roderick: "Yes."
Trump: "It must be a pretty picture -- you dropping to your knees."
"He wanted everybody to think his office was decorated with beautiful women," said Barbara Res, who worked with Trump for nearly two decades. A former executive vice president of his company, and today a Clinton supporter, Res says Trump often made inappropriate comments to his staff.
"It created what we call a hostile environment -- all the talk about Playboy and stuff like that," she said.
In a May interview with Norah O'Donnell, Ivanka Trump defended her father against accusations of sexism and misogyny.
"He's not a groper," Ivanka said. "That's not who he is, and I've known my father obviously my whole life, and he has total respect for women."
At last night's debate, Trump characterized the "Access Hollywood" tape (in which he boasted of sexually assaulting women, whom he said allowed him to do so because he was famous), as "locker-room talk," and said he was not proud of it.
Anderson Cooper: "Have you ever done those things?"
Trump: "Women respect me. And I will tell you ... No, I have not."
But Trump had a strained relationship with female voters before the latest revelations, according to USA Today Washington bureau chief Susan Page.
"Donald Trump has been leading among men in national polls, but he's trailed among women," Page said. "In fact, he already had the biggest gender gap in our modern American political history."
Trump has also pointed to his record of promoting women to key positions in his company.
But a new CBS News poll found that 53 percent of female voters in the battleground state of Pennsylvania said the leaked footage worsened their view of Trump.
Thanks for reading CBS NEWS.
Create your free account or log in
for more features.