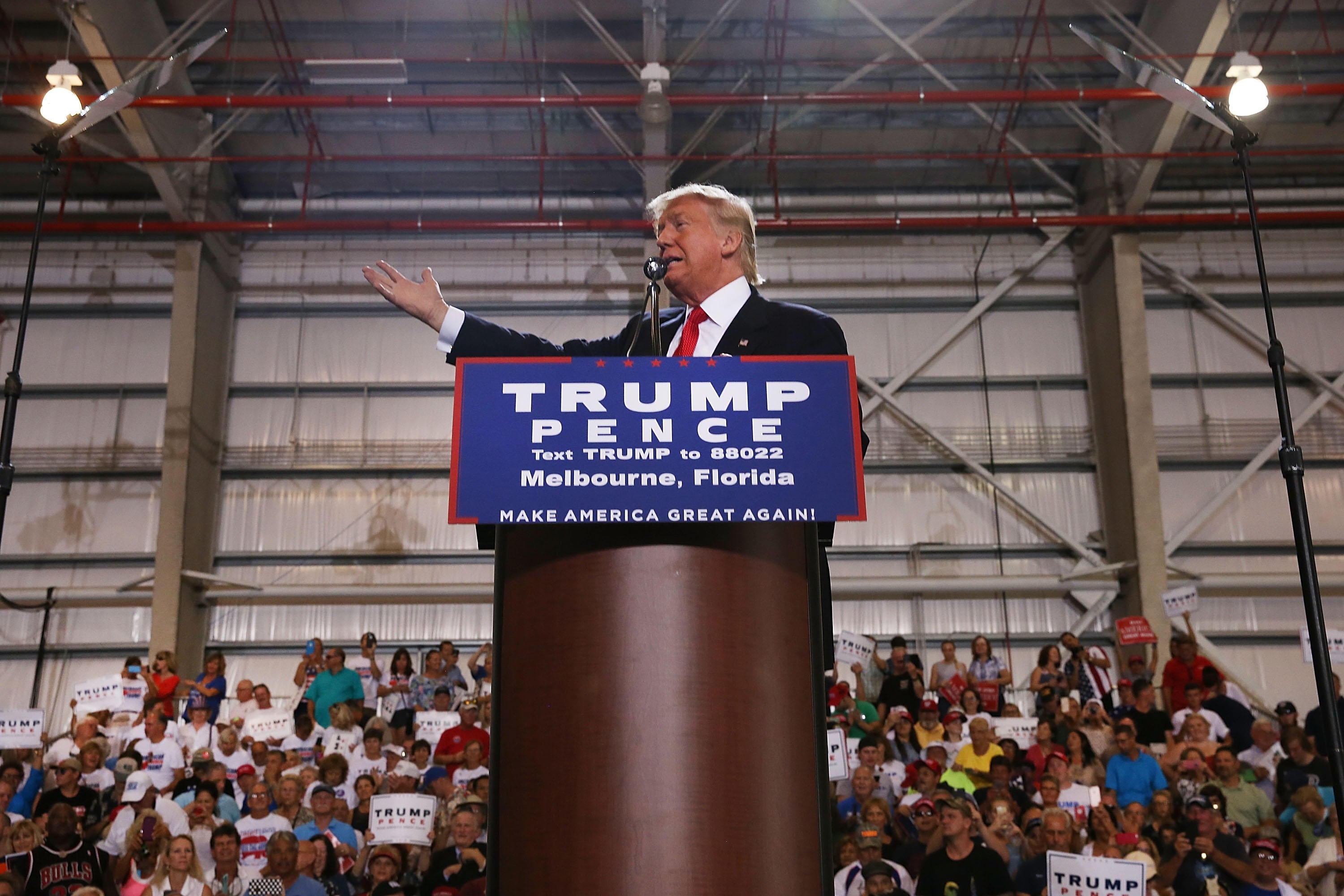 Poll: Gender gap in views on Trump tape describing advances on women
Hillary Clinton leads in the key state of Ohio by four points (46 percent to 42 percent) and in Pennsylvania by a wider eight point gap (48 percent to 40 percent), a state that seems critical to Donald Trump's electoral hopes. And Clinton also is ahead in Wisconsin 43 percent to 39 percent.
That polling was done prior to the news about Donald Trump's comments on the videotape. Then respondents in Ohio and Pennsylvania were recontacted Friday night and Saturday, and were asked about the videotape. Eight in ten had either seen it or heard about it.
Slight majorities in each state, 54 percent in Ohio and 51 percent in Pennsylvania, said the tape did not change their view of Trump, while 44 percent in Ohio and 47 percent in Pennsylvania said it made them think worse of Trump, though most in the latter groups were not supporting him beforehand. There is a gender gap on this: in Pennsylvania, women are more likely than men to say it makes their view of Trump worse, by 53 percent to 42 percent.
Although it is too soon to tell if the tape will change votes outright the initial reaction to it suggests that it will certainly be on voters' minds in tonight's debate, and the response among women is notable in context because Trump was already facing deficits among women voters and in particular among women with college degrees, who give higher support to Clinton than they have to past Democratic nominees in those states, bolstering the overall numbers for Clinton.
But for Trump's supporters in particular, the data suggests there isn't much impact so far: Ninety-one percent of his backers in Ohio and 90 percent in Pennsylvania say it doesn't change their view of him. That steadiness among current Trump supporters is in keeping with other polling we've seen through the year -- in which Trump's voters conceded their candidate sometimes said controversial things, but his supporters remained with him, often focused on other items like changing Washington or shaking up politics. In this Tracker poll, before the release of the tape, Trump voters said that the idea of "ending political correctness" is one reason they are backing him: Seventy-eight percent of his voters say so in Pennsylvania, and 75 percent of his voters say so in Ohio.
Clinton continues in these states to be seen as prepared to be commander-in-chief but has low numbers on being seen as honest and trustworthy – just 33 percent in Pennsylvania – despite her lead in the state. Most voters in Ohio, Pennsylvania, and Wisconsin don't think either candidate values or respects people like them.
This CBS News 2016 Battleground Tracker is a panel study based on 2,987 interviews conducted on the internet of registered voters in Ohio, Pennsylvania and Wisconsin Oct. 5-7. The margin of error for Pennsylvania is 4.2 percent, for Ohio is 3.9 percent, for Wisconsin is 4.3 percent. A fraction of those interviewees – 789 people – were subsequently re-contacted for additional questions in Ohio and 715 re-contacted in Pennsylvania, Oct. 7-8. The margin of error is 4 percent in Ohio and 4.2 percent in Pennsylvania.
Thanks for reading CBS NEWS.
Create your free account or log in
for more features.