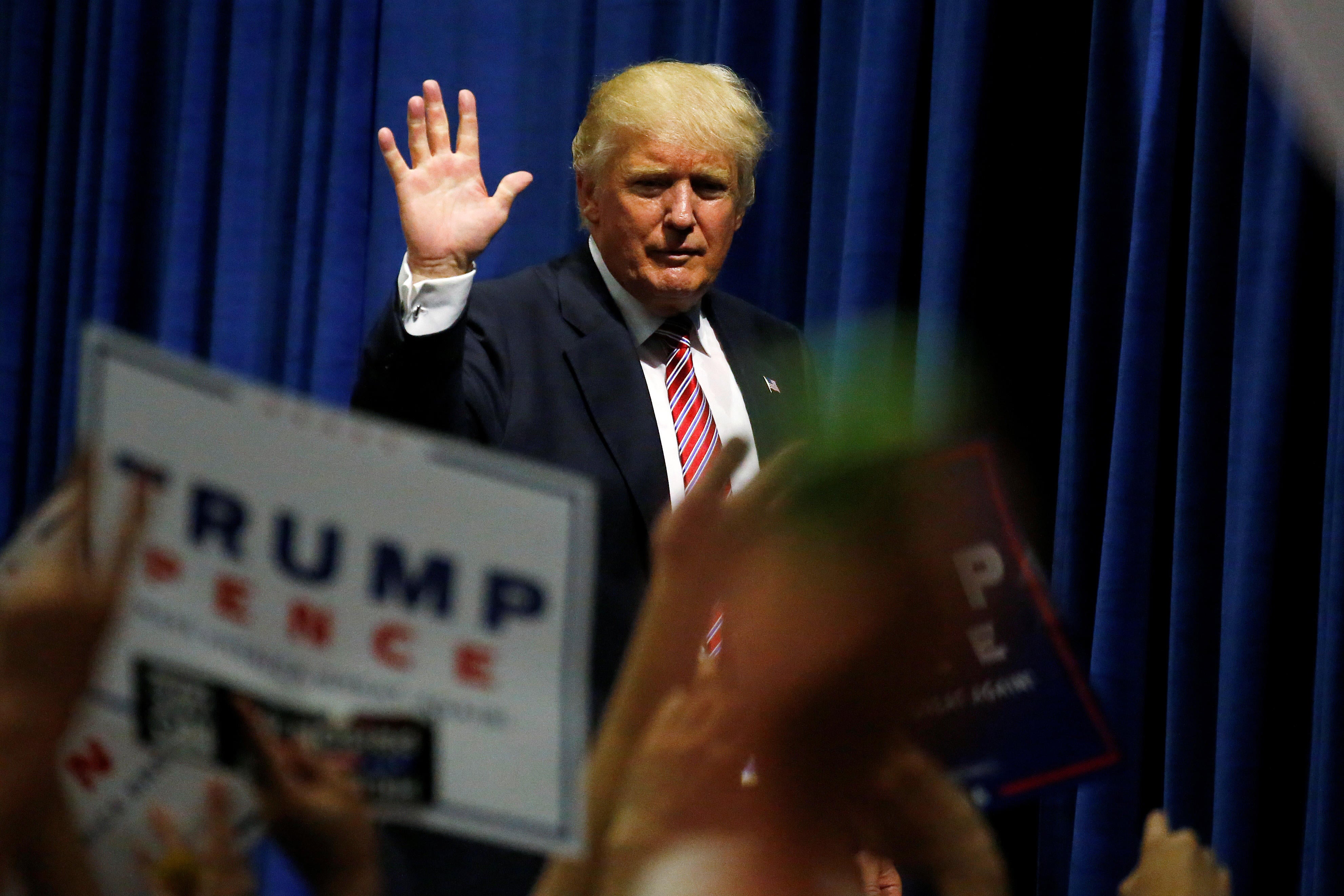 Donald Trump: No citizenship for illegal immigrants "unless people leave the country" first
Donald Trump again worked to clarify his position on immigration Thursday, telling CNN in an interview that there is "not a path to legalization" for illegal immigrants under his plan—but acknowledging in the same interview that it's impossible to deport all of the approximately 11 million people in the country illegally at once.
"No, there's not a path to legalization unless people leave the country, if they come back in and then they have to start paying taxes," he told CNN's Anderson Cooper in a pre-taped interview from Manchester, N.H. "But there is no path to legalization unless they leave the country and come back."
However, he also admitted that he would first plan to deport the "bad dudes" who are in the country illegally - "probably millions ... certainly hundreds of thousands," he estimated - rather than seek to expel everyone who's in the U.S. illegally.
"You know, it's a process. You can't take 11 [million] at one time and say, 'Boom, you're done,'" Trump said, adding: "Nobody even knows it's 11 [million], it could be 30 [million], it could be 5 [million]."
Even when pushed on the issue, Trump said he would "see what happens" before committing to deporting every single illegal immigrant.
"We're going to see what happens once we strengthen up our border," he said, noting that if he is president "we're going to deport many people—many, many people."
Trump's comments come during a week in which he and his campaign have discussed a "softening" of his stance on immigration—a process that has gotten pushback from his supporters on the right who backed him because he made a hard-line immigration plan a cornerstone of his campaign thus far.
"I don't think it's a softening," he insisted to CNN. "I've had people say it's a hardening, actually."
What Trump has and has not meant by "softening" has shifted multiple times this week. In an interview that aired not even 24 hours before his Thursday comments, Trump's position on the issue was similarly muddled: he suggested his administration could "work with" the millions of illegal immigrants who are already residing in the country.
"No citizenship," he told Fox News' Sean Hannity during a taped town hall event. But he added: "Let me go a step further: they'll pay back taxes, they have to pay taxes; there's no amnesty, as such, there's no amnesty, but we work with them."
He said in that interview that he had heard stories on the campaign trail of families concerned they'd be divided if all illegal immigrants were deported.
"Now, everybody agrees we get the bad ones out," Trump said. "But when I go through and I meet thousands and thousands of people on this subject, and I've had very strong people come up to me, really great, great people come up to me, and they've said, 'Mr. Trump, I love you, but to take a person who's been here for 15 or 20 years and throw them and their family out, it's so tough, Mr. Trump,' I have it all the time! It's a very, very hard thing."
The GOP nominee has said he will "announce something" about his immigration stance within the next two weeks.
Trump's week of explanations on immigration are already earning him criticism from his allies within the Republican Party—including former Alaska Gov. Sarah Palin, who on Thursday called his positions "wishy-washy."
"Parts of the message we heard in the last week are clearly not consistent with the stringent position and message that supporters have received all along," Palin said, according to the Wall Street Journal.
Thanks for reading CBS NEWS.
Create your free account or log in
for more features.