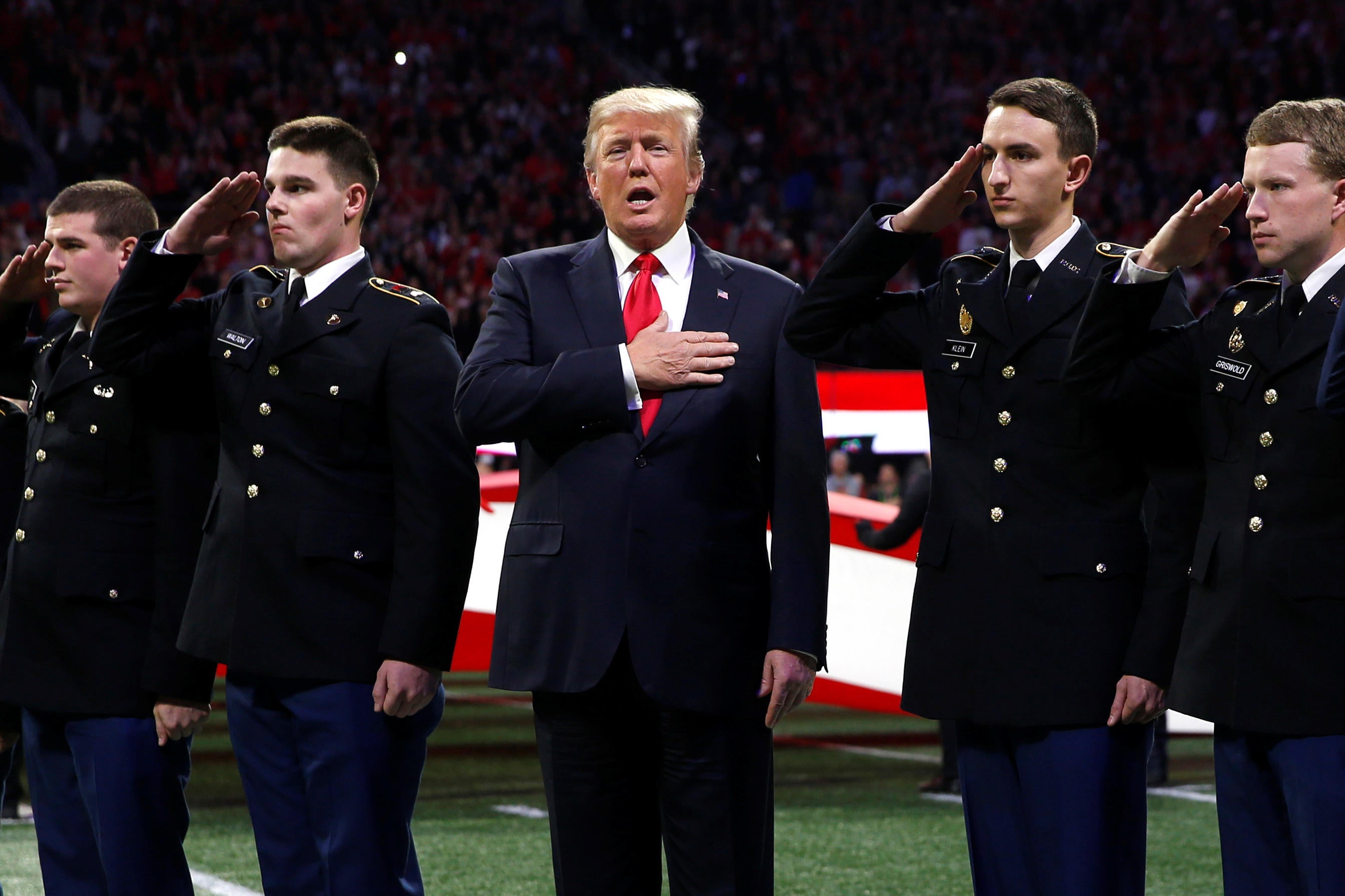 Trump makes rare sports appearance in office with NCAA football game
In a first for his presidency, President Trump attended the NCAA championship football game Monday evening, as the Georgia Bulldogs faced off against the Alabama Crimson Tide in Atlanta, Georgia, though he left at halftime, well before the Crimson Tide won in overtime in a dramatic finish, 26-23.
Monday night Mr. Trump took to the field as tens of thousands of fans who filled the $1.5 billion Mercedes-Benz Stadium greeted him with mixed reaction as ROTC members escorted him onto the field for the national anthem. Mr. Trump stood with his hand over his heart and an American flag pin on his lapel, and sang along with parts of the national anthem as Georgia's Zac Brown Band and a gospel choir performed.
"We want our flag respected," Trump said earlier Monday during a speech in Nashville, Tennessee, "and we want our national anthem respected also."
The college teams remained in their locker rooms during the anthem, AP added.
The president watched the game from a private box overlooking the Alabama sideline flanked by ROTC students. The Tuscaloosa News reported that he was scheduled to appear on the Alabama radio broadcast during the game, but that did not happen during the first two quarters.
Mr. Trump departed the stadium during halftime, as Georgia led Alabama 13-0. Rapper Kendrick Lamar -- who has been a critic of the commander in chief, performed during the halftime.
Considered one of President Obama's favorite artists, Lamar has been known to include politically charged lyrics in some of his Grammy award-winning music.
In song his song "The Heart Part 4" released last year, the rapper calls Mr. Trump a "chump" and refers to Russian influence in the 2016 presidential election.
This is Mr. Trump's second college football game since entering politics, but the first team sports event he viewed in person since taking office. He previously attended the annual Army/Navy football game when he was president-elect. He supported both teams and praised them for their "spirit" during a surprise appearance in the announcer's booth for CBS Sports.
The president's interest in team sports has been less evident than that of his predecessor Barack Obama. Obama, an avid basketball fan, took in several pro NBA games while in office, including a matchup between the Washington Wizards and his hometown favorite the Chicago Bulls back in 2009 and a family outing between Maryland v. Oregon State to watch the first lady's brother Craig Robinson coach the Oregon State Beavers to victory in 2013.
Mr. Trump's appearance at Monday's game came after months of criticism he's leveled at the National Football League over some players' refusal to stand during the playing of the National Anthem. The president has repeatedly urged the firing of players who "take a knee" rather than stand, for NFL Commissioner Roger Goodell to enforce new "rules" on mandating standing, and he has called players' acts of silent protest disrespectful to the American flag and country.
During remarks in Nashville, Tennessee ahead of his trip to Georgia on Monday, Mr. Trump addressed the controversy again, telling the American Farm Bureau Federation, "We're fighting for our country and for our great American flag."
He added, "We are fighting for that flag. We want our flag respected. And we want our national anthem respected also."
As supporters chanted "USA", the president went on, addressing the protesters directly. "There's plenty of space for people to express their views and to protest, but we love our flag, we love our anthem. We want to keep it that way."
CBS Sports reports that high schools and some private universities have however taken disciplinary action against players participating in the silent protests. During the regular season, most college football teams are inside the locker room during the anthem. Some reports have suggested that it's standard for players to be in their locker rooms during the playing of the anthem even during the postseason. However, during last year's championship game between Alabama and Clemson, players appeared to have been on the field and standing for the anthem.
In any event, protesters are expected at the game. The Atlanta NAACP chapter urged fans attending the game to "bring a white towel to wave simulating a blizzard while the president is in the packed stadium." Its point was that Trump supporters called opponents "snowflakes," but "when we come together we create a mighty storm."
Refuse Fascism ATL was also planning to protest, with a demonstration at the stadium to "take a knee" at 6:30 p.m.
Last year, Vice President Mike Pence made a dramatic exit from a Colts and 76ers game after players kneeled during the national anthem.
"I left today's Colts game because @POTUS and I will not dignify any event that disrespects our soldiers, our Flag, or our National Anthem," Pence tweeted shortly after his walkout.
The president tweeted after Pence's departure, saying that he had "asked @VP Pence to leave stadium if any players kneeled, disrespecting our country." He added that he was "proud" of him and his wife Karen.
CBS News' Mark Knoller and Peter Martinez contributed to this report.
Thanks for reading CBS NEWS.
Create your free account or log in
for more features.