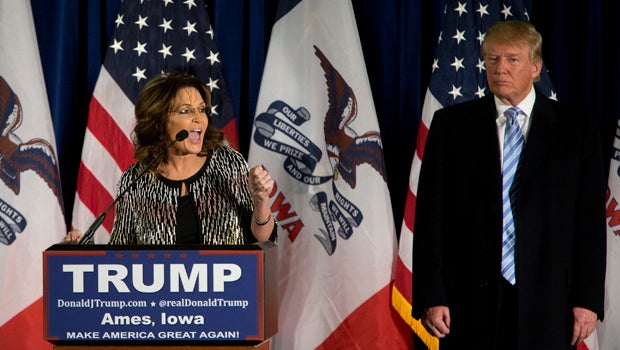 Donald Trump: I suggested Sarah Palin mention son's domestic violence charge
Republican presidential candidate Donald Trump spoke candidly about his endorsement from tea party darling and former Alaska Gov. Sarah Palin during a CNN interview late Wednesday night.
Just a few hours after a campaign rally in Oklahoma where the former GOP vice presidential nominee made waves by suggesting that her son's recent domestic violence charges were connected to post-traumatic stress disorder (PTSD), Trump told CNN that he had recommended Palin mention her veteran son in her remarks.
"I thought it would be appropriate," Trump said. "There was tremendous press and I think it's something that's very important to discuss -- not even for her son, but for so many other sons and daughters that are coming back from the Middle East, where they have, you know, traumatic problems."
When asked if he believed it was fair for Palin to link President Obama to her son's PTSD, Trump responded in the affirmative.
"Oh, I think so," Trump said. "Look, you know, everything starts at the top. He's the president. And I think you can certainly do that."
Trump went on to address other questions about Palin, who has recently hit the road with the billionaire businessman in a campaign trail frenzy.
Asked if he was uncomfortable sharing the spotlight next to Palin during her lengthy endorsement speech in Ames, Iowa on Tuesday, Trump denied that he had been -- but admitted that he hadn't expected Palin's time on stage to be "quite that long."
"I mean I didn't know it was going to be quite that long, but she made a beautiful -- you know, she made a very good speech. No, I wasn't uncomf -- I was very happy," he told CNN.
"I would have normally left the stage and let her speak, but I thought it would be nice, I thought it would be, you know, frankly nice if I was there. I thought it would be disrespectful to her if I left the stage," Trump continued. "So, no, I wasn't uncomfortable at all."
The New York real estate developer called Palin's nod of support a "very powerful endorsement, especially in certain areas like Iowa" and said he was "just very honored that she wanted to do that."
He added that "she didn't want anything" in return.
"She didn't come up and say, oh, I'd like to do this, I'd like to have that," Trump said. "She wanted nothing. She just wants what's good."
In the past, Palin has said she would welcome a cabinet position if Trump ever reached the White House.
"I think a lot about the Department of Energy," Palin said in an interview with CNN last September. "If I were in charge of that, it would be a short-term job...But it would be -- it would be really great to have someone who knows energy and is pro-responsible development to be in charge."
The reality television star had gone on to say that she would eventually "get rid" of the Department of Energy in the long run.
Trump also weighed in on the crisis in Flint, Michigan, calling the lead-poisoner water supply a "horrible example of bad government."
"Can't somebody check the water before they start pumping it into people's homes and down into people's stomachs and into the stomachs of beautiful children who now may be -- you know, they may be scarred for life," Trump said. "Hopefully that won't happen."
He blamed the Environmental Protection Agency (EPA) as "really guilty of -- of [the] horror show."
When asked if Michigan Gov. Rick Snyder, a Republican, should step down from his office, Trump said that he didn't "know the situation well enough" to decide.
"I think it's a very difficult situation. Certainly, it's leading to catastrophe. It's one of the really bad things that I've heard of," he said.
CBS News' Catherine Cannon contributed to this report.
Thanks for reading CBS NEWS.
Create your free account or log in
for more features.