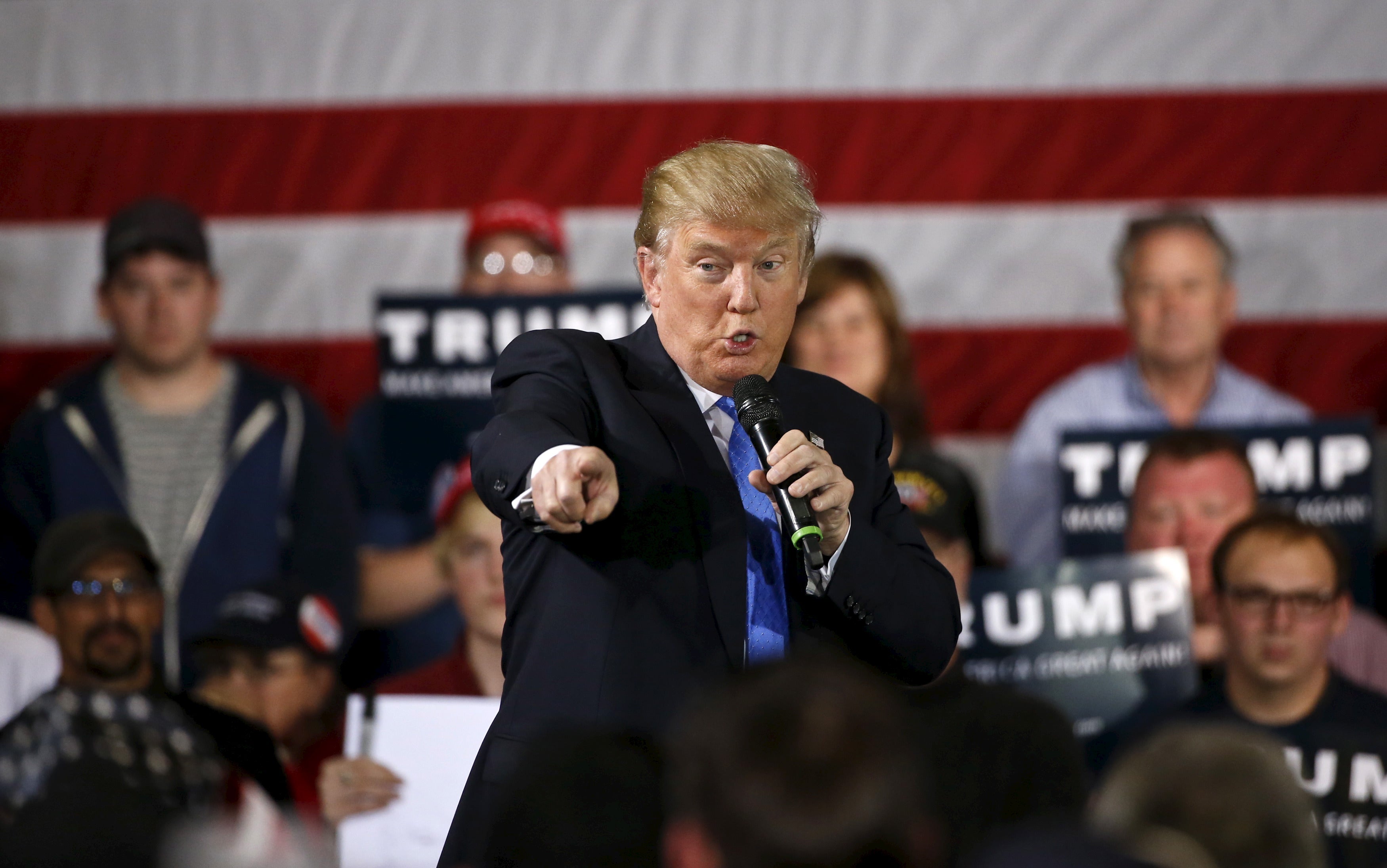 Donald Trump defends his campaign manager at Wisconsin campaign stop
GOP frontrunner Donald Trump, making his first campaign stop in Wisconsin, openly mocked former Breitbart reporter Michelle Fields, and he suggested that campaign manager Corey Lewandowski may have been coming to his aid in the incident which has Lewandowski now charged with battery.
"If somebody squeezed your arm or hurt you, wouldn't you start screaming or something?" Trump said in Janesville. "Did you see any change in her face?"
An audience member responded, "I reran it and reran it on a wide screen and there was nothing."
The surveillance footage from Trump's golf club in Jupiter shows Lewandowski reaching out, grabbing Fields and yanking her backyards. It did not appear that Fields came close to falling to the ground, but in the aftermath, Lewandowski called Fields "delusional" and said that he had never touched her.
"It was almost like he was trying to keep her off me," Trump said.
Egged on by a member of the audience, Trump continued, "Like he was helping her. Yeah. And did you see her fall to the ground? Okay. Because she talked about falling."
Then Trump mocked Fields, reading a piece she wrote for Breitbart News soon after the altercation.
"Someone grabbed me tightly by the arm and yanked me down. Campaign managers aren't supposed to forcefully throw reporters to the ground," Trump said, reading out loud. Then Trump added his commentary. "Except she never went to the ground. She never even came -- she never even flinched."
Throughout the day, Trump steadfastly defended Lewandowski from attacks over the altercation, which happened on Mar. 8, after a press conference.
On a press conference held aboard his plane earlier on Tuesday, Trump questioned whether the bruises that Fields claimed that Lewandowski gave her were from that night.
"Who said they were bruises from that?" Trump said. "How do you know those bruises weren't there before?"
The audience in Janesville, roughly a thousand packed in a Holiday Inn ballroom, appeared to support Trump's defense of Lewandowski, loudly interrupting the billionaire to chime in on his dismissive remarks about Fields.
"It doesn't bother me," said 64-year-old Patricia Jung, of Cambria, Wisconsin. Jung had driven almost two hours to come see Trump speak.
"I mean, the culture that we have right now in the White House - [Lewandowski's charge] is nothing compared to what we're putting up with now with the Obama presidency," Jung said.
Trump went out of his way to chastise Gov. Scott Walker for endorsing his rival, Texas Sen. Ted Cruz earlier in the day, ticking off a litany of things he felt were wrong with Wisconsin's economy with Walker at the helm.
"The summer of 2015, Wisconsin was facing a $2.2 billion two-year budget deficit," Trump said. "That's terrible. These are out of books. This isn't Trump. This is out of books." But a Washington Post fact check gave this claim Four Pinocchios on Monday.
At another point in the town hall, he was asked if he'd use executive orders to increase benefits for veterans, Trump said he didn't want to use many of them - and that President Barack Obama started "signing them like they're butter."
Another woman asked Trump about his strategy to handle Ukraine -- and acknowledged that Trump doesn't like revealing his strategy.
"Right, she's so smart!" Trump said. "I don't want them to know! I don't want to tell Putin what I'm thinking. She's so smart. What you just said -what does that say? What about Ukraine? Don't worry about Ukraine, Ukraine is gonna be fine. Just don't ask me why."
Wisconsin has 42 delegates at stake and is winner-take-most primary next Tuesday. An Emerson University poll taken from March 20th to March 22nd has the race in a dead heat - with Cruz at 36 percent and Trump at 35 percent. John Kasich is trailing with 19 percent.
Cruz also may have gotten a boost from the endorsement Tuesday of Wisconsin Governor and former presidential candidate Scott Walker. A Cruz win would slow Trump's progress toward the magic 1,237 number of delegates he needs to secure the GOP nomination. Walker has said that Cruz is the only candidate with a shot at beating Trump.
Thanks for reading CBS NEWS.
Create your free account or log in
for more features.