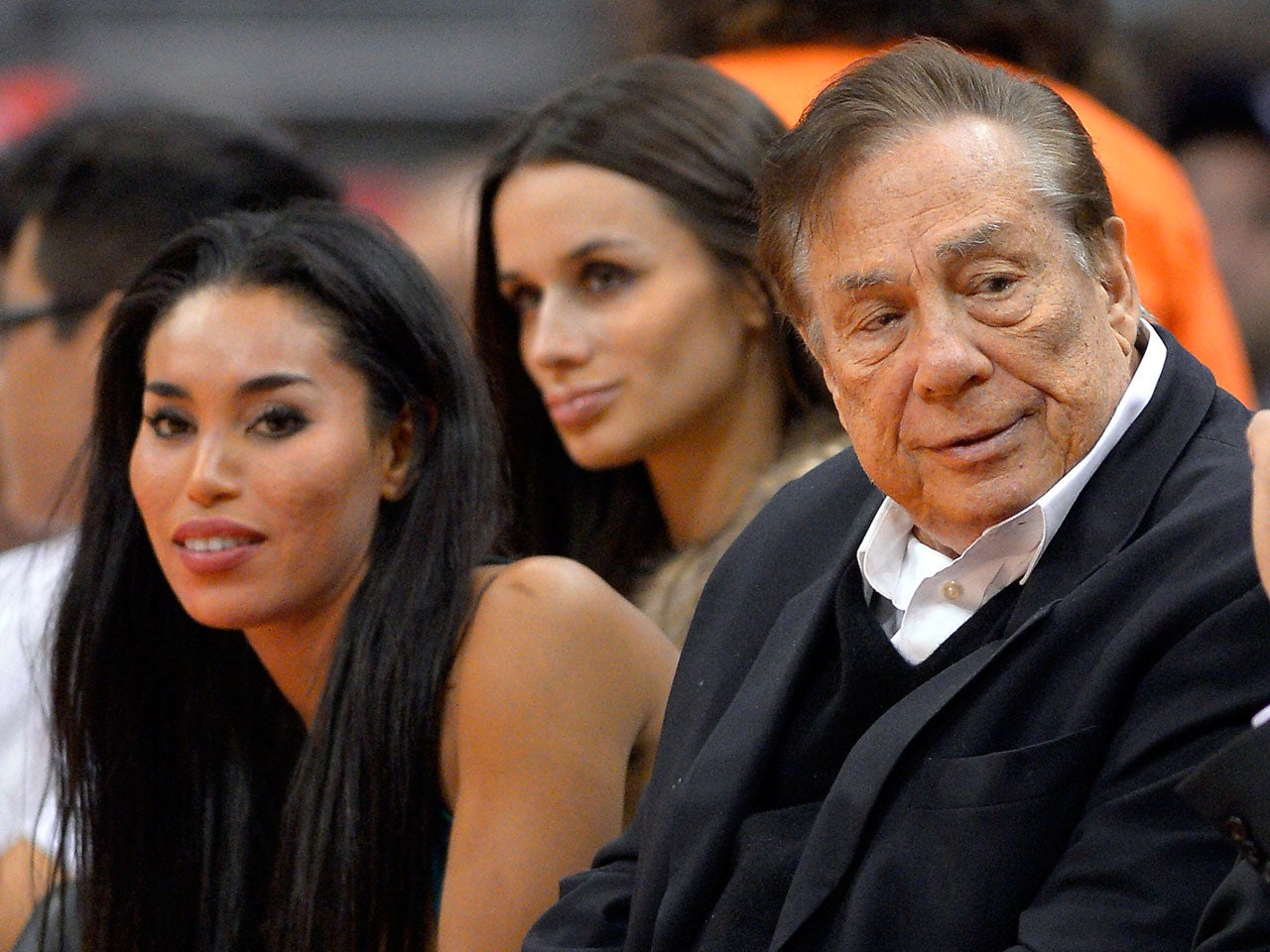 Donald Sterling recording is real deal, girlfriend's lawyer says
An audio recording said to be of Los Angeles Clippers owner Donald Sterling making racist comments to his girlfriend is genuine, the woman's lawyer said Sunday, although he insisted his client was not the one who leaked the tape to the media.

The storm of condemnation around Sterling intensified as the Clippers staged a silent protest at their playoff game against the Golden State Warriors, wearing their shirts inside out to hide the team's logo, and everyone from President Barack Obama to NBA legends Magic Johnson and Michael Jordan expressed disgust at the comments.


obtained by TMZ, a man alleged to be Sterling questions his girlfriend's association with minorities. TMZ said identified the woman as V. Stiviano and her lawyer confirmed it.


The man asks the Stiviano not to broadcast her association with black people or bring black people to games. The man specifically mentions Johnson, the former Los Angeles Lakers star and NBA Hall of Famer, saying, "Don't bring him to my games, OK?"

"You can sleep with (black people). You can bring them in, you can do whatever you want," the man says on the tape. "The little I ask you is ... not to bring them to my games."


Stiviano's lawyer said Sunday that the tape is authentic.


"This office understands that the currently released audio tape of approximately 15 minutes is a portion of approximately one hour of overall audio recording of Mr. Donald T. Sterling and Ms. Stiviano, and is in fact legitimate," attorney Mac Nehoray said in a statement.

"Ms. Stiviano did not release the tape(s) to any news media," he added.

CBSSports.com reported that the longer version of the recording has more offensive comments.


Nehoray is representing Stiviano in a civil suit filed by Sterling's wife, Rochelle. The suit describes Stiviano as a gold digger who persuaded her octogenarian beau to shower her with lavish gifts, including $1.8 million to buy a home, automobiles worth at least $500,000 and $240,000 for living expenses.

Rochelle Sterling contends the money came from community property that is half hers under California law, and she wants it back. Nehoray called the suit's allegations "absurd."


Meanwhile, both the NBA and the Clippers said they are investigating the audio recording, and several prominent voices denounced Sterling's reputed remarks.

The Los Angeles chapter of the NAACP announced Sunday that it would not be honoring Sterling with a lifetime achievement award after all. The California statewide chapter of the NAACP released a statement suggesting, "African-Americans and Latinos should honor his request and not attend the games."




President Obama described the comments as "incredibly offensive racist statements," before casting them as part of a continuing legacy of slavery and segregation that Americans must vigilantly fight.

"When ignorant folks want to advertise their ignorance, you don't really have to do anything, you just let them talk," Obama said at a news conference in Malaysia when asked to respond to Sterling's reported comments.

On CBS' "Face the Nation" Sunday, Obama got rare support from Sen. Bob Corker, R.-Tenn., on the issue.

"It's just outrageous in 2014 that comments like these are being made," Corker said. "So I thought the president's response was appropriate. It's beyond belief."

Appearing on the same program, Sen. Claire McCaskill, D.-Mo., said that while Sterling had a right to say whatever he wants, "I hope the NBA takes swift action against this man. I can't imagine how it must feel to be one of the African-Americans playing on his team, how they must feel today, knowing that the owner of the team is obviously such an ignorant racist."
Former Chicago Bulls star Michael Jordan said he's both disgusted and outraged by the racist comments allegedly made by Sterling.
Jordan, now the owner of the Charlotte Bobcats, released a statement Sunday addressing the matter. He said that as an owner, "I'm completely disgusted that a fellow team owner could hold such sickening and offensive views."
As a former player, Jordan said, "I'm completely outraged."
Jordan said he is confident that NBA Commissioner Adam Silver will investigate the matter fully and "take appropriate action quickly."
Magic Johnson said Silver should "come down hard" on Sterling and he himself would not attend any Clippers games as long as Sterling owns the team.
"He shouldn't own a team anymore," Johnson said on ABC's playoff pregame show Sunday.
Miami Heat star LeBron James asked the NBA commissioner Silver to take aggressive measures, saying "there is no room for Donald Sterling in our league."
"Obviously, if the reports are true it's unacceptable in our league," James said. "It doesn't matter, white, black or Hispanic - all across the races it's unacceptable. As the commissioner of our league they have to make a stand. They have to be very aggressive with it. I don't know what it will be, but we can't have that in our league."
Obama said he's confident Silver will address the matter. The president said the NBA has "an awful lot of African-American players, it's steeped in African-American culture. And I suspect that the NBA is going to be deeply concerned in resolving this."
Silver had said the NBA needs to confirm authenticity of the audio tape and interview both Sterling and the woman in the recording. He called the tape "disturbing and offensive" and promised to investigate quickly.
Thanks for reading CBS NEWS.
Create your free account or log in
for more features.