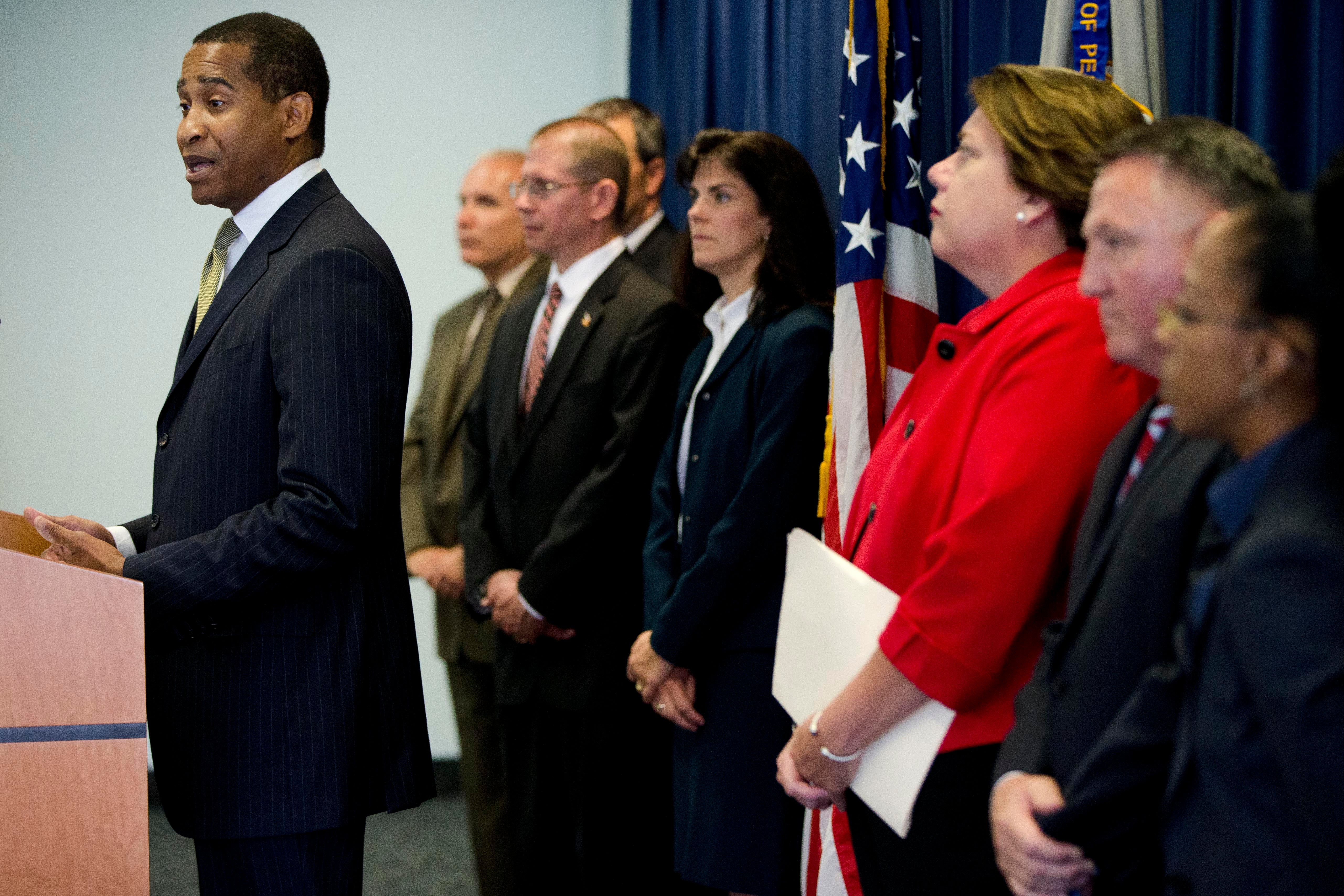 DOJ announces corruption charges against Rep. Chaka Fattah, Sr.
The Justice Department announced Tuesday that long-serving Rep. Chaka Fattah, Sr., D-Philadelphia, and four associates were indicted on racketeering charges, for using several schemes to misappropriate hundreds of thousands of dollars in campaign funds, federal funds and charitable donations after his failed 2007 mayoral run.
The five engaged in five schemes through which they "sought to enrich themselves financially and politically," U.S. Attorney Zane David Memeger said Tuesday at a press conference in Philadelphia.
Fattah, 58, and four associates were charged with bribery; conspiracy to commit wire, honest services, bank and mail fraud; money laundering and other charges.
Prosecutors said the charges covered several schemes, including the use of federal grants and charitable contributions to Fattah's educational foundation to pay back part of a $1 million loan from a wealthy campaign supporter and arranging a federal grant in lieu of a $130,000 payment to a political consultant.
"The public does not expect their elected officials to misuse campaign funds, misappropriate government funds, accept bribes or commit bank fraud," Memeger said. "These type of criminal acts betray the public trust and undermine faith in government."
Fattah said Tuesday that he had spoken to his attorney but had not yet received the indictment. He said of the charges "This is not 'Deflate-gate,'" referring to the controversy surrounding the under-inflation of footballs in the AFC championship game. "This is a normal issue of which there are allegations after a very long-running eight-year investigation...I'll stand by my previous statement that I've never been involved in any wrongdoing, any unlawful activity, any misappropriation of federal funds, and I think that there's a lot for us to digest once we see the indictment."
He said he would continue to work but would also step down from his leadership position on the Appropriations Committee. Fattah was the ranking member on Appropriations Commerce, Justice, and Science Subcommittee.
(Data curated by insidegov.com)
CBS News Congressional Correspondent Nancy Cordes notes that the charges here are extensive in comparison with cases involving lawmakers the recent past, far exceeding the indictments against former Rep. Jesse Jackson, D-Illinois (who went to federal prison) and former Rep. Michael Grimm, R-New York (who is going to prison). The closest analogue to the indictment against Fattah is the case of former Rep. William Jefferson (D-LA), who was indicted on 16 counts of bribery, racketeering, and money laundering in 2007 (he was caught hiding $90,000 in marked bills in his home freezer). Jefferson was found guilty on 11 counts in 2009 and sentenced to 13 years in prison.
Fattah and his associates are accused of using a variety of complicated schemes to funnel hundreds of thousands of dollars worth of campaign funds and charitable donations to Fattah's personal bank account. They also allegedly schemed to disguise gifts and bribes from local businessmen as loans. Fattah set up a non-profit that prosecutors say was used to launder some of the money and pass it through several companies to disguise the transactions. In one case he reportedly set up a sham car purchase to cover up the true use of the funds. He is also accused of using the money to do things like buy a weekend house and pay off his son's student loan debt.
The four charged with him include people who worked with Fattah's campaign and congressional staffs: lobbyist Herbert Vederman, Fattah's congressional district director Bonnie Bowser, Robert Brand, and Karen Nicholas.
The 11-term congressman remains free pending a yet-unscheduled court date.
Thanks for reading CBS NEWS.
Create your free account or log in
for more features.