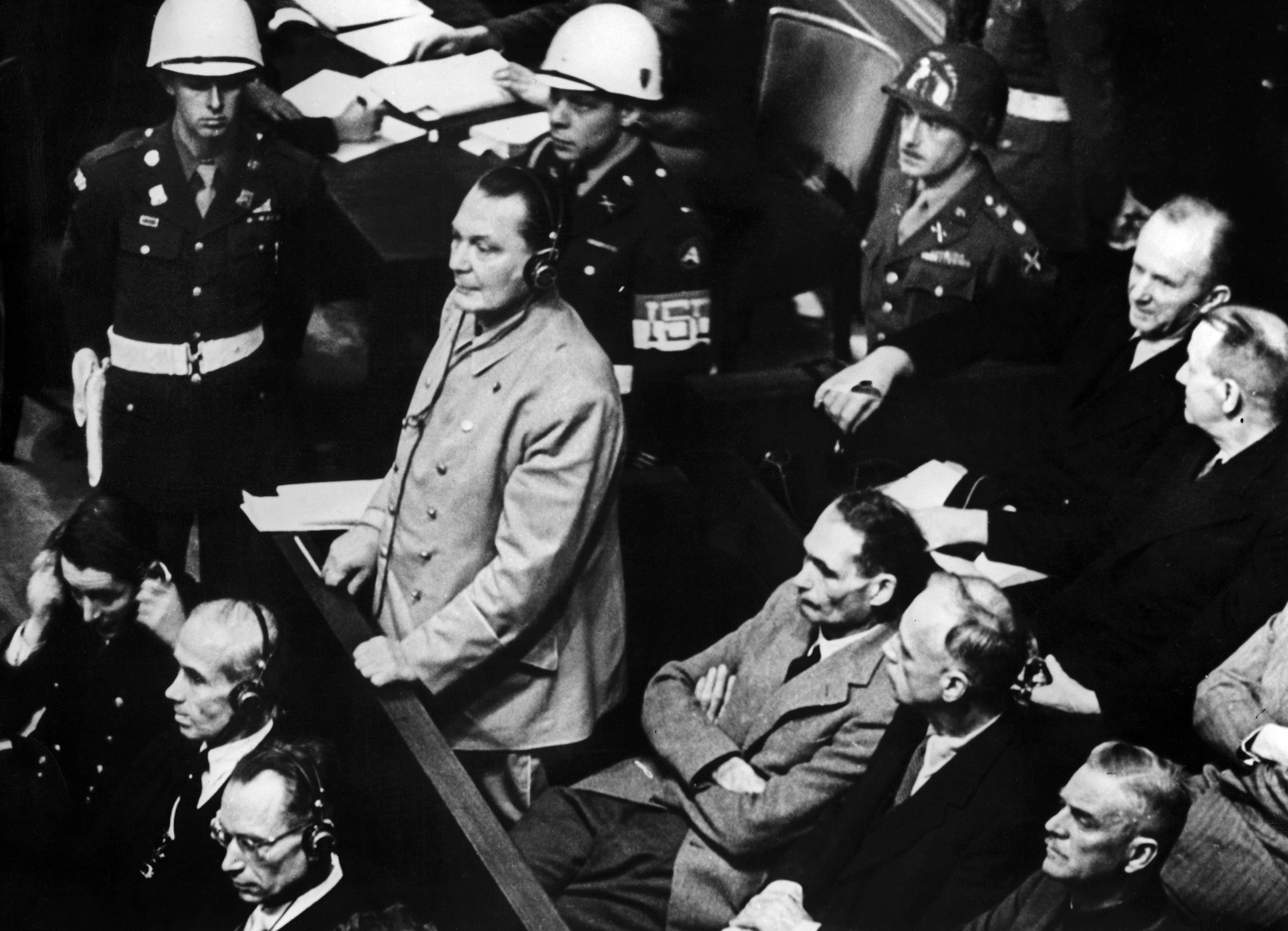 Documents used to convict Nazis during the Nuremberg Trials rediscovered and now up for auction
BERLIN -- In a typewritten affidavit, former Auschwitz commandant Rudolf Hoess admitted that "victims were executed and exterminated there by gassing and burning." In handwritten notes from the 1945 interrogation of Robert Ley, the Nazi official blames Germany for its own defeat, saying the country was "too lazy and too incompetent."

The documents used by prosecutors at the Nuremberg Trials to help convict top Nazis are among a trove of some 500 pages that surfaced last year at a flea market in Tel Aviv. About 20 pages went on display Wednesday at the Berlin Jewish Education Center, where they will be available for the public to see through Jan. 27, Holocaust Remembrance Day, before they are sold at auction in Israel.


The documents provide a window into how the prosecution team approached the ground-breaking war crimes trial, though they don't appear to contain previously unknown information, said Eran Reiss of Jerusalem's Kedem Auction House, where the files are to be sold Jan. 29.

"Even if the documents do exist elsewhere, this is a unique opportunity for a buyer," Reiss said.

Almost 70 years after the war, when most survivors of Nazi atrocities are now dead, Jewish Educational Center director Rabbi Yehuda Teichtal said it was important to put them on display.

"Such documents help people to understand, to learn and to remember," he said.

The landmark Nuremberg trials began in November 1945 - the same year World War II ended - and established for the first time charges like "war crimes" in international law.

Of the 23 defendants, 12 were sentenced to death including Hermann Goering, Adolf Hitler's air force chief and top aide.

Ley committed suicide before the trial began. Auschwitz commandant Hoess was only called as a witness in Nuremberg but was later convicted and executed in Poland. Hitler's similarly named deputy, Rudolf Hess, was sentenced to life in prison.

The trial files were collected by Isaac Stone, a historian and U.S. Army intelligence analyst who was assigned to gather documents for the Nuremberg prosecution team.

They fall into three general categories - English translations of original documents, photostatic copies of documents, and some original pages, including handwritten interrogation reports written by Stone, Reiss said.

Stone, who moved to Israel in 1970, gave some of his documents to a friend, whose widow donated them to the U.S. Holocaust Memorial Museum in 1994. It is not clear how the newly found documents collected by Stone, who died in 1974 in Jerusalem, ended up at a flea market in 2013, Reiss said.

"We do not know what happened during those 40 years," he said.

The opening asking price for the documents, which are being sold as a complete set, is $2,500 and the auction house's estimate is that they will sell for between $5,000 and $6,000, Reiss said.
Thanks for reading CBS NEWS.
Create your free account or log in
for more features.