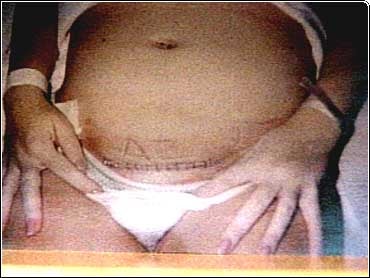 Doctor Carves Initials In Patient
A Manhattan obstetrician admits to carving his initials into the abdomen of a woman whose baby girl he had just delivered.
Dr. Allan Zarkin, who has been dubbed "Dr. Zorro," used a scalpel to carve the 3-by-1-1/2-inch letters "A" and "Z" into the skin of Liana Gedz on Sept. 7, according to lawyers on both sides of the case. Zarkin had just delivered Gedz's baby by Caesarian section.
According to the Daily News, witnesses in the operating room said that after finishing the delivery, Zarkin announced: "I did such a beautiful job, I'll initial it."
Gedz, a a 31-year-old dentist, is suing Zarkin and Beth Israel Medical Center, where the incident took place, for $5.5 million. "It's like a scene from a horror movie," Gedz, 31, told CBS News 2's John Slattery in a telephone interview.
After the surgery, Gedz says, she heard the doctor ask for the scalpel and could not understand why, she says. "The day after, I was in tremendous pain," she said. "I asked my husband to get me a mirror. I saw two large letters.
"He branded me."
Gedz, who had been a friend of Zarkin's, says she requires extensive plastic surgery to remove the marks. "Every time I take my clothes off, or shower, or undress in front of my husband, he has to look at another man's initials on my stomach," she says.
The initials "were carved in such a manner as to be permanent," according to Gedz's lawsuit.
Zarkin, 61, agreed to suspend his practice two weeks ago after state health authorities launched a probe, says an unnamed state Health Department official. Beth Israel officials say Zarkin's right to practice there was immediately suspended following the incident and he was reported to the authorities. Zarkin used to practice in a group located on 32nd Street.
The Manhattan district attorney's office is also investigating the incident.
Zarkin's attorney described what happened as a "horrible, unfortunate incident," and blames it on a "frontal lobe disorder" called Pick's disease, a progressive form of Alzheimer's-like dementia characterized by personality changes and inappropriate behavior. The disease was diagnosed after the surgery.
"That's silly," responded Gedz's attorney, who went on to describe Zarkin's actions as "arrogant, obnoxious, egotistical, insane."
Thanks for reading CBS NEWS.
Create your free account or log in
for more features.