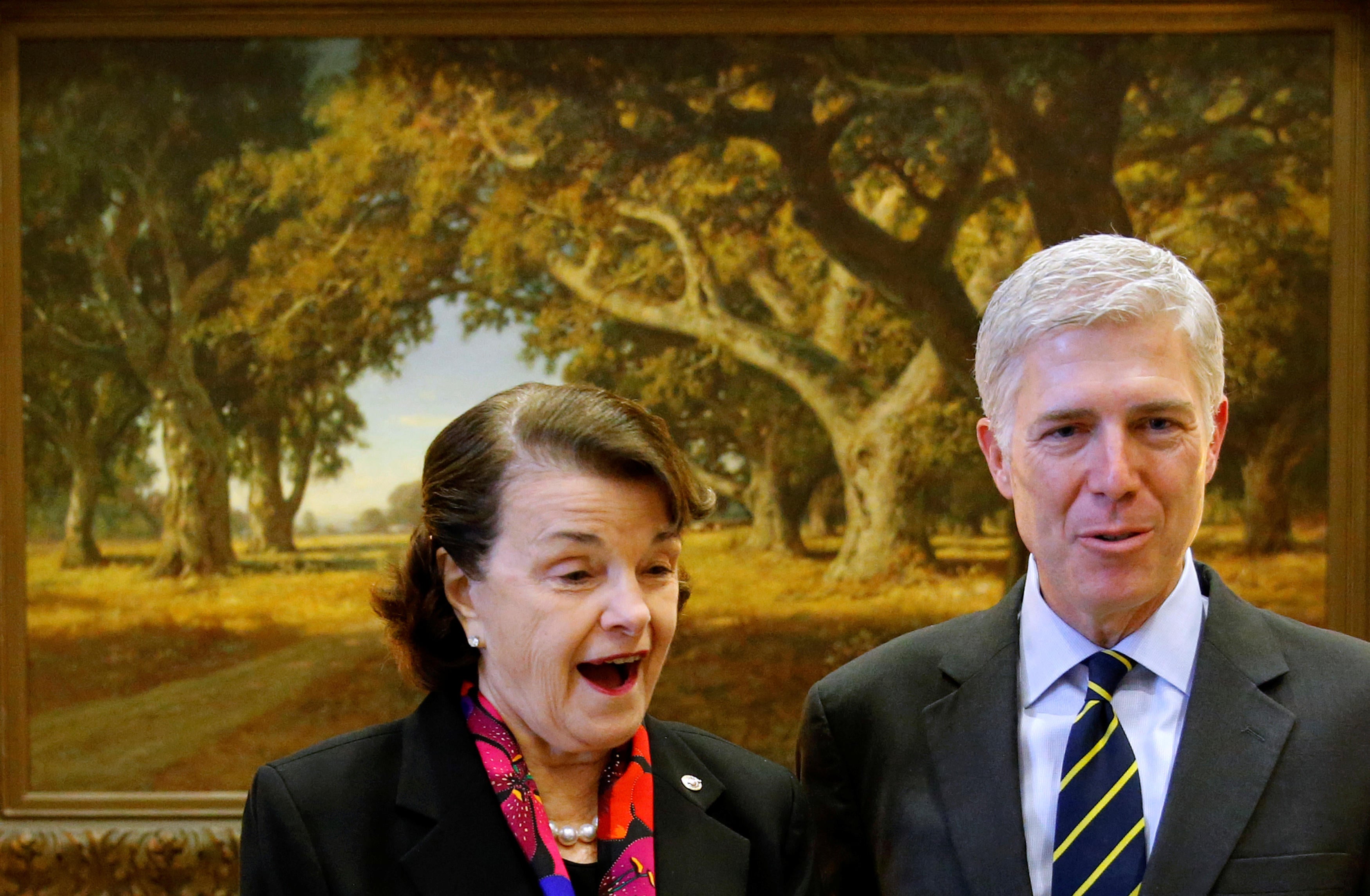 Dianne Feinstein impressed by SCOTUS nominee Neil Gorsuch
The top Democrat on the Senate Judiciary Committee says she is impressed with President Donald Trump's nominee for the Supreme Court.
California Sen. Dianne Feinstein met with Judge Neil Gorsuch on Monday. She said Tuesday that "he's a very caring person and he's obviously legally very smart."
She added: "I think we are dealing with someone who is impressive, so we'll see."
She stopped short of saying she would vote for him, noting it's a lifetime appointment and Gorsuch is only 49. Last week, Feinstein had said she wanted to take time to consider his record.
"We need time to do our work so that we can make a decision and make remarks that will stand the test of time, and not be cheap shots, or bad or rushed," Feinstein said last week.
Because of expected Democratic procedural maneuvers, Republicans will need the support of 60 out of the Senate's 100 members to move to a confirmation vote on Gorsuch. Republicans have a 52-48 majority, so at least eight Democrats will have to vote with Republicans.
In an effort to win those votes, the Senate GOP's campaign arm, the National Republican Senatorial Committee, is running three ads to pressure certain Democrats to vote for him.
Separate ads target Wisconsin Sen. Tammy Baldwin and Indiana Sen. Joe Donnelly in their home states, asking voters to tell their senators to put state and country ahead of their party. Both are running for re-election next year in states won by Trump.
An ad airing in Washington says Democrats are playing politics with the nomination.
"Tell Democrats the election is over, the people decided," the ad says.
The conservative group Judicial Crisis Network has pledged to spend $10 million to help confirm Gorsuch, and has already released $2 million in ads in Tester's home state of Montana, Donnelly's home state of Indiana, and also Missouri and North Dakota, additional states where Trump won and Senate Democrats are running for re-election. They are also running ads in Colorado, Gorsuch's home state.
One of the group's ads features Jane Nitze, a former Obama administration lawyer who also clerked for Gorsuch.
"He will have a great deal of respect for folks on all sides of the ideological spectrum," Nitze says in the ad.
As Republicans try to pressure Democrats to vote for Trump's Supreme Court nominee, they also face questions about Trump's tweets over the weekend criticizing a federal appeals court judge who suspended the president's travel ban on refugees and travelers from seven predominantly Muslim countries.
In tweets, Trump dismissed U.S. District Court Judge James Robart as a "so-called judge" and his decision "ridiculous."
"We don't have so-called judges," Sen. Ben Sasse, R-Neb., a member of the Senate Judiciary Committee, said Sunday on ABC's "This Week."
"We don't have so-called senators. We don't have so-called presidents. We have people from three different branches of government who take an oath to uphold and defend the Constitution," Sasse said.
Gorsuch is meeting with Sen. Minority Leader Chuck Schumer Tuesday.
Thanks for reading CBS NEWS.
Create your free account or log in
for more features.