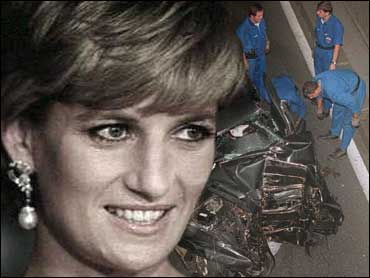 Diana: Secret Documents Revealed
In life, it was Princess Diana's vibrancy and glamour that captured the world's attention. Today, it is the mystery surrounding her death. Correspondent Erin Moriarty reports.
---
"She was convinced she was going to be killed," says Diana's old friend, Argentinean businessman Roberto Deverik, who recalls Diana often speaking of murderous plots against her.

"She said, 'When it's not convenient anymore, I will-- they will blow me in a car or in a helicopter.'"

The questions and puzzles remain nearly seven years after Diana's tragic death in a Paris tunnel. Billionaire Mohamed Al Fayed has relentlessly accused the British government of orchestrating the death of Princess Diana, and his son, Dodi.

Al Fayed, who has refused numerous requests to talk to 48 Hours, believes that his son and Diana were killed in order to prevent the princess from marrying his son, a Muslim, and having his child.

Conspiracy theories continued because the details of the French probe into the accident were never made public.

But 48 Hours has obtained a report produced by the French government that was never made public until now. The report contains thousands of pages of confidential police documents, scientific analysis and images that tell what really happened to Princess Diana, beginning with the night she died.
---
"As I approached the tunnel, I saw smoke in the middle of the tunnel," recalls Frederick Maillez, a doctor who told French authorities that he was driving through the Alma Tunnel in Paris that night -- moments after the Mercedes carrying Princess Diana and Dodi Fayed crashed into a pillar.

"I went to the wreckage to see what was going on inside," says Maillez, who tended to the seriously injured princess after the crash. "I can tell you her face was still beautiful. She didn't have any injuries, main injury on her face. She was unconscious. She didn't speak at all."

Eerie black and white photos, taken just moments after the crash, have never been shown until now. Part of the official report, they were confiscated from the paparazzi who were chasing the couple that night.

"You could absolutely tell it was her. She was a pretty woman, and even a few hours before she died, she's still pretty," says lawyer Virginie Bardet, who saw the confidential French dossier when she defended three of the seven photographers who were initially accused of causing the accident. "The investigation is important," she says.

Family and associates of Princess Diana expressed anger Thursday at the use of the photos taken moments after a car accident.

Diana's brother, Charles Spencer, said he was sickened by the action. "Lord Spencer and his family are shocked and sickened by CBS' actions," said a brief statement released by the family.

Outrage focused on two back and white photos taken by paparazzi at the scene, showing an unconscious Diana being treated by a doctor as she lay slumped in the back of a car. They were included in a confidential French investigators' file on the accident, but no major media outlet had previously run pictures of the injured princess.

Britain's tabloid newspapers gave the story prominent, outraged coverage on Thursday.

CBS News released an official statement Wednesday: Tonight's (21) edition of 48 Hours Investigates is a one-hour report on Princess Diana that addresses the circumstances surrounding her death almost seven years ago. Included in the broadcast is information from a 4,000-page confidential French government report on Diana's death obtained by 48 Hours Investigates. In addition to important information that dispels many of the rumors and allegations surrounding her death, photocopies of photos from the French government report taken at the scene of the crash also will be included in the broadcast. These photocopies are placed in journalistic context -- an examination of the medical treatment given to Princess Diana just after the crash -- and are in no way graphic or exploitative.
---
The French investigation is clear: The crash was an accident, and not the fault of the photographers or foreign intelligence agents. Instead, it was the fault of Henri Paul, the driver of Diana's car, who was impaired by alcohol and prescription drugs.

Paul, who was driving at nearly twice the speed limit, nicked a Fiat Uno, lost control of the car and smashed into a pillar.

French authorities, however, were wrong if they thought their account of the crash would put the matter to rest. This past January, the British government opened its own investigation into the accident.

One claim that Al Fayed has made is that Paul wasn't drunk at all that night – but that the French switched the blood samples either by accident or on purpose.

48 Hours provided the forensic data from the French dossier to Dr. Robert Forrest, one of England's leading forensic toxicologists, to see if he could find any evidence of a mistake or a cover-up.

"This is the first time I have seen these data and it has been absolutely fascinating," says Forrest.

The dossier documents that multiple tests were conducted on blood, hair and tissue. Paul's body was also photographed and identified by an ankle tag, #2147 – the same number listed on the samples.

"There is nothing in the trail of evidence, which suggests there is anything funny about the way in which the samples have been taken," says Forrest, who adds he didn't see any sign of a conspiracy.

Not only do the tests indicate three times the legal limit of alcohol in Paul's system at the time of the accident, Forrest says, they also indicate an alarming amount of various prescription drugs: "Let me put it this way. If I knew that I was going to be driven by someone in that condition, I would not get into the car with them. No way."

This evidence disproves Al Fayed's allegations and proves that there is no question that Paul was drunk. But was he paid by British intelligence services to help kill Princess Diana? And what about Al Fayed's claim that the princess was killed because she was pregnant?
---
This past January, The London Mirror reported that just months before her death, she had written a note saying, "My husband is planning an accident in my car – brake failure and serious injury."

How real were her fears? Did someone tamper with the Mercedes to make it appear like an accident?

48 Hours took a similar model Mercedes and the analysis contained in the French report to Murray MacKay, one of Europe's most prominent vehicle-safety experts.

MacKay says French investigators examined every component of the crashed Mercedes, particularly the brakes, to determine if either a mechanical failure or deadly tampering caused the accident. "I think they did a very thorough job," says MacKay. "There was nothing wrong with the car at all … the driver was drunk. He was going excessively fast and couldn't cope."

But the French dossier still raises questions, especially about Paul, the driver who was also chief of security for Mohamed Al Fayed's Ritz Hotel. We found documents that reveal a number of significant bank deposits in French francs made by Paul, beginning nine months before the crash.

French investigators were unable to pinpoint the exact source of the mysterious money, but the dossier reveals that they searched Paul's home and office, interviewed his friends and associates, and analyzed his phone records. They found no evidence of a conspiracy – even though there was a theory that Paul was a security services informant.

"He could have been that, too. But they don't pay that much money," says author Tom Bower, who wrote an extensive biography of Mohamed Al Fayed.

Bower says Al Fayed would regularly carry large amounts of cash to pay employees and others: "He was a man who handed out, on his own admission, $100,000 pounds a week, sometimes in cash."

The cash was often a bonus, but Bower says that Al Fayed also paid his security men to conduct surveillance of certain guests who stayed at his Ritz Hotel: "He presents himself as such a warm, bubbly, warm, lovable Arab uncle. But in fact, that he was a man who was rather sinister and dangerous. I mean, he was a great friend and a great enemy."

Bower says that Princess Diana, who knew Al Fayed through her father, had also come to rely on him. "She was a lonely woman. He is a terrific seducer of people if he wants to be," says Bower. "And he gave her what she wanted."
---
Since her death, Al Fayed has made outrageous claims about his friendship with the princess. But the most controversial is his assertion that Diana was pregnant with his grandchild, which he said in an interview with ABC News last fall. Al Fayed's claims were bolstered by photographs of Diana that show a noticeable bulge.

The details of Diana's autopsy have been a closely guarded secret, but 48 Hours contacted Robert Thompson, who was there. "Any death within the royal family, that was referred to the coroner, would come to us," he says.

And what about claims that Diana was pregnant at the time of her death? Was there any reason to believe that?

"The pathologist spoke to me. And he was closer to me than we are to one another, and said to me and to the room at large, 'Well, she wasn't pregnant,'" says Thompson. "He divided the womb, looked inside, and was quite certain that this lady in this instance was not pregnant."

And curiously, Al Fayed never mentioned the phone call from Diana about the pregnancy until nearly five years after her death. "He constructed a complete fantasy out of the last hours of Diana's death and everything else," says Bower. "Completely rubbish."

But what about the photographs that allegedly show a pregnant Princess? They were taken even before she started dating Dodi.
---
Princess Diana was hounded by paparazzi the summer before she died.

Photos of Diana were taken by James Andanson, a successful French celebrity photographer. But he found himself in the middle of the French investigation six months after Princess Diana died.

Gaskon Sipagholu and his wife, Phyllis, ran the Sipa photo agency in Paris. Andanson was one of their stars.

"I never saw in my life, a photographer like him, never. He was working all the time and he was getting very good money," says Sipagholu. "He was making about $500,000 a year, even more, from his photographs."

Andanson had a chateau in the Loire valley in central France, an apartment in Paris, and drove an expensive BMW. But what brought him to the attention of French authorities was another car he owned: a white Fiat Uno.

Was this the same Fiat Uno that was sideswiped by the Mercedes in the tunnel the night Diana died?

"It was our investigators, not the French police, who found the Fiat Uno. It was found in a garage in Paris and traced to paparazzi named James Andanson," says John McNamara, Al Fayed's former security chief, on the Al Fayed documentary.

Al Fayed and McNamara are convinced that some of the paparazzi, and possibly the driver of the white Fiat Uno, were MI-6 agents whose mission was to stop the announcement of the forthcoming engagement.

As the car carrying Princess Diana raced into the Paris tunnel, it sideswiped a slow-moving white vehicle. Paint on the Mercedes and debris on the roadway confirm it was a Fiat Uno. But despite a massive search, neither the car nor driver was ever found.

Conspiracy theorists believe the driver deliberately caused the crash as part of a plan to kill Princess Diana. And the charge was credible enough that the lead French investigator, Jean Claude Mullez, questioned Andanson.

Mullez says that finding the driver of the Fiat Uno has been a challenge. "Andanson wasn't in Paris," he says through a translator. "He told me his timetable, we checked it out and found it to be accurate. We determined that he was not in Paris that night."

What's more, Mullez says, his investigators found Andanson's car on blocks inoperable.

Is it possible that Andanson's car was the car that was involved in the accident the night that Diana died? "Absolutely impossible," says Mullez.
---
The probe into Andanson and his white Fiat Uno should have stopped there, but three months later, Andanson got into his BMW, drove to the post office to mail a letter, and was never seen again.

Hundreds of miles south of Andanson's home, a farmer discovered a BMW ablaze in a remote forest. An autopsy determined that the driver was Andanson.

Two months later, the mystery surrounding his death only deepened. According to Al Fayed's documentary, three masked men broke into Andanson's office in Paris and shot the security guard. The burglars spent three hours ransacking the office. Some people at the photo agency actually thought the burglars were from the French security services.

But 48 Hours' investigation led to a very different conclusion. While three gunmen did break into the SIPA photo agency in Paris and a night watchman was shot, the owners of the agency say the thieves were not in search of Andanson's work. They left that untouched, but they were looking for compromising photos of a French celebrity.

As it turns out, Andanson's mysterious death was not the work of intelligence agents seeking to keep him quiet, but that of a deeply troubled man.

"He committed suicide," says Sipagholu. "This is 100 percent, I am sure."

French investigators found evidence that Andanson had purchased gas in a can at a station the day of his death and that he sent a letter to his old friends, requesting that, from that day on, they send his royalty checks to his wife.
---
However, Al Fayed continues to promote the idea of a murder plot rather than accept the unacceptable - that his son and his employees may have been in part responsible for the death of the beloved princess.

"He has a remarkable self interest in maintaining the fiction because he, in the end, is protecting his own reputation and his own culpability in causing the crash," says Bower.

When Princess Diana left the Paris Ritz hotel owned by Al Fayed, it was, after all, his head of security, a drunk Henri Paul, who was behind the wheel. And it was his son, Dodi, who concocted the crazy plan to evade the paparazzi.

"I think Mohammed is the architect, the master disseminator, the perpetuator, the fantasist extraordinaire who started this whole ludicrous idea that she was murdered," says Bower.

There will be always be those who wonder. But for French lawyer Virginie Bardet, the trail ends in the tunnel. "The investigation, it's not to answer all the question, it's to know why did Lady Diana and Dodi al Fayed died. And this question is answered," says Bardet. "It's clear. We know why this Mercedes had an accident. It was because the driver."

It seems clear that, for many people, even the latest conclusions about Diana's death won't be the last word. In a CBS poll, an overwhelming majority, 76 percent, believe we will never know the whole truth.
Thanks for reading CBS NEWS.
Create your free account or log in
for more features.