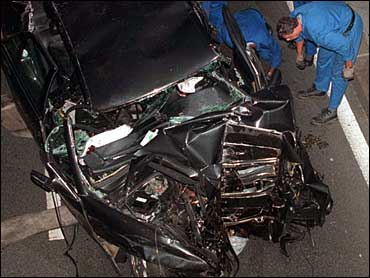 Diana Crash Photogs Acquitted
Three photographers who took pictures of Princess Diana and Dodi Fayed at the site of their deadly crash were acquitted Friday of invading the couple's privacy.
The three men, whose photos were confiscated and not published, were among the swarm of photographers who pursued the car carrying Diana and her boyfriend across Paris on Aug. 31, 1997, and took photos after it slammed into the pillar of a traffic tunnel.
Jacques Langevin, with Sygma/Corbis at the time, Christian Martinez of the Angeli agency, and free-lancer Fabrice Chassery faced a maximum of one year in prison and fines of $53,000. The prosecutor asked for suspended prison sentences.
The photographers argued in court that they did not invade the couple's privacy, although Chassery and Langevin acknowledged they took photos at the crash site. Photographers took pictures through an open door of the crumpled car.
The Paris court ruled that a crashed vehicle on a public highway is not a private area. The court also said the couple knew they would be photographed when leaving Paris' Ritz Hotel by car.
Photos of them driving out of the hotel's parking garage "were not taken clandestinely. The couple was not unaware that they were exposing themselves to being photographed when leaving the hotel," the verdict said.
"The photographers did their job honestly," said Jean-Louis Pelletier, Chassery's lawyer.
The trial hinged on a French law that says the interior of a car is a private space. The photographers were tried only for pictures of Fayed. The photos in question showed him and Diana leaving the hotel or after the crash.
The trial stemmed from a criminal complaint for invasion of privacy filed by Fayed's father, Egyptian-born billionaire Mohammed Al Fayed. Diana's relatives and the British royal family were not plaintiffs in the case.
Mohammed Al Fayed's lawyer, Bernard Dartevelle, refused to comment on the verdict but suggested that his client may appeal.
A five-year investigation concluded that chauffeur Henri Paul, who was killed in the crash, had been drinking and was speeding.
In 2002, France's highest court dropped manslaughter charges against nine photographers - including the three acquitted Friday.
By Pierre-Antoine Souchard
Thanks for reading CBS NEWS.
Create your free account or log in
for more features.