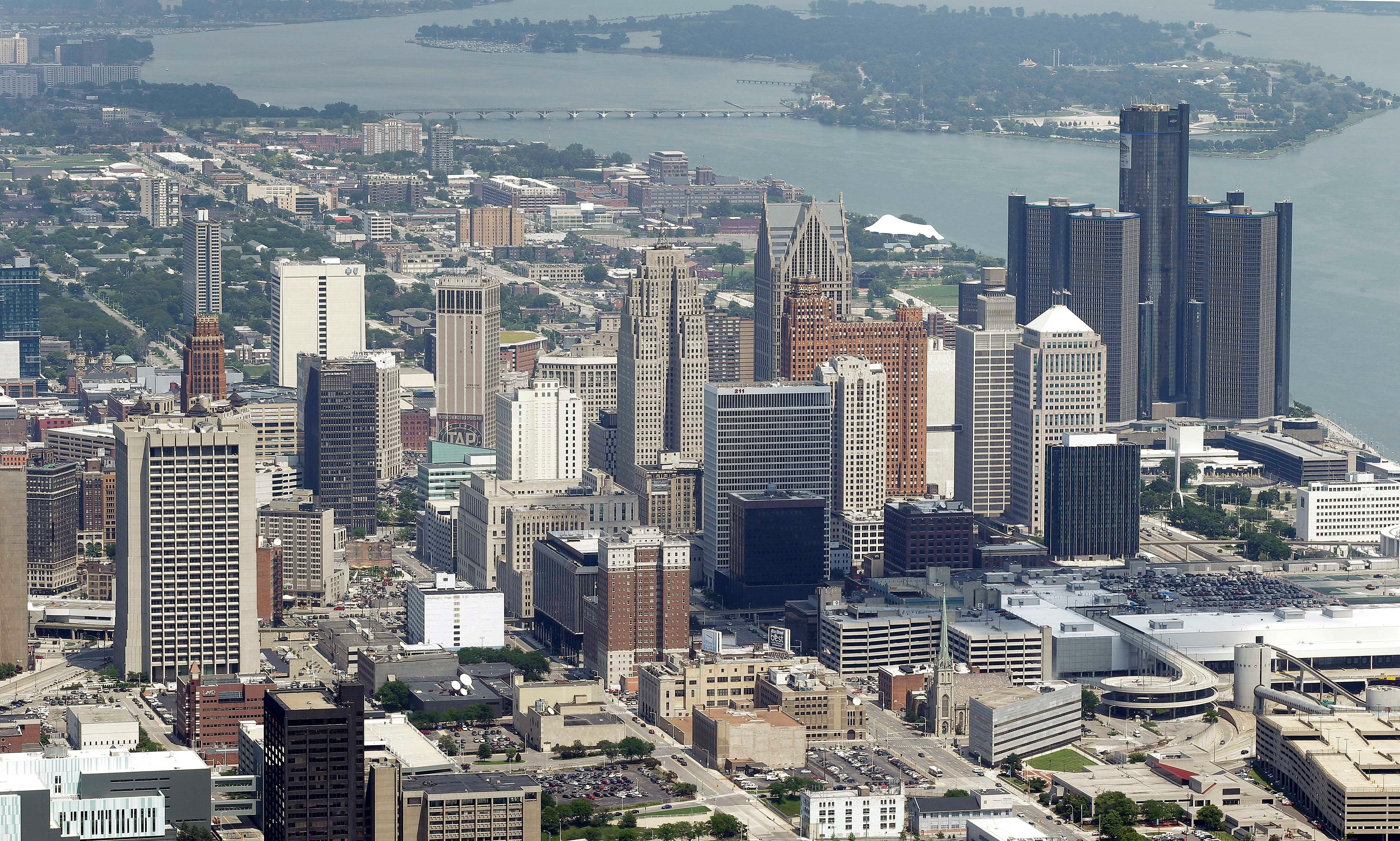 Detroit files for bankruptcy
Updated 9:08 PM ET
DETROIT Once the very symbol of American industrial might, Detroit became the biggest U.S. city to file for bankruptcy Thursday, its finances ravaged and its neighborhoods hollowed out by a long, slow decline in population and auto manufacturing.
The filing, which had been feared for months, put the city on an uncertain course that could mean laying off municipal employees, selling off assets, raising fees and scaling back basic services such as trash collection and snow plowing, which have already been slashed.
"Only one feasible path offers a way out," Gov. Rick Snyder said in a letter approving the move.
Kevyn Orr, a bankruptcy expert hired by the state in March to stop Detroit's fiscal free-fall, said Detroit would continue paying its bills and employees.
But, said Michael Sweet, a bankruptcy attorney in Fox-Rothschild's San Francisco office, "They don't have to pay anyone they don't want to. And no one can sue them."
The city's woes have piled up for generations. In the 1950s, its population grew to 1.8 million people, many of whom were lured by plentiful, well-paying auto jobs. Later that decade, Detroit began to decline as developers starting building suburbs that lured away workers and businesses.
Then beginning in the late 1960s, auto companies began opening plants in other cities. Property values and tax revenue fell, and police couldn't control crime. In later years, the rise of autos imported from Japan started to cut the size of the U.S. auto industry.
By the time the auto industry melted down in 2009, only a few factories from GM and Chrysler were left. GM is the only one with headquarters in Detroit, though it has huge research and testing centers with thousands of jobs outside the city. Since it was restructured, the new, more prosperous company has racked up big profits and added jobs in Detroit.
The result is a city where whole neighborhoods are practically deserted and basic services cut off in places. Looming over the crumbling landscape is a budget deficit believed to be more than $380 million and long-term debt that could be as much as $20 billion.
Detroit lost a quarter-million residents between 2000 and 2010. Today, the population struggles to stay above 700,000.
In recent months, the city has relied on state-backed bond money to meet payroll for its 10,000 employees.
"It's an embarrassment, number one, to come to the realization that we're actually in this situation," said Kevin Frederick, an admissions representative for a local career training school. "Not that we didn't see it coming. I guess we have to take a couple of steps backward to move forward."
Orr made the filing in federal bankruptcy court under Chapter 9, the bankruptcy system for cities and counties.
He was unable to persuade a host of creditors, unions and pension boards to take pennies on the dollar to help with the city's massive financial restructuring. If the bankruptcy filing is approved, city assets could be liquidated to satisfy demands for payment.
Orr said Thursday that he "bent over backward" to work with creditors, rejecting criticism that he was too rigid. "Anybody who takes that position just hasn't been listening."
An attorney for the city, Krystal Crittendon, was critical of Orr's numbers in his recent financial report. "The whole foundation that brings him here is false," she said, as reported by CBS Station WWJ Detroit. "We do not have a $15 [billion] or a $20 billion debt problem. We have less than a $2 billion short-term debt problem that we could manage if we just went out and collected revenues that are owed to the city; stop giving, you know, tax abatement to people who can actually afford to pay taxes."
The bankruptcy could last through summer or fall 2014, which coincides with the end of Orr's 18-month appointment, he said.
Snyder determined earlier this year that Detroit was in a financial emergency and without a plan for improvement. He made it the largest U.S. city to fall under state oversight when a state loan board hired Orr. His letter was attached to Orr's bankruptcy filing.
Creditors and public servants "deserve to know what promises the city can and will keep," Snyder wrote. "The only way to do those things is to radically restructure the city and allow it to reinvent itself without the burden of impossible obligations."
A turnaround specialist, Orr represented automaker Chrysler LLC during its successful restructuring. He issued a warning early on in his 18-month tenure in Detroit that bankruptcy was a road he preferred to avoid.
In June, he laid out his plans in meetings with debt holders. Some creditors were asked to take about 10 cents on the dollar of what the city owed them. Underfunded pension claims would have received less than the 10 cents on the dollar under that plan.
Orr's team of financial experts said that proposal was Detroit's one shot to permanently fix its fiscal problems. The team said Detroit was defaulting on about $2.5 billion in unsecured debt to "conserve cash" for police, fire and other services.
Some city workers and retirement systems filed lawsuits to prevent Snyder from approving Orr's bankruptcy request, said Detroit-area turnaround specialist James McTevia.
They have argued that bankruptcy could change pension and retiree benefits, which are guaranteed under state law.
Others are concerned that a bankrupt Detroit will cause businesses large and small to reconsider their operations in the city. But General Motors does not anticipate any impact to its daily operations, the automaker said Thursday in a statement.
Detroit has more than double the population of the Northern California community of Stockton, Calif., which until Detroit had been the largest U.S. city ever to file for bankruptcy when it did so in June 2012.
Before Detroit, the largest municipal bankruptcy filing had involved Jefferson County, Ala., which was more than $4 billion in debt when it filed in 2011. Another recent city to have filed for bankruptcy was San Bernardino, Calif., which took that route in August 2012 after learning it had a $46 million deficit.
"It's really a complex process and a lot of cities have regretted it because it shuts them out of the bond market," said Michael Comes, a portfolio manager at Cumberland Advisors. "It forces them to do financing through the state. And the bankruptcy itself is a long process. It's going to be a long drawn out process which won't be resolved in a year but over several years.
"In the case of San Bernardino, there hasn't been a decision about who gets paid first - beneficiaries of pension funds or bondholders. That's up in the air right now. Calpers could sue the city, but it's very contentious and uncharted waters."
Thanks for reading CBS NEWS.
Create your free account or log in
for more features.