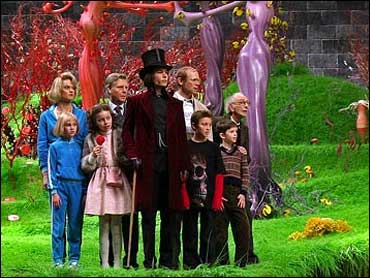 Depp: Wonka Is No Michael Jackson
Johnny Depp, star of "Charlie and the Chocolate Factory," says he didn't base his Willy Wonka character on Michael Jackson — and is surprised that some people see a resemblance.
Depp's demure voice, pasty complexion, perfectly bobbed locks, neo-Victorian garb and androgynous air seem to present a reflection of pop singer Jackson, recently acquitted on child-molestation charges.
"A few people have mentioned it, and it kind of took me by surprise. I really didn't expect that," Depp told reporters recently, according to AP Radio. "Michael Jackson was not a sort of ingredient or inspiration for the character at all."
Depp said he based the way Wonka speaks on children's show hosts he remembers from his childhood. "How odd it was the way that they spoke," the 42-year-old actor said. "That bizarre, musical cadence to their speech pattern."
As for the bob, Depp said he figured Wonka had been a recluse for so long, he wouldn't know what a modern haircut looks like.
"I just did this sort of strange, almost like a Brian Jones' kind of bob and supershort bangs. His line of reference would be very, very dated," Depp said.
"Charlie and the Chocolate Factory," Tim Burton's wildly imaginative take on Roald Dahl's beloved children's book, took in $56.2 million on its opening weekend.

Thanks for reading CBS NEWS.
Create your free account or log in
for more features.