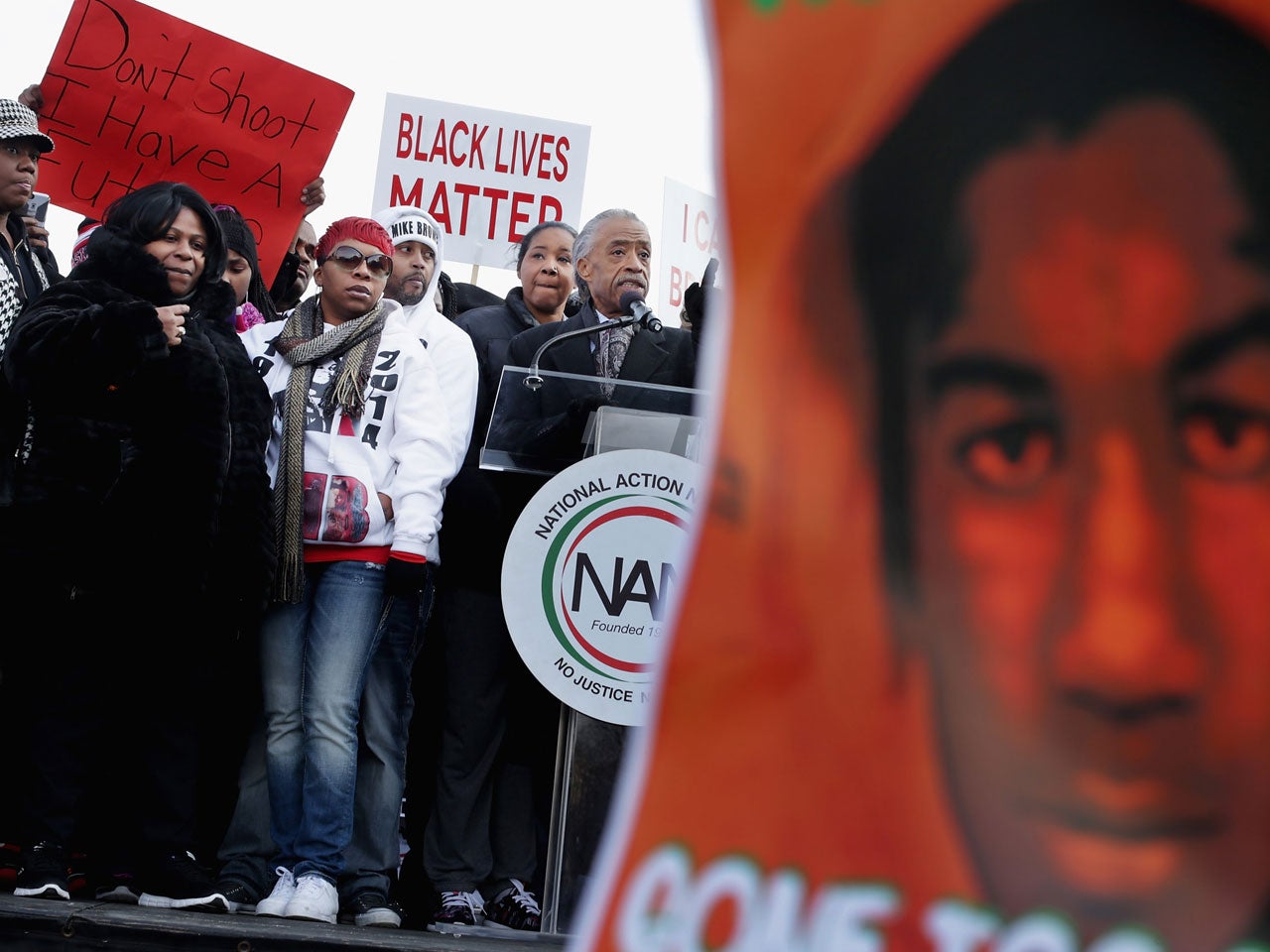 No federal civil rights charges in Trayvon Martin case
Three years after teen Trayvon Martin was fatally shot by George Zimmerman in Sanford, Fla., setting off a national debate on race and gun laws, the Department of Justice announced Monday it had concluded that there is not enough evidence to bring civil rights charges in the case.
Attorney General Eric Holder called the case "a devastating tragedy," in a press release.
"It shook an entire community, drew the attention of millions across the nation, and sparked a painful but necessary dialogue throughout the country," Holder said. "Though a comprehensive investigation found that the high standard for a federal hate crime prosecution cannot be met under the circumstances here, this young man's premature death necessitates that we continue the dialogue and be unafraid of confronting the issues and tensions his passing brought to the surface. We, as a nation, must take concrete steps to ensure that such incidents do not occur in the future."
Federal civil rights charges are difficult to press, let alone get convictions for. In its press release about the decision, the lack of charges against Zimmerman are said to be a result of being unable to meet the standard of proving that the "defendant knew his acts were unlawful, and committed those acts in open defiance of the law."
DOJ officials said they would have had to have proven that Zimmerman approached Martin "in a threatening manner before the fatal shooting because of Martin's race."
Acting Assistant Attorney General Vanita Gupta of the Civil Rights Division said: "Our decision not to pursue federal charges does not condone the shooting that resulted in the death of Trayvon Martin and is based solely on the high legal standard applicable to these cases."
In a statement released through their attorney, Martin's family thanked the DOJ for their "extensive and thorough investigation into the killing of our son."
"Although we are disappointed in these findings, it has steeled our resolve to continue traveling the country with the message of the Trayvon Martin Foundation, which is dedicated to protecting our youth and empowering those who demand justice and peace," the family said.
On Feb. 26, 2012, Martin was walking back from a convenience store after purchasing a pack of Skittles candy and iced tea when Zimmerman, a neighborhood watch volunteer, confronted him. The 17-year-old was visiting his father's fiancée at The Retreat at Twin Lakes community in Sanford with his father, and was wearing a hooded sweatshirt.
Zimmerman told police immediately after the incident he killed the teen in self-defense after a scuffle. He was taken into custody but was released without charges being filed. The police chief in Sanford, Bill Lee, who later resigned, said Zimmerman was not arrested because his story held up under Florida's now much-debated "Stand Your Ground" laws.
About a month later, the story started making national headlines, as it was revealed that Martin was black and unarmed and that Zimmerman faced the prospects of no legal penalty. Media began reporting Zimmerman as being white, but his family insisted he was Latino.
On March 19, 2012, the Justice Department announced it would open an investigation into the case.
Attorney General Eric Holder expressed personal interest in the case, saying at the time: "At every level of today's Justice Department -- preventing and combating youth violence and victimization is, and will continue to be, a top priority."
After details of the incident began to leak - including 911 tapes and videos of Zimmerman in custody - as well as several back-and-forths about criminal charges from state and local officials, special prosecutor Angela Corey announced on April 11, 2012, that Zimmerman was being charged with second-degree murder in the shooting and that he was in police custody.
He was acquitted of murder charges on July 14, 2013, in a case that divided an all-female jury panel and set off nationwide protests.
The national race debate that the Trayvon Martin case began was later further inflamed by the shooting of Michael Brown in Ferguson, Mo., and the chokehold death of Eric Garner in Staten Island, N.Y., among other cases.
The Department of Justice also opened a civil rights investigation into each of those cases. It declined to press charges against former Ferguson police officer Darren Wilson in the case of the Michael Brown shooting. The decision regarding the Eric Garner case is still open.
Zimmerman has since slipped into relative obscurity, and has had several other run-ins with police, mostly involving domestic disturbances.
Thanks for reading CBS NEWS.
Create your free account or log in
for more features.