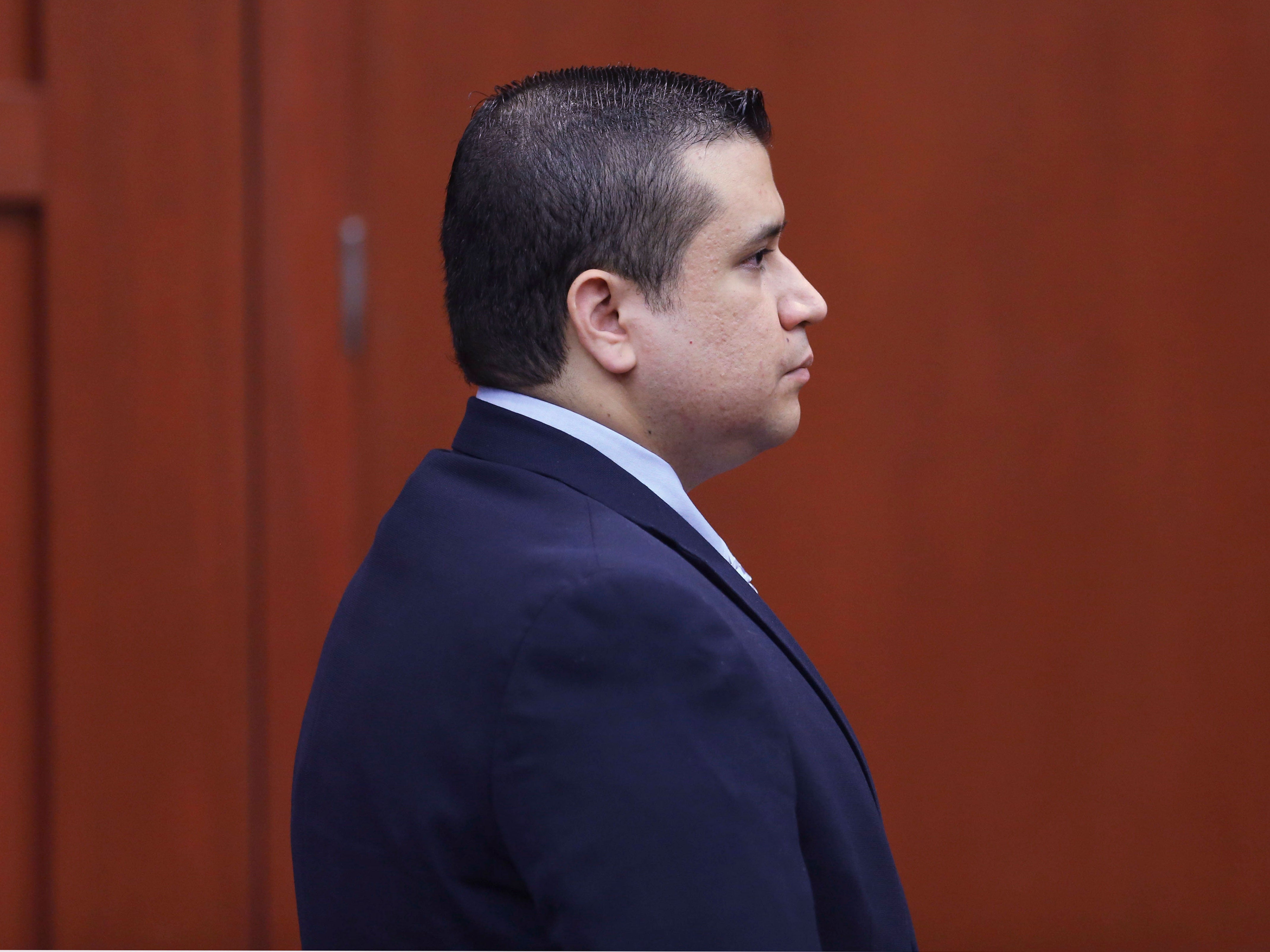 George Zimmerman verdict: Former neighborhood watch leader not guilty in death of Fla. teen Trayvon Martin
He was also found not guilty of the lesser offense of manslaughter, which the jury also weighed.
The jury deliberated until late Saturday night after Zimmerman's defense wrapped up closing statements and the prosecution concluded rebuttal arguments Friday. Zimmerman, 29, was charged with second-degree murder in the shooting death of Florida teen Trayvon Martin during an altercation last year in a Sanford, Fla. gated community. Zimmerman pleaded not guilty, claiming he shot the teen in self-defense.
Speaking to Zimmerman after the verdict, Circuit Judge Debra Nelson said, "You have no further business with this court."
READ: Trayvon Martin Shooting: A timeline of events
PICTURES: George Zimmerman on trial in death of Fla. teen
PICTURES: George Zimmerman crime scene photos
Zimmerman hugged family members following the verdict. The case has drawn intense media spotlight, and a 44-day delay in Zimmerman's arrest after the Feb. 26, 2012 shooting spurred national protests.
The jury panel has been sequestered during the trial with limited contact to the outside world. Jury selection began in the case June 10. Everyone selected to sit on the jury vowed to judge Zimmerman impartially, based only the evidence presented in court, and not on media coverage of the case.
Throughout the trial, prosecutors and defense attorneys painted starkly different pictures of the 29-year-old. Prosecutors portrayed Zimmerman as a vigilante, frustrated by the break-ins in his community that prompted him to launch a neighborhood watch program. They said Zimmerman, who had aspirations to be a police officer, profiled the teen as a criminal and shot him "because he wanted to."
Defense attorneys portrayed Zimmerman as a concerned community member who was "viciously attacked" when Martin "sucker punched" him and began slamming his head into a concrete sidewalk.
Speaking at a press conference after the verdict, prosecutor Bernie de la Rionda said he was "disappointed" with the verdict. "Who followed who? Isn't that what this case boils down to?" de la Rionda said.
(Watch prosecutors comment on the acquittal at left)
"We truly believe the mindset of George Zimmerman and the words he used and the reason he was out doing what he was doing fit the bill for second-degree murder," said special prosecutor Angela Corey.
Defense attorneys said they were "ecstatic."
(Watch Zimmerman's defense attorneys answer questions after the acquittal at left)
"George Zimmerman was never guilty of anything except protecting himself in self-defense, and I'm glad the jury saw it that way," said defense attorney Mark O'Mara.
Defense attorney Don West called Zimmerman's prosecution "disgraceful."
"As happy as I am for George Zimmerman, I'm thrilled that this jury kept this tragedy from becoming a travesty," West said. "...It makes me sad it took this long under these circumstances to finally get justice."
Speaking following the verdict, a family attorney said the Martin family was "heartbroken." Sybrina Fulton and Tracy Martin were not in the courtroom as the verdict was read. The attorneys said the family had plans to attend church Sunday.
(Watch the Martin family's attorneys at left)
Tracy Martin reacted to the verdict and thanked supporters via Twitter.
In closing statements Thursday, prosecutor de la Rionda called Zimmerman a "wannabe cop" and said that Zimmerman lied about following the teen through the neighborhood.
De la Rionda played a non-emergency call placed by Zimmerman the night of the altercation, in which he tells a non-emergency dispatcher he is following the teen and uses the terms "f--ing punks" and "---holes." Prosecutors attempted to prove that the language shows Zimmerman acted with ill will or spite, elements of the second-degree murder charge.
In his closing statements Friday, O'Mara asked the jury not to "fill in the gaps" in the prosecution's case, arguing that Zimmerman is "factually innocent."
Aiming to prove that Martin wasn't unarmed, as prosecutors said, O'Mara carefully placed a large cement block in front of the panel.
"That's cement. That is a sidewalk. That is not an unarmed teenager with nothing but Skittles trying to get home," O'Mara said. "That's what somebody who used the availability of dangerous items, from his fist to the concrete, to cause great bodily injury...against George Zimmerman. And the suggestion by the state that that's not a weapon that can't hurt someone, that can't cause great bodily injury, is disgusting."
The state's case spanned nearly nine days of testimony from numerous witnesses, including Martin's mother and brother, a medical examiner who conducted Martin's autopsy, a DNA analyst, and numerous neighbors, first responders and police officers who witnessed the fatal altercation or its aftermath.
Key witnesses for the prosecution included Rachel Jeantel, a friend of Martin's who was on the phone with him minutes before he was fatally shot as he was walking to his father's fiancee's home.
Jeantel said she heard Trayvon Martin saying, "Get off, get off" just before his death. But in a lengthy and at times heated cross-examination, West highlighted changes in her story in an apparent attempt to bring her credibility into question.
During the prosecution's case, jurors saw graphic photos of Trayvon Martin's body and heard from first responders who attempted to save the teen's life. A DNA analyst testified that Martin's DNA wasn't found on Zimmerman's gun, which Zimmerman said the teen reached for.
Also testifying for the prosecution was a medical examiner who said Zimmerman's injuries following the altercation were "insignificant" and a gym owner who trained Zimmerman who described the 29-year-old as "physically soft."
Trayvon Martin's family members took the stand, telling attorneys they recognized the teen's voice screaming in the background of a crucial 911 call placed by a neighbor the night of the altercation.
When asked who she believed was screaming on the call, Fulton said, "Trayvon Benjamin Martin."
The call was played numerous times by both prosecutors and the defense team. Who is screaming was a key point of contention in the case because it could provide clues as to who was the aggressor in the fatal confrontation.
The defense's case spanned nearly three days of testimony. Defense attorneys called to the stand a string of witnesses who knew Zimmerman, playing the tape numerous times in court and asking them to identify the voice. The witnesses, including Zimmerman's mother and brother, said the screaming voice belonged to Zimmerman.
In an emotional moment, Zimmerman's friend John Donnelly said that he was able to identify the screams of men in distress when he was a combat medic in Vietnam.
"There's absolutely no doubt in my mind that is George Zimmerman," Donnelly said, crying. "I wish to God I didn't have that ability to understand that."
Providing crucial testimony for the defense team was Dr. Vincent Di Maio, a nationally renowned gunshot wound expert who said Trayvon Martin was leaning over Zimmerman when the teen was shot. Testifying for prosecutors, a neighbor, John Good, also said he believed Martin to have been on top in the fatal confrontation.
Complete coverage of the George Zimmerman Trial-Trayvon Martin case on Crimesider
Thanks for reading CBS NEWS.
Create your free account or log in
for more features.