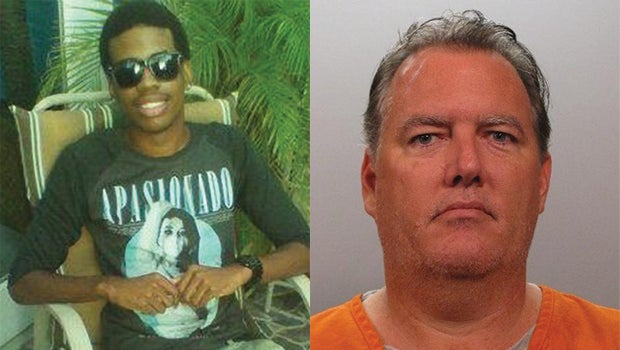 Does "stand your ground" encourage shootings?
The trial of a man who allegedly shot into a car of teenagers, killing one, after what police have said was an argument about loud music, begins with jury selection today in Florida.
Michael Dunn, 46, is charged with first-degree murder in the death of 17-year-old Jordan Davis and three counts of attempted first degree murder for allegedly shooting into a car full of teenagers. Dunn encountered Davis and his friends at a gas station in Jacksonville on the evening of November 23, 2012.
Davis's mother, Lucia McBath, 53, told CBS News' Crimesider that she had sent her son to stay with his father in Florida while she stayed home in Atlanta to battle a second bout of breast cancer. McBath said that on the day he died, her son had gone shopping with friends at the local mall for "Black Friday."
According to police, after shopping, the group pulled up to the Gate gas station in a red SUV, and Davis was in the backseat. Michael Dunn was at the same gas station and at some point, witnesses told police, Dunn and at least one of the occupants of the teens' car exchanged words, and then Dunn got his gun. One witness said she heard three shots, a pause, and then five or six more gunshots. Dunn then left the scene and went to a nearby motel, where he reportedly ordered a pizza. He was arrested after police tracked him using his license plate number and descriptions of him and his car given by witnesses.
In a Dec. 2012 letter from jail, Dunn wrote that he saw what he thought was a weapon in the car Davis was riding in: "There was a weapon. I can't say for sure what it was as I only saw the top portion of the barrel."
Dunn wrote that the people in the car were threatening him, saying things like "I should kill that mother******" and that "those threats coupled with a visible weapon prompted me to take action."
According to police, the teens were unarmed.
But to Lucia McBath, Dunn's response makes a sad kind of sense: "Any time you have the availability of guns right in the glove compartment, this is what happens."
UCLA law professor Adam Winkler agrees, at least in principle.
"The presence of guns can transform an argument into a deadly confrontation," Winkler told Crimesider.
"One of the potentially adverse consequences of our gun culture is the promotion of the idea that people need guns on the street to protect themselves," Winkler continued. "By repeating this over and over, gun owners are led to believe that they are always in danger. In truth, our rates of violent crime are at historic lows."
Gary Kleck, a professor of criminology at Florida State University, sees the situation differently. In 1991, Kleck co-authored a report called "The Effects of Weaponry on Human Violence," which examined whether the presence of a gun made a situation more or less likely to result in death. The study concluded that "the effects of guns...are very small when one accesses the overall impact of their effects, both positive and negative, at all stages of violent incidents."
McBath told Crimesider that she thinks that Florida's "stand your ground" law is partially to blame for her son's death. Signed into law in 2005, the measure allows a person to use deadly force if he or she has a reasonable fear of imminent death or great bodily harm. Speaking with Crimesider, Florida defense attorney and former prosecutor Mitch Stone called the law "self-defense on steroids."

To Jordan Davis' mother, the law encourages a "shoot first, ask questions later" mentality. She points to the recent case of Curtis Reeves, a 71-year-old former police officer who shot and killed a man sitting near him in a movie theater after an argument over the man's texting. According to the arrest report, Reeves told police that 42-year-old Chad Oulson struck him in the face with an "unknown object"; witnesses told police that object was a bag of popcorn.

According to a 2012 investigation by the Tampa Bay Times, nearly 70 percent of Floridians who invoked the "stand your ground" have gone free. In addition, the newspaper found that "stand your ground" defendants are "more likely to prevail if the victim is black."
Kleck told Crimesider that he doesn't think the state's self-defense laws encourage people to be careless or reckless with firearms, rather they "affect how the criminal justice system deals with them afterwards."
And, he says, "People are getting away with murder."
In the year since her son's death, McBath, a flight attendant whose father was the president of the local NAACP chapter where she grew up in Illinois, has been traveling the country speaking about gun violence. McBath told Crimesider that what she has seen is "a minority of individuals who live in fear." Fear of all sorts of things, she said: an impending civil war, the government taking their guns away, people they see on TV.
"People are always in fear of what and who they don't know," she said. "We seem to be struggling with continued integration, the 'browning' of America."
Whether Dunn would have shot into a car full of white teens blasting music we'll never know. But his jailhouse letters do indicate disdain for what he refers to as "thug" culture.
McBath insists her son was no thug.
"He was a good kid with a good heart," she said. "He always wanted to include everybody. I used to think he would become a politician or a social activist."
Now, it's McBath who has become the activist. In October 2013, she testified before Congress on the perils of gun violence and "stand your ground." She is also a national spokesperson for Moms Demand Action for Gun Sense in America.

It is unclear if Dunn will invoke "stand your ground" as part of his defense. His attorney, Cory Strolla, did not return a message left seeking comment on the case. And although McBath said she is afraid that her son's case could go the way of Trayvon Martin's, Fla. attorney Mitch Stone says that he thinks Dunn has a "much harder sell" on self-defense than did George Zimmerman.
"In the Trayvon Martin case, there were at least witnesses that verified a struggle," said Stone. Dunn will likely argue that he was in fear for his life, but, Stone says, the prosecution will call the teens who were in the car with Davis to refute his story. They may also call his girlfriend, who was with him at the time of the shooting, and to whom he reportedly mentioned nothing to her about seeing a weapon in the teens' car.
Either way, McBath said she will be in the courtroom.
"I was so misguided in thinking we're in the right neighborhood, our children are educated, this will never happen to us," she told Crimesider. "I taught him to be careful of his surroundings. I used to say to him, 'People will take out a gun and shoot you,' so use good conflict resolution. But it doesn't matter where you live, how well educated you are, the gun violence has gone beyond every barrier. Nobody is immune to it."
Thanks for reading CBS NEWS.
Create your free account or log in
for more features.