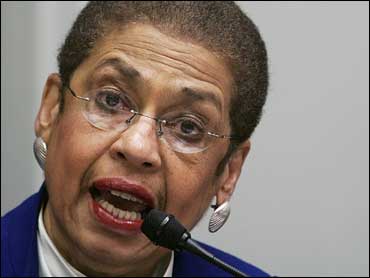 Dems unveil bill that would ban employers from asking for salary history
A group of House Democrats on Thursday introduced legislation that would ban employers from asking prospective or current employees their salary history before making a job or salary offer.
In a joint announcement, the lawmakers said that they unveiled the bill as part of the effort that seeks to close the wage gap in the U.S. They explained that asking for salary history perpetuates the problem that women and minorities face in their careers.
"The bill seeks to eliminate the wage gap that women and people of color often encounter. Because many employers set wages based on an applicant's previous salary, workers from historically disadvantaged groups often start out behind their white male counterparts in salary negotiations and never catch up," the announcement said.
Rep. Eleanor Holmes Norton, D-District of Columbia, introduced the bill and it's co-sponsored by Democratic Reps. Rosa DeLauro of Connecticut, Jackie Speier of California and Jerrold Nadler of New York.
They point out that employers might not intend to discriminate prospective employees, but they said asking for salary history "can have a discriminatory effect in the workplace that begins or reinforces the wage gap."
The bill would allow the Labor Department to impose fines of up to $10,000 against employers that would break the law. This would apply to all employers and employees, including those in the private sector.
Prospective or current employees would also be able to bring a private lawsuit against an employer that violated the law and they could receive up to $10,000 in damages plus attorney's fees, the lawmakers said.
This comes a month after Massachusetts Republican Gov. Charlie Baker signed a similar bill into law in August that will prohibit employers in the state from requesting the salary history of a prospective employee during a job interview. The passage of the law came after a two-year lobbying campaign by a coalition of groups, which even included the Greater Boston Chamber of Commerce. It's the first law of its kind in the country.
The bill probably has a slim chance of advancing in Congress, however, since Republicans have blocked Democrats' previous efforts to address the gender wage up.
Thanks for reading CBS NEWS.
Create your free account or log in
for more features.