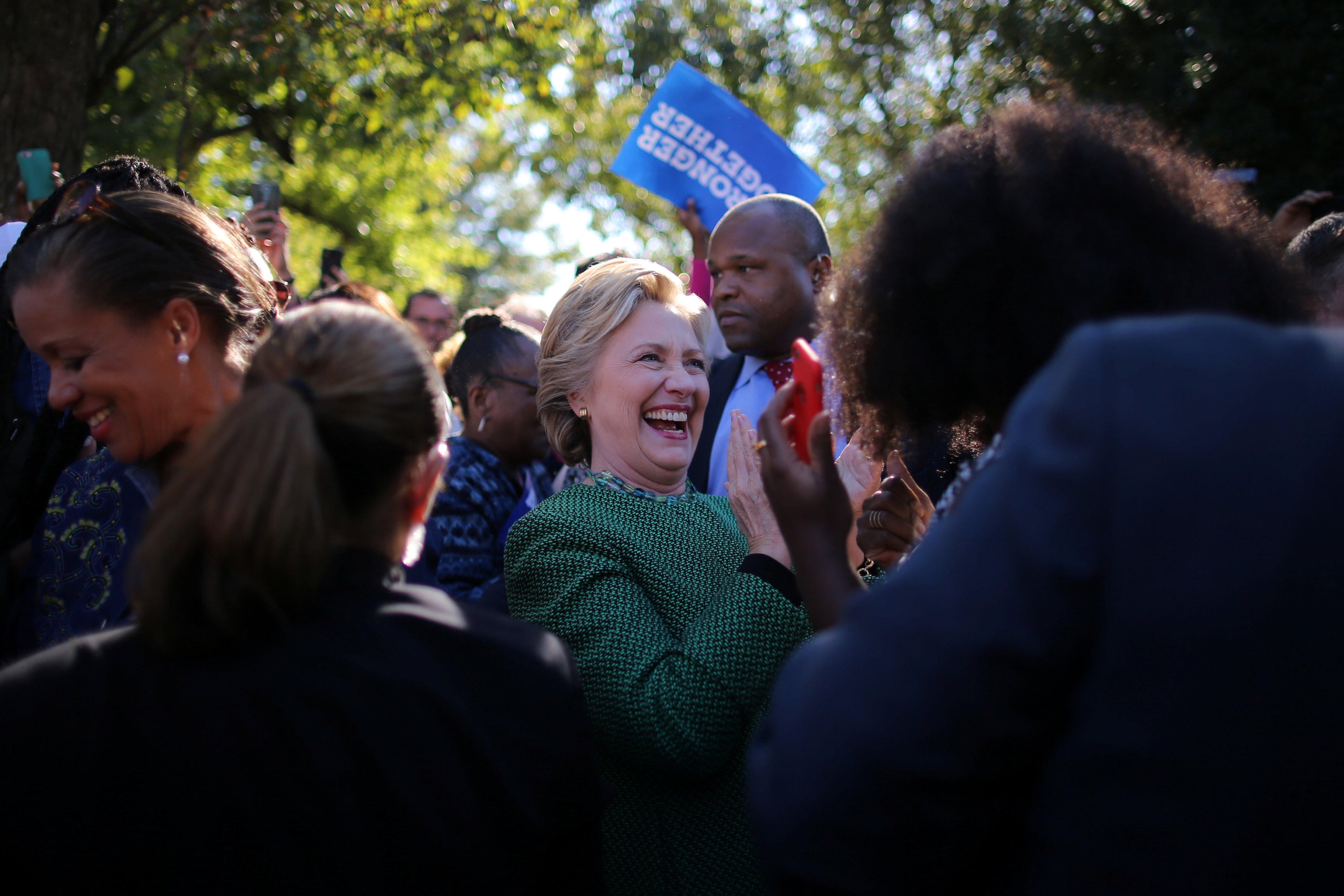 Democrats try for black turnout with "souls to the polls" events in NC
The Chavis Community Center in Raleigh, North Carolina is a cornerstone of a community with a lot of history: during segregation in the South, Chavis was a "separate but equal" recreational facility for African-Americans.
It's also an early voting location for one of the city's overwhelmingly African-American neighborhoods—one that was almost cut from the list of sites by the Republican-led county board of elections. On the first Sunday of early voting in North Carolina, hundreds of voters stood in line to cast their vote here.
"This is the heartbeat of the black community," Montica Taulmidge, a former organizer who lives in the area, said Sunday as voters showed up to cast their votes.
With Election Day just two weeks away, polls in North Carolina show a margin-of-error contest between Hillary Clinton and Donald Trump in the state. And for Clinton, who is hoping to emulate President Obama's 2008 and 2012 success at turning out African-American voters in record numbers, places like Chavis and days like Sunday could be the ones that make the difference in who wins this crucial battleground state.
African-American voters overwhelmingly tend cast their votes early, making mobilizing those voters a priority for Democratic campaigns. According exit polling from the 2012 election, 74 percent of African Americans who voted cast their ballots before Election Day in North Carolina, compared to 63 percent of white voters.
That's not been lost on Clinton's campaign: Clinton herself stopped by Chavis Sunday afternoon to shake hands and take photos with voters between a pair of campaign rallies in the state. Her running mate, Tim Kaine, completed a two-day swing through North Carolina to coincide with the start of early voting last Thursday.
Many who showed up and stood in line on the first Sunday of early voting understood the historical significance of the location and the fight that took place to keep it available to the community.
Pat Walker, a member of the local chapter of the National Association for the Advancement of Colored People (NAACP) who is white, came out to vote Sunday to prove that to local officials who had other ideas.
"I made a point to come to Chavis Heights to vote because we fought with the board of elections to make sure that Chavis Heights would be one of the early voting sites," Walker said. "I wanted to be part of the numbers that show them how important this site is."
Walker marched to Chavis with a group of about a hundred people as part of what has been called "Souls to the Polls," an organized effort by local groups to get nearby religious congregations to vote after services on Sunday morning.
"Souls to the Polls is is an opportunity for people to come with their congregations right after church and to vote as a community of faith," Taulmidge said. "Our communities of faith are super important to us so being a part of a church family...and saying we are going to be civically minded, we are going to be civically active and engage in this process, is a huge deal for a lot of people."
There is no direct involvement in organizing "Souls to the Polls" from any of the campaigns and it is billed as a "non-partisan" event, but the intention is clear: this is a way to get reliably Democratic voters to vote.
While early voting is not unique to North Carolina, Sunday voting is not as common and has been cut back further since 2012. Only 15 of North Carolina's 100 counties offer Sunday voting this cycle, down from 21 counties in 2012. This year, the counties that offer early voting include the two biggest Democratic strongholds of Wake County in the Raleigh area and Mecklenburg in the Charlotte area.
The act of voting here at Chavis is also important to members of the African-American community as Trump travels the country suggesting the election is "rigged" against him. To some here in Raleigh, Trump's words about widespread voter fraud in urban areas have decidedly racial undertones.
"What he is doing is an intimidation tactic," said Nervahna Crew, secretary for the Wake County Democratic Party. "We are smarter than that. No matter what you say -- racist, bigot, sexist --we are going to make sure you don't step foot into that White House."
Thanks for reading CBS NEWS.
Create your free account or log in
for more features.