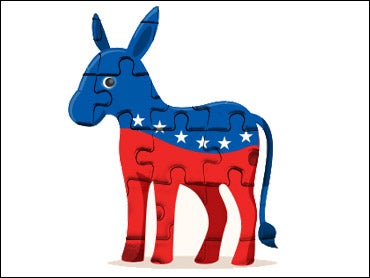 Democratic Party releases primary debate schedule for 2016 election
Unwilling to let Republicans corner the market on debate coverage, the Democratic Party released its primary debate schedule for the 2016 election cycle on Thursday, just as Republicans finished last-minute preparations for their first debate on Thursday evening.
The Democratic National Committee (DNC) scheduled six debates between October 2015 and March 2016, according to a press release.
The first will be held on October 13 in Nevada. It will be sponsored by CNN.
CBS News, its affiliate KCCI and the Des Moines Register will sponsor the second debate, which will be held November 14 at Drake University in Iowa.
The third debate will be held in Manchester, New Hampshire on December 19, and it will be hosted by ABC and WMUR.
The fourth debate will be held in Charleston South Carolina on January 17, and it will be hosted by NBC News and the Congressional Black Caucus Institute.
The fifth debate will be held in Miami, Florida in February or March, and it will be hosted by Univision and the Washington Post.
And the sixth debate will be held in Wisconsin in February or March, and it will be hosted by PBS.
"These six debates will not only give caucus goers and primary voters ample opportunity to hear from our candidates about their vision for our country's future, they will highlight the clear contrast between the values of the Democratic Party which is focused on strengthening the middle class versus Republicans who want to pursue out of touch and out of date policies," declared DNC Chair Debbie Wasserman Schultz in a statement.
In recognition of the sprawling GOP primary field, which has 17 major competitors, several of the Republican debate sponsors have taken steps to limit the number of contenders onstage at one time.
With only five declared contenders for the Democratic nomination, that's unlikely to be an issue for the Democratic debates, though it's likely debate sponsors will still set up some kind of qualification metrics the candidates must satisfy to land themselves onstage.
Former Secretary of State Hillary Clinton is the clear frontrunner among Democrats at this stage in the race, and Vermont Sen. Bernie Sanders is her closest competitor. Former Maryland Gov. Martin O'Malley, former Virginia Sen. Jim Webb, and former Rhode Island Gov. Lincoln Chafee are also in the running.
O'Malley senior strategist Bill Hyers criticized the proposed schedule in a statement released Thursday.
"By inserting themselves into the debate process, the DNC has ironically made it less democratic. The schedule they have proposed does not give voters - nationally, and especially in early states - ample opportunity to hear from the Democratic candidates for President. If anything, it seems geared toward limiting debate and facilitating a coronation, not promoting a robust debate and primary process," he said. "Rather than giving the appearance of rigging the process and cutting off debate, the DNC should take themselves out of the process. They should let individual and truly independent news, political, and community organizations create their own debates and allow the Democratic candidates for President to participate."
Thanks for reading CBS NEWS.
Create your free account or log in
for more features.