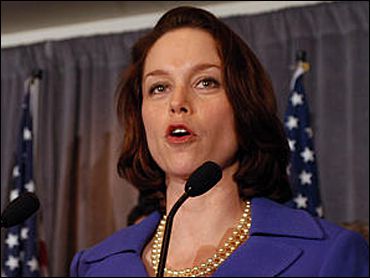 Dem Wins Closely Eyed S.D. Race
Democrats looking ahead to November got a bounce with the victory of Stephanie Herseth in a special election in South Dakota, marking the party's second straight congressional triumph and snatching a House seat in a heavily GOP-leaning state.
South Dakota's entire Congressional delegation is now Democratic, points out Douglas Kiker of the CBS News Political Unit.
Herseth, a member of one of the state's most distinguished political families, narrowly defeated Republican Larry Diedrich in Tuesday's poll. She will immediately fill the seat of Bill Janklow, who resigned his seat before he went to jail over a deadly auto accident.
"We ran a positive, truthful campaign based on issues, not negative attacks," Herseth, 33, told a room of cheering, chanting supporters early Wednesday. She vowed to "always do what's right for the entire state."
Herseth now will serve out the seven months left in Janklow's term. She and Diedrich will meet again in November to compete for a full two-year term, but Herseth will have the advantage of incumbency in holding South Dakota's lone House seat.
The race was closely watched by national parties eager to pick up momentum ahead of the fall campaign.
It may also be a harbinger for Senate Minority Leader Tom Daschle, who is locked in a tight race with former Rep. John Thune, the telegenic Republican who lost to Sen. Tim Johnson in 2002 by a scant 527 votes.
Polls have shown Daschle leading Thune, but the state leans hard toward to the GOP in presidential elections and is such an inexpensive place to advertise that Republicans believes they have a legitimate shot at beating the Senate's top Democrat.
The nonpartisan Cook Political Report agrees, listing the South Dakota race as one of 10 tightly contested Senate races of the 34 being held in November. Senate Majority Leader Bill Frist, breaking a tradition of civility between the leaders of the two parties, has campaigned for Thune — or against Daschle, some angry Democrats would say.
The Republican and Democratic House campaign committees waged media blitzes in South Dakota, pouring $2 million into TV ads in a rural state of 765,000 people. In March, Vice President Dick Cheney campaigned for Diedrich in South Dakota. The parties also sent waves of supporters to the state to mobilize voters.
Herseth's win coincided with Democratic claims that a national tide is running their way. Recent polling shows support slumping for President Bush as well as for the Republican majority in the House.
Even after victories in South Dakota and in a special congressional election in Kentucky earlier this year, Democrats still must pick up 11 more seats in November to gain control of the House.
Republicans disputed Democratic claims about an anti-GOP trend. They noted that Herseth began the race with a huge lead, the residue of having run unsuccessfully for the seat in 2002.
They also emphasized that Diedrich had managed to close the margin in the polls dramatically in the race's final weeks.
Herseth won 51 percent, or 132,377 votes, to 49 percent, or 129,396 votes for Diedrich, a farmer, former state lawmaker and onetime head of the American Soybean Association.
Herseth is a Georgetown-educated lawyer who left the East Coast to launch a political career back home. She gained name recognition after running a close race in 2002 against Janklow, a Republican who moved to Congress after four terms as governor.
He resigned from Congress in January after being convicted of manslaughter in an accident that killed a motorcyclist. He served 100 days in jail and was released last month.
Diedrich, 46, and Herseth have both supported President Bush on the war in Iraq. The campaign instead focused on prescription drugs, Medicare, Mr. Bush's tax cuts and veterans issues.
"Democrats have high hopes for Herseth beyond this election," reports Kiker. "A graduate of Georgetown University and its law school, the party thinks that the attractive, articulate Herseth could be one of its new stars. Herseth comes from state political royalty of sorts — her grandfather was a popular governor, her grandmother was secretary of state and her father was a longtime state lawmaker — and she has benefited from that name recognition."
Once Herseth is sworn in, Republicans will have 228 seats, to 206 for the Democrats with one Democratic-leaning independent.
Elsewhere Tuesday:
Alabama voters chose Republican nominees for three seats on the Alabama Supreme Court — races that became a referendum on ousted Chief Justice Roy Moore and his Ten Commandments monument. Moore was expelled from the bench by a judicial ethics panel for refusing to remove the 2½-ton granite monument from the state courthouse rotunda.
Former Moore aide Tom Parker defeated Justice Jean Brown, another pro-Moore court candidate lost, while another was trailing in a four-way race that could lead to a runoff. With 94 percent of precincts reporting, Parker had 51 percent to Brown's 49 percent.
The Ten Commandments dispute also figured in the GOP primary for a U.S. House seat. Moore's attorney, Phillip Jauregui, was soundly defeated by six-term Rep. Spencer Bachus.
In New Mexico, Gary King, a former legislator and deputy Energy Secretary, won a Democratic congressional primary and will face GOP Rep. Steve Pearce in a district Democrats view as competitive in November. King is the son of former three-time Gov. Bruce King, the longest serving governor in state history.

Thanks for reading CBS NEWS.
Create your free account or log in
for more features.