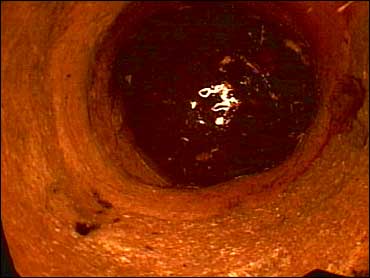 Deadly Secrets Of The Well
Criminal investigator Clay Bryant goes after leads like a dog goes after a bone. "I've tried other things in my life and haven't been happy," says Bryant, 50. "I couldn't think of doing anything else."
He has a law degree, years of police experience, and a new nickname: Cold Case Clay, a joking reference to his success in helping the district attorney in La Grange, Ga., solve cases long forgotten.
"I found a tremendous amount of satisfaction to right a long-standing wrong," adds Bryant, who says that he was born into the job. "I was raised on the front seat of a police car by probably the best criminal investigator there was, my father."
Bryant's father, Buddy, was the police chief of Hogansville, a tiny town nearby, and Clay idolized him. As a 15-year-old, he says he had the most fun going out with his dad on police calls.
"Every waking moment I wasn't having to cut grass or do some of the things I had to do, I spent right behind my daddy," recalls Bryant, which is exactly where he was on a hot August morning in 1970, when his father responded to a call from the sheriff's department.
A child had spotted a woman's body at the bottom of an abandoned well. "I'll never forget. It was awful. It was macabre, the poor woman spinning around on that cable," says Bryant, of an image that has haunted him for 34 years "It was surreal. It was so removed from what life ought to be."
Her name was Gwendolyn Moore and she had been missing since the night before. She was married at 15, had four kids, and was dead at 30.
"She was just really a beautiful person, easy-going, sweet," says Pat Terry, Gwendolyn's sister. "She was willing to do anything to help anyone."
"I had probably the most wonderful mother in the world," adds Gwendolyn's oldest son, Allen Moore.
But Gwendolyn's smile hid a lifetime of abuse.
"I've been spanked with everything, from a hose pipe to a chain to a tree limb, belts," recalls Allen Moore, who says his father also abused his mother. "I remember a lot of times, you know, I'd wake up because we'd hear the beatings going on at night. And we'd just fall asleep crying."
Terry says her sister tried to leave her husband, but he would always find her: "He threatened to kill the children if she didn't come back with him."
Gwendolyn often hid in a crawl space under a neighbor's house. That's where Allen says he last saw his mother, in the dark: "Her left eye was swollen shut. And she could barely see out of her right eye and you can tell she was in a lot of pain."
"She said she was leaving," says Allen. "She told me that she loved us very much, that she'd be back to get us. And I left her there."
Her body was found the next day. Allen says he thought his father was responsible for his mother's death.
Suspicion immediately fell on Gwendolyn's husband, Marshall, who admitted he'd hit her the day before. He was interviewed by police, and passed a lie detector test. Bryant says Moore also knew some important people in town: "For whatever reason, somebody did not want to solve this case. It was just a tragic ending to a tragic existence."
No one ever was charged and Bryant's dad was helpless to do anything, because the well was just over the city line – out of his jurisdiction.
Years passed, but Bryant never forgot his father's frustration: "My daddy had some very strong feelings about this case. I heard him talk about it all the way up to his death. This is one of those injustices that he never got over."
Marshall Moore, meanwhile, remarried within a few months of Gwendolyn's death, and continued to live in the same house. And this is where things stood in 2002, when Bryant got a remarkable phone call from a local sheriff's deputy.
It was a call that would give him a chance to do what his father had been unable to do – find justice for Gwendolyn Moore.
Bryant, the father of two, will never forget the day the Gwendolyn Moore case came back into his life.
Remarkably, it was his father's birthday. And none of it would have happened without Leslie Ianuzzie, a distant relative of Gwendolyn's. It all started after she found a photo of a woman she didn't recognize in a family album: her great aunt, Gwendolyn. Ianuzzie's mother, Millie, explained who Gwendolyn was, and talked about her tragic end.
"I saw something in her face when she saw Gwen's picture," recalls Millie. "That I knew she was gonna pursue that."
Not everyone in the family was happy about it, including Gwendolyn's sister. But Ianuzzie says she wanted answers, so she combed the Internet looking for obituaries, called sheriff's departments and checked out the local county archive. Finally, she found Gwendolyn's death certificate at Atlanta's Hall of Vital Records.
"Once I got the death certificate, that was the best part, for me," says Ianuzzie. "It has the little boxes whether it was a homicide or accident, and it was marked as a homicide."
But she says that she wasn't able to get the police report: "No one could ever give me one." Ianuzzie was convinced that someone had gotten away with murder. And her persistence finally led to Bryant being assigned the case. Bryant told Ianuzzie that he was there the day Gwendolyn's body was pulled out of the well.
"It was something that he carried with him for a long time," says Ianuzzie.
Bryant now needed to build a case against Gwendolyn's husband, Marshall Moore. But Moore was 67 and ailing and many of the cops from back then were dead. So was the medical examiner who'd written "homicide" on the death certificate.
To prosecute Moore, Bryant needed new evidence, and he hoped to get it by exhuming Gwendolyn's body. He was at the gravesite for the exhumation, and with the Georgia Bureau of Investigation pathologist for the autopsy.
At first, Bryant says the pathologist wasn't able to find anything that resulted in Gwendolyn's death. But then, the pathologist noticed that the bone just in front of the voice box, called the hyoid bone, was fractured: "There's not but one way for it to be fractured in this traditional manner. And that's with the thumbs in a manual strangulation."
So three decades after Bryant, just a teenager, watched Gwendolyn's body being pulled from the well, the district attorney charged Marshall Moore with first-degree murder.
Moore went free on bond, insisting through his attorney, William Steinberger, that he's innocent. His trial was delayed by an illness and an appeal. He argued that he couldn't get a fair trial after all this time.
Moore lost his appeal. He would have to stand trial.
What is it going to be like for Allen Moore to see his father in the courtroom? "I know what my mother went through. I'm a big boy now," says Allen Moore. "And I look at him dead in the eyes and say, 'You were wrong. You wanna put your hands on somebody now, come put them on me.' 'uz I'm old enough and big enough now that I can defend my mama's reputation."
But that showdown wasn't to be. Moore died before his trial even began, leaving behind a trail of frustration.
"I wanted everything to brought out in the open," says Allen Moore. "I wanted everyone to know. I really feel cheated."
Even so, Bryant feels he got his man, and that some measure of justice has been served.
A freak thunderstorm through western Georgia in May 2003 would bring Bryant and his boss, district attorney Pete Skandilakis, together.
"It was an act of God to bring everyone together at the same time," says Skandilakis, whose new pickup truck was crushed by a pine tree.
Skandilakis took his truck to a La Grange repair shop owned by Tim Wilkerson, who had heard about Bryant's success with the Gwendolyn Moore case. Wilkerson has also been haunted by a long-forgotten case, the disappearance of his father, Fred Wilkerson, and wanted Skandilakis to reopen the case.
Fred Wilkerson, 49, a truck driver, had seemingly vanished off the face of the earth in November 1987. The only clue left behind was Fred's car, found at the Atlanta airport a month after he disappeared. "In the word of the investigator at the time, the car was as clean as a hound's tooth," says Bryant.
But even more suspicious to Bryant were two uncashed payroll checks in the glove compartment. "A man who's fixing to go assume a new identity, surely he's not going to leave $500-600 laying on the seat of a car, uncashed," he says.
Apart from the car, Bryant had very little to work with. But then, the pieces started coming together as he kept hearing one name: Connie Quedens, Fred's ex-girlfriend.
Quedens was divorcing her husband when she and Fred Wilkerson bought property together in 1987 and built their dream house. "He loved her," says Bryant. "As a matter of fact, he deeded the property over to her 'for love and affection.'"
But Bryant says that shortly after moving in together, Quedens wanted out of the relationship and she wanted Wilkerson out of the house. By then, Wilkerson was broke, and wanted his half of the property back. On Nov. 25, 1987, Wilkerson sued Quedens. Two days later, Quedens invited Fred over to talk about it.
That was the last time anyone saw Fred Wilkerson.
Was Quedens ever considered a suspect? "I think they interviewed her [Quedens] one time and they really didn't have any hard evidence against her," says Fred's son, Tim Wilkerson.
Today, Quedens says she can't imagine why anyone would think she was involved in Wilkerson's disappearance: "I consider myself a devout Christian. I am a very compassionate person. I love animals. I love people."
Quedens, however, liked to tape her phone conversations, including one discussion when she and Wilkerson were arguing over dividing their property: "This morning I was going to make an amiable settlement. … But damn you, you bastard!"
Regardless, Quedens denies that there was reason for her to want to get rid of Fred, and she also denies that she and Wilkerson were ever romantically involved, even though Bryant disagrees.
"She enticed him over there with the intention of killing him, and that's exactly what she did," says Bryant.
Where was the body? People believed that his body was in a well on Quedens' property. "Fred had to be in a place that was deep enough where he could go totally undisturbed," says Bryant, whose suspicions weren't enough to get a search warrant.
The case stalled, until a tip led Bryant to Queden's old friend, Lisa Hulderman. She had given police dynamite information nine years earlier, but it somehow fell through the cracks. Hulderman says the day after Wilkenson disappeared, Quedens asked her to come over to her house. She told Hulderman she needed to deliver a car to the Atlanta airport, and asked Hulderman to drive her car up there, pick her up and bring her back.
Hulderman says she didn't recognize the car that Quedens drove. But Bryant believed he knew whose car it was, and asked for a search warrant.
In September 2003, the Troop County sheriff's department descended on Connie's house. "We told her we were going to start the search at the location of the old well, and at that point she says, 'If he's down there, I don't know anything about it,'" says Bryant.
For 90 minutes, crime scene technicians searched for any sign of Wilkerson. They discovered human remains in the well, and Quedens was arrested and charged with first-degree murder.
"I had no reason in the world to assume that Fred was dead," says Quedens. "None whatsoever."
Seventeen years after Livingston's disappearance, Quedens was about to go on trial.
Bryant believes the murder occurred inside the laundry room, which was downstairs in Queden's house. In the mid '90s, the well was not visible; it had been completely covered.
"Connie Quedens, again very resourceful, she knew what she needed to do," says Bryant. "She engineered her plan, she got the body to the well, and she couldn't have had a better, more convenient place to put a body."
A year has passed since Bryant hauled what he believes is Fred Wilkerson's body out of Quedens' well. "I think we should still be looking for him," says Quedens. "Too many people have come forward to say they've seen him after that date."
In July 2003, a childhood friend said he saw Wilkerson at a Los Angeles hotel. He says he was so shocked that he asked hotel security for a copy of the surveillance photo.
But Skandilakis says he will prove that Wilkerson was at the bottom of Quedens' well, and that Quedens "lured him in there and she killed him" out of greed. "What this case boils down to is a woman who is not going to give up her land, is going to do anything she can do to prevent her ex-lover from getting her land," says Skandilakis. "That's the motive."
"Is she the type that would do that. We think no," says Quedens' attorney, Arthur Edge.
The prosecution's first job at trial is to nail down the victim's real identity, because DNA tests can't identify the bones positively as Wilkerson's. But Wilkerson's son, Tim, takes the stand and gives details that might help identify his father.
Then Bryant recalls the discovery at Quedens' well. But prosecutors believe the jurors needed to see the remains of Wilkerson themselves. In fact, over defense objections, Bryant wheeled in what he believes are the remains of Wilkerson into the courtroom.
"In my 20 years as a prosecutor, that's the first time I've done that," says Skandilakis. "We thought the jurors should see it, and we thought we could explain that this was Mr. Wilkerson in the grave."
Forensic anthropologist and war crimes expert Dr. Jay Snow begins by describing the physical evidence he found – and says the cause of death is obvious: "We have an oblong defect on the top of the skull. And I've seen these many, many times over in Bosnia. Primarily, they are victims of an execution."
Bryant believes that Quedens shot Wilkerson on top of the head. But prosecutors still have one big problem. If Quedens had killed Wilkerson inside their home, how did she, a small woman, move him more than the length of an entire football field – 140 yards – over to where the well was, all by herself?
"We're talking about a 170 lb., 5'10" dead weight," says Edge. "We want to demonstrate to the jury that that's just not that simple."
The defense's demonstration comes at the expense of police Lt. Wallis Grizzard, whom they asked to carry a dummy they put together matching Wilkerson's height and weight. Grizzard had a difficult time, and had to take a minute to catch his breath, moving the dummy. "I've carried humans before, but that's a lot different," says Grizzard.
Bryant, however, insists there's a simple explanation: "Connie was basically the same size he was and she could use a chain saw, she could tote fence posts. She'd do whatever she needed to do."
Plus, Quedens had horses, an ATV and almost a day to move the body. "For her to move it 100 yards in the time she had, I don't think she would have had any problem," says Bryant. Back in court, the prosecutor called Quedens' estranged husband, Gary, who described what he found the night after Wilkerson disappeared: "When I went downstairs, I came right across a pistol that was laying on the floor on the carpet. A PPK that I had given my wife for protection a couple of years before."
"He found the gun that we believe was the murder weapon," says Skandilakis.
But years later, investigators couldn't find the gun, but that did little to blunt the prosecution's parade of devastating character witnesses. Even Quedens' son, Geerin, testifies against his mother, about her rocky relationship with Wilkerson. "When my son got on the stand, and said that, I couldn't believe it," says Quedens. "It really hurt."
The prosecution's case was circumstantial, but in the end, they seemed confident. Quedens, however, says: "I think this was more of a character assassination than it was to find me guilty of a crime."
Her fate is now in the jury's hands.
"If 12 enlightened jurors look at this circumstance, there's no doubt in my mind that they will come to the conclusion that Fred Wilkerson was murdered that night," says Bryant. "And that he was placed in that well, and Connie Quedens did it."
"I did not kill anyone. And I did not know of that body in that well," says Quedens, awaiting the jury's verdict.
The jury deliberated for just three hours. The verdict: guilty. It's a life sentence for Quedens.
Two days after the trial, Wilkenson's children, Tracy and Tim, hold the proper burial denied their father by Quedens.
For Bryant, it's a fitting end. "It's just so gratifying to be able to step in and set the record straight," says Bryant. "And give them, if there is such a thing as closure to something like this, at least give it some finality."
Bryant's father, perhaps, would be proud. "One thing that he tried to instill in me was that justice was something that in the end we have control over. And that, do a little work and diligence, you could find right."
And Bryant always seems to know where to find it.
"It's been the brunt of several jokes around, you know, you go outside and check, you got an old well on your property," says Bryant. "You see me out there, you know you got a problem. Nothing could make me happier than what I do."
Connie Quedens could be eligible for parole in nine years. Fred Wilkerson's family says they'll fight to keep her in prison for life.
Thanks for reading CBS NEWS.
Create your free account or log in
for more features.