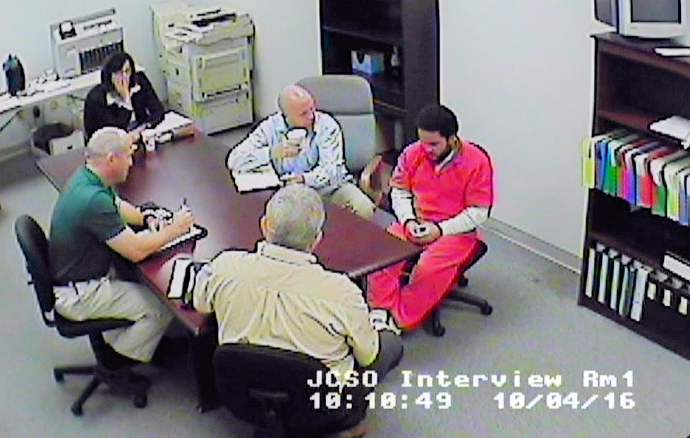 Video: Man confesses to role in murder-for-hire killing
TALLAHASSEE, Fla. -- Newly released video shows a suspect in the murder-for-hire killing of a Florida State University professor admitting to his part in the alleged scheme, reports CBS affiliate WCTV.
Luis Rivera was sentenced to seven years in prison last week after pleading guilty to second-degree murder in exchange for cooperating with prosecutors. Investigators say Rivera and another man, Sigfredo Garcia, were hired by the family of Dan Markel's former wife in 2014 to kill the professor, who was gunned down in his garage.
Video recently obtained by various Florida media outlets shows Rivera confessing to the murder during a police interview.
"He showed you a picture of Markel, and said ya'll were going to go kill him?" A detective asked Rivera, in reference to Garcia.
Rivera replied, "Mmhmm."
Later, Rivera can be heard saying Garcia was the trigger man and Katie Magbanua facilitated the hit. In documents released by the police Sunday and previously obtained by the Tallahassee Democrat, detectives alleged that Magbanua had a romantic relationship with the brother of Wendi Adelson, Markel's ex-wife, and lived with Garcia and had two children with him.
Investigators say in the weeks leading up to the killing and immediately thereafter, there were hundreds of calls between Charles Adelson and Magbanua and between Magbanua and Garcia, often moments apart. Magbanua was arrested Oct. 2 near Fort Lauderdale and charged with murder.
"I know Katie's voice, I'm 100% sure she was in this the whole time," Rivera said in the video. He also said the trio were hired because Markel's ex-wife wanted full custody of their two children. Adelson has not been charged in the case, nor have any of the members of her family been charged.
Garcia will go to trial in November, when Rivera is slated to testify against Garcia and Magbanua. He is currently serving 12 years in federal prison on an unrelated charge.
Court documents show that Rivera's plea deal - which lessened his charge from first-degree murder and a possible death sentence - require him to cooperate fully with authorities.
A lawyer for Charles Adleson, the brother of Markel's ex-wife, criticized the plea deal as "offensive."
"The prosecution admittedly didn't have enough evidence so it went out and bought some by giving away the farm to a murderer," David Oscar Markus said in an email. "This convicted gangster knows the game and would have said anything not to come out of prison in a box. The prosecution literally threatened him with the needle to get this testimony. That's not a search for the truth. That's a deal with the devil."
Thanks for reading CBS NEWS.
Create your free account or log in
for more features.