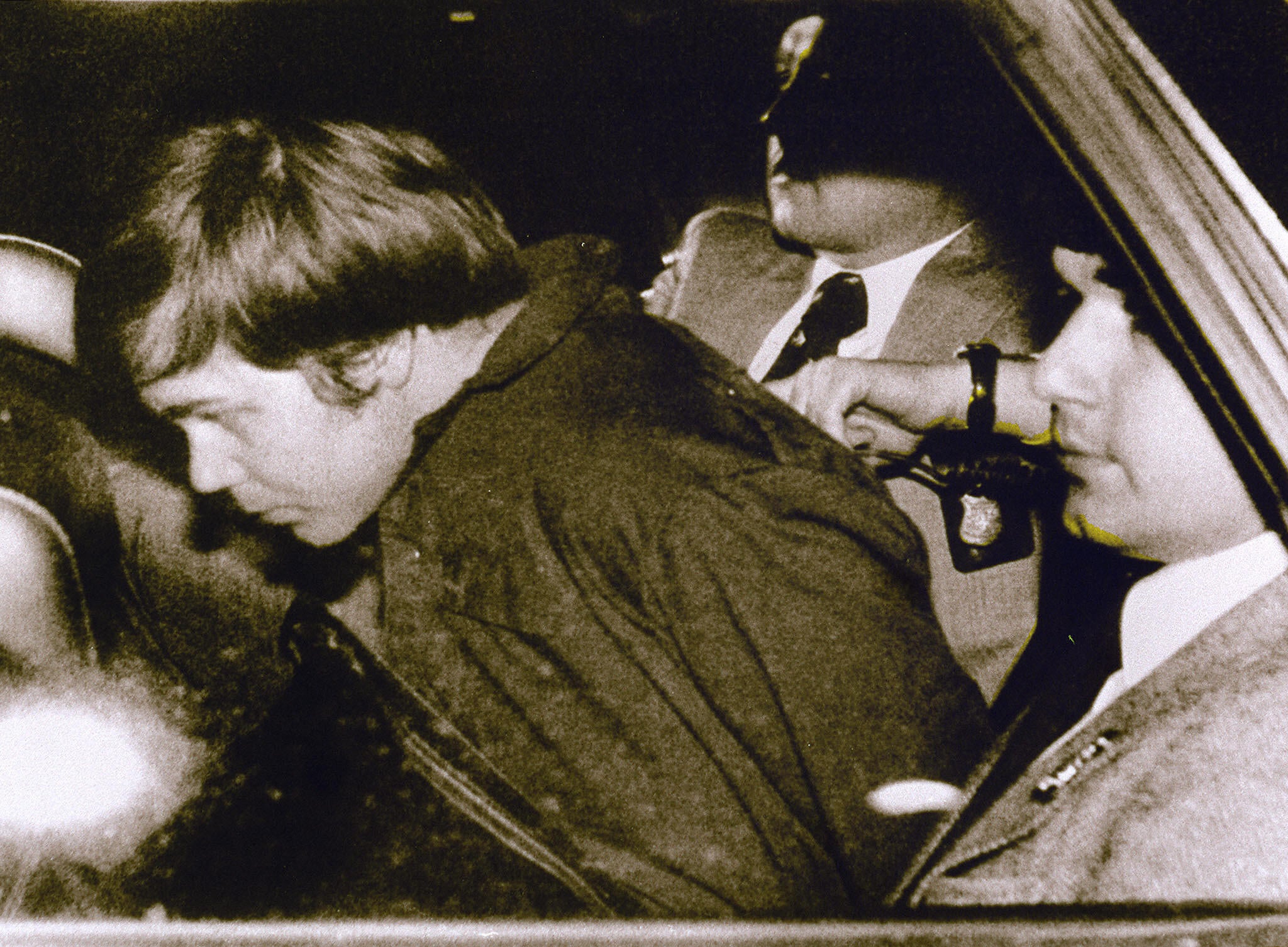 Could John Hinckley - the man who shot Ronald Reagan - be released?
A court hearing Wednesday could determine whether John Hinckley Jr., the man who nearly killed President Ronald Reagan in a bid to win the affection of actress Jodie Foster, is granted nearly-permanent leave from the psychiatric facility that's housed him for decades.
On March 30, 1981, Hinckley opened fire outside a Washington, D.C. hotel as then-President Reagan was exiting the building after a speech. One of the bullets punctured the president's lung and barely missed his heart. Another left then-White House press secretary James Brady paralyzed from the waist down.
After Brady died last year, the coroner ruled his death a homicide, blaming it on injuries he sustained during the shooting. No additional charges were pursued against Hinckley.
In a letter the would-be assassin sent before the shooting, Hinckley confessed his bizarre motive to Foster, whom he'd been stalking for months.
"The reason I'm going ahead with this attempt now is because I cannot wait any longer to impress you," he wrote. "This letter is being written only an hour before I leave for the Hilton Hotel. Jodie, I'm asking you to please look into your heart and at least give the chance, with this historical deed, to gain your love and respect."
Hinckley was found not guilty by reason of insanity. Since then, he's spent much of his time at St. Elizabeth's Hospital in southeast D.C., under close psychiatric supervision and treatment.
In 2003, federal judge Paul L. Friedman allowed Hinckley daytime visits with his parents, Jo Ann and John Hinckley Sr., outside the hospital. The limits on that leave were gradually eased over the years, and in 2013, Friedman granted Hinckley monthly 17-day stays in Williamsburg, where he now spends the majority of his time at his mother's house in a quiet gated community.
Though the latest recommendations of his doctors at St. Elizabeth's have not been released, Hinckley is expected to request a further expansion of his leave at Wednesday's hearing. He could receive 24 days leave per month, as his attorney requested in 2013, and he could even be put on "convalescent leave," which would allow him to live full-time with his mother in Williamsburg, given a number of stipulations.
Not all of the residents of the small, historic Virginia town are happy about it.
"I'd just as soon not have that whole business in my neighborhood," Jim Shoemaker, a 72 year old resident of the subdivision where Hinckley's mother lives, told the Associated Press.
"All it takes is one slip, one flip of whatever in the brain caused him to do what he did before," added another resident, Joe Mann, 73.
It's no surprise that Hinckley's gradual reintegration into society has been such an object of scrutiny and concern. His assassination attempt - and the outcome of his trial - sparked a visceral sense of outrage among the American public.
"There was a lot of shock, there was anger," recalled Julian Zelizer, a presidential historian at Princeton University. "Reagan himself talked about how the law was too easy on criminals and this played right into that. There were many people who were skeptical that insanity was a legitimate defense after an assassination attempt on the American president...I think the popular assumption is if you try to assassinate the president - and actually shoot the president - you're gonna be in jail for life."
The progression of Hinckley's case, though, been roughly comparable to the experience of others who have committed similar -- but less infamous -- acts.
"In terms of the management of insanity acquittees, generally, it is common to have this very carefully titrated doses of liberty approach, with gradual doses of freedom and a fairly tight monitoring system," explained University of Virginia law professor Richard Bonnie, who specializes in mental health and criminal law. "That is the model."
Still, experts recognize that Hinckley's case is a special one for obvious reasons. Some believe the high-profile nature of his offense -- and the fierce opposition of federal authorities to any degree of release -- may have prompted the courts to be exceptionally risk-averse in their approach to his re-integration with society.
"It probably was longer in Hinckley's case before the court was willing to give significant increments of freedom," Bonnie said. "Obviously the Justice Department has intense interest in what happens with him, and it's not a case that's likely to be treated in a routine fashion...everything in this case has been given intense scrutiny at every moment. The general pattern is similar, but the particular scrutiny and the length of time in Hinckley's case are undoubtedly special."
"Given the seriousness of Hinckley's offense and the notoriety of it, the fact that it took so long for him to be permitted any 'conditional release' is not surprising, particularly since the government opposed any release very vigorously," added Fred Heblich, an assistant federal public defender and the director of the criminal defense clinic at the U. Va. law school. "The medical evidence has weighed heavily in his favor, but the opposition has been ferocious."
Bonnie suggested the professional assessment of Hinckley's doctors will play a big role -- though not necessarily a deciding role -- in the judge's decision.
"It's not only about clinical opinion, it's also about [Hinckley's] adjustment," he explained. "There may be other witnesses that have particularly important information to give about his general condition, and the stability of his adjustment in the community."
Hinckley has enjoyed some degree of freedom and socializing during his 17-day stays in Williamsburg, where he's been spotted at book stores and movie theaters. When his leave was last expanded in 2013, the judge issued a 29 point order that laid out the terms of his partial release. It specified when he was allowed to leave his mother's home for a drive or a walk, it urged him to take music therapy classes and volunteer at a local hospital, and it required him to check in regularly with his doctors and take his medication.
A patient in Hinckley's situation "needs to understand what's required on an ongoing basis in order to stay healthy," explained Dr. John Sharp, a psychiatrist at Harvard Medical School and a member of the American Psychiatric Association. "That usually involves the possibility of medication, support and psychotherapy, and the provision for healthy check-ins with somebody."
Sharp voiced confidence in the ability of Hinckley's doctors to determine whether he's suited for expanded release. "Hinckley has been in St. Elizabeth's for a long time, and we have to trust that the specialists there have been watching him over time so that they can confidently assess his threat level to be negligible," he said.
But there's always room for uncertainty.
"Doctors are pretty great now at treating a whole range of complex illnesses and getting people well," Sharp said. "Doctors are still not great at predicting with great precision the risk of violence. The best predictor is someone's own personal history."
Hinckley's success in rejoining society may ultimately be colored by the unique nature of his case. His relative infamy may make it difficult for him to engage in social events, Sharp said. And his mother's advanced age of 85 may force Hinckley's doctors (and the judge) to consider how functional he would be in her absence, given how central a role she's played in his rehabilitation procedures to date.
"If she is some kind of anchor for him, her presence, her vitality, her ability to engage and help him is very important," Sharp said. "Doctors think about protective factors - the kinds of things that would keep someone healthy. If she were to get sick, whoever is looking after his mental health and wellbeing would have to check in with him very closely about how he's taking to that."
Thanks for reading CBS NEWS.
Create your free account or log in
for more features.