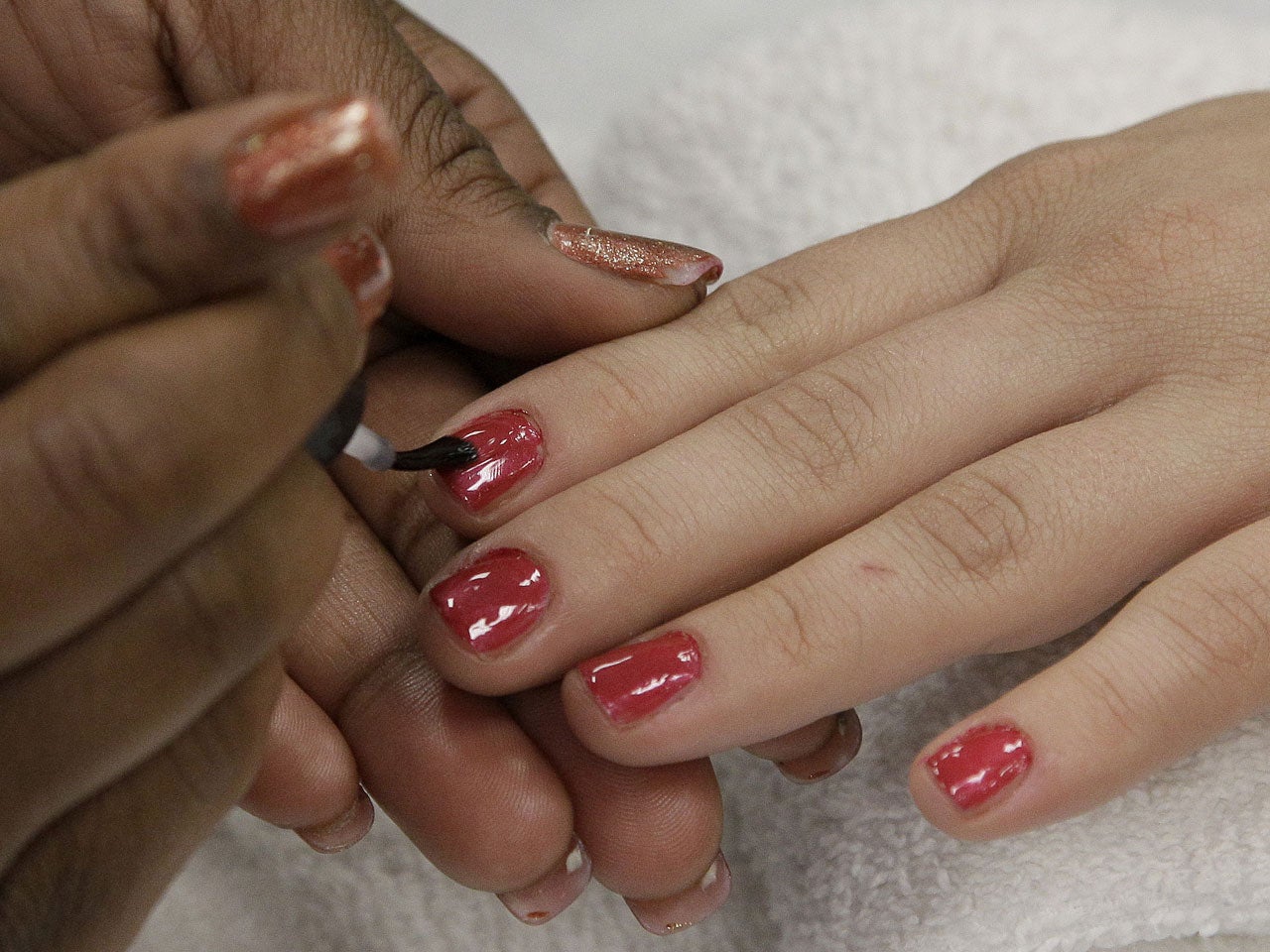 Concerned advocates, companies respond to Calif. "toxic" nail polish report
(CBS News) - Citizens, advocacy groups, medical professionals and companies are speaking out after a Calif. state government study found that many of the "non-toxic" nail polishes officials tested contained carcinogens or developmental toxins.
According to the study, out of the 12 nail product brands the Department of Toxic Substance Control tested that claimed they didn't have one to three of the "toxic trio" of chemicals, only two brands were able to stand by their claims. Some of the whole sample group of 25 brands contained as much as 17.7 percent of toxic materials.

The "toxic trio" is the nickname for dibutyl phthalate (DBP), toluene and formaldehyde, three ingredients that have been known to cause adverse side effects.
"This report shows that these companies are knowingly peddling tons of toxins without even an ounce of scruples," Miriam Yeung, executive director of the National Asian Pacific American Women's Forum, part of the National Health Nail and Beauty Salon Alliance, told HealthPop by email. "Not only are they including dangerous chemicals in their products, but they are outright lying about it. More disturbing is that the cosmetics industry continues to be almost completely unregulated- the FDA still does not have the power it needs to keep consumers and salon workers safe. "
Calif. report reveals "non-toxic" nail polishes could cause birth defects
Dibutyl phthalate (DBP) comes from the family of phthalates, a classification of compounds known to be disrupt function of the endocrine system, Dr. Kenneth R. Spaeth, the director of the Occupational and Environmental Medicine Center's Department of Population Health at North Shore University Hospital in Manhasset, N.Y., told HealthPop. Phthalates can alter hormone levels or disrupt the way the body handles its response to hormones. Although studies about the toxin are relatively recent, it has been known to cause birth defects, including neurological and developmental issues in fetuses.
"In a fetus, there's felt to be greater susceptibility to the effects," Spaeth said. "Pregnant women would be at particular concern here. Any exposure that they experience is also going to be experienced by the fetus."

According to Spaeth, toluene is a neurotoxin that can also irritate the upper respiratory system. It has been known to harm the nervous system of people of any age, but it can cross through the placenta and reach the fetus to cause developmental defects as well.
"A lot of the mechanisms that we have in the body to protect us from these toxins are not developed so there's greater susceptibility because of that and because of their size," he said.
Formaldehyde is a known carcinogen that is also known to cause respiratory problems and can exacerbate problems in people with asthma and other breathing issues, Spaeth commented.
While he said that the problem could be a concern for people who go to nail salons frequently, it's more of a bigger problem for people who work with the products. Poor ventilation and improper equipment - like using the wrong masks - can lead to health problems. Spaeth says it's fairly common to see nail salon workers with breathing problems.
Part of the problem lies in the fact that many nail salon workers are of different ethnicities and may not have a command of the English language warnings. The report found that 59 to 80 percent of nail salon workers in California are of Vietnamese decent, and English was not their primary language.
"Physically, I can tell after eight or ten hours working, the chemicals give you very bad headache and affects you mentally. My eyes itch. My nose itch. But as soon as I walk outside the salon, I feel much better. I hope the state government think about this and make it by law that if you say 'no' and you have it, they have to have punishment or penalty," Tina Bui, who has been a manicurist for 17 years in Marin County, Calif, told the Associated Press.
Spaeth and Yeung said more needs to be done to protect these workers. Spaeth urged that people need to be educated about potential dangers in their native language.
"Immigrants find themselves performing job tasks that are higher risk and that often exposes them to chemicals or hazardous situations because of their inability to understand or speak the language," he said. "They aren't always educated about the risk."
Nail polish company Zoya, which was tested in the study, told HealthPop that not only did they strive to be free of the three chemicals and other toxins. The vegan-friendly brand was one of two brands whose claims that they were "3 free" were substantiated by the study. The polish was developed in 1992 by pianist turned cosmetologist, Zoya Reyzis, and her husband Michael, who had previously worked in the medical field, to be a healthier alternative nail polish.
"Today, Zoya Nail Polish and Treatments remains committed to a proactive approach to developing quality, toxin free products," a Zoya spokesperson told HealthPop in a statement.
It's important to note that some of the brands included in the California study may not be considered to be top nail polish companies.
"(The Nail Manufacturers Council) condemns any manufacturer misleading customers about the ingredients in their products," Myra Irizarry, director of government affairs for the Nail Manufacturers Council, told the Associated Press. "The public should, however, be aware that nearly the entire nail polish industry voluntarily took steps years ago to remove toluene and DBP from their products."
Popular polish brand OPI told HealthPop that the major salon brands have improved their formulas to get rid of these chemicals. The study determined that although they didn't label their products as "3 Free," they were in fact devoid of the toxins.
"The lesson of the study is that consumers should ask for, and use, brands they know and trust," OPI told HealthPop.
Thanks for reading CBS NEWS.
Create your free account or log in
for more features.