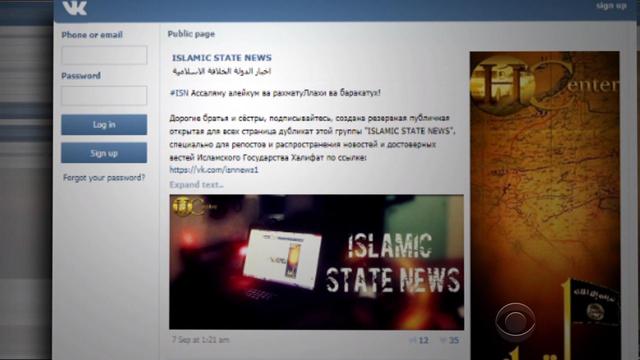 Fighting ISIS online a game of digital whack-a-mole
Minutes before the militant group known as the Islamic State of Iraq and Syria, or ISIS, released a video they say shows the murder of British hostage David Haines, the group's followers on Twitter started teasing a forthcoming message to Britain.
Once the video surfaced, followers were promoting it with the hashtag #MessageToAlliesOfUSA and posting links to YouTube.
Social media sites around the world have been trying to crack down on postings from radical jihadists. At one point, ISIS followers fled to a Russian Facebook competitor, VK.com.
But, this week, that site also started blocking ISIS activity, so instead of displaying an official ISIS page, followers now get an error message.
It's a game of digital whack-a-mole. As soon as one is shut down, another pops up under a new account or on a different site.
One ISIS supporter boasted "back in twitter after account got suspended again."
ISIS has exploited social media to recruit new fighters and spread its violent ideology.
Recent Twitter postings show a young jihadi boy with a knife and a masked baby in a teddy bear jacket flanked by weapons. That account has now been suspended.
And then there's the Twitter account @JihadMatchmaker. It says it wants to "link up those seeking marriage in Syria."
The State Department is fighting back. Over the last few months, it has ramped up efforts to combat the extremists' messaging, in part by creating Twitter and YouTube accounts of its own. One video is called "Welcome to the Islamic State Land."
"We can't do it all ourselves, nor should we," said spokeswoman Marie Harf, "so there really needs to be a concerted effort for religious leaders, other people in the region - and they have already - but to continue to speak out and reject this ideology."
Thanks for reading CBS NEWS.
Create your free account or log in
for more features.