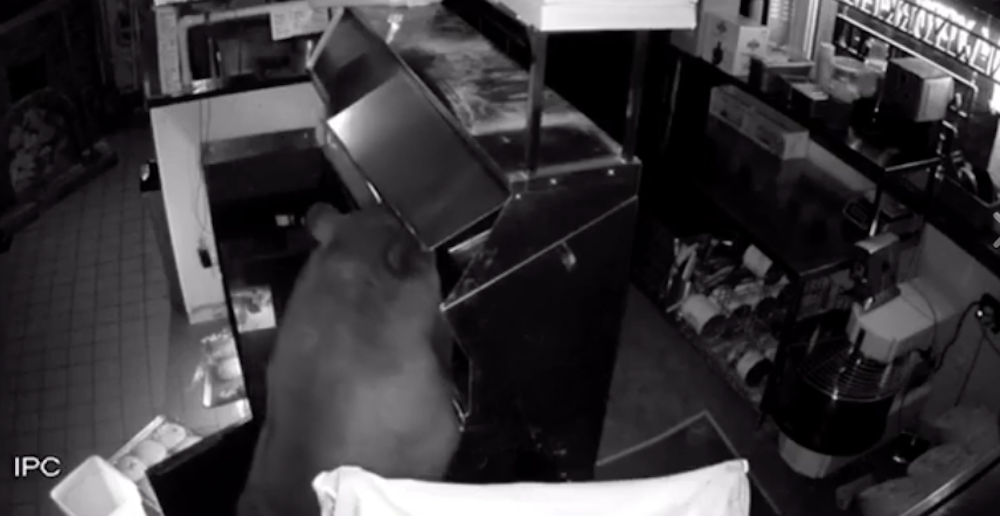 3 black bears break into pizza shop, eat salami and dough
ESTES PARK, Colo. -- A pizzeria owner in Colorado blames a female black bear and her two cubs for damage to his kitchen -- and he has surveillance video to prove it, CBS Denver reports.
"It was really fun to come into that one," said Tony Francher, the co-owner of Antonio's Real New York Pizza in Estes Park.
Francher said the bears broke into a main window on the front of the business. He said they ate pretty lightly, nabbing several trays of dough and a chunk of salami before exiting.
"A note to police for the future: if bears break into our stores, please don't shoot them. Every dumpster in town is now bear proof which leaves only our homes, cars and businesses," the pizzeria said on Facebook.
"While I don't advocate feeding wildlife in any way, I believe it would have been much better to have left the old dumpster tops in place because they wouldn't become desperate enough to break into houses or businesses and the damage in dollars would be much lower," the post said. "This could have been so much worse."
The company keeps the majority of its materials in another room which the bears did not gain access to.
Restaurant workers "tossed product, sanitized, re-stocked," and were open for business Saturday as scheduled at noon. A few dough trays also had to be bent back into shape.
Francher expects the bears to break in and try to steal another meal. "Cameras will be rolling, but they won't be able to get into anything," he said.
The three trespassers chose their diet wisely, according to feeding habits notes from the Colorado Parks & Wildlife. After August, black bears enter "hyperphagia" and seek high fat and high carbohydrate food in order to pack on pounds for hibernation through the winter.
"Many bears actively forage up to 20 hours per day during the fall feeding frenzy," wildlife officials wrote.
Thanks for reading CBS NEWS.
Create your free account or log in
for more features.