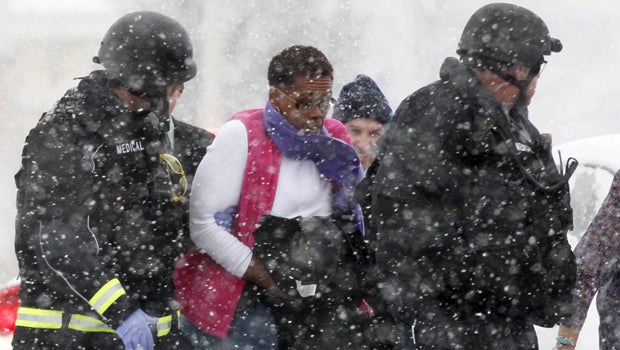 Shooting survivors describe tense moments in Colorado
An investigation was underway in Colorado Saturday following a deadly attack on a Planned Parenthood facility.
A gunman shot and killed three people, including a police officer.
That officer, Garrett Swasey, was a member of the University of Colorado Police Department in Colorado Springs. Five other officers and four civilians were wounded in the attack.
The shooting happened in Colorado Springs, about 70 miles south of Denver. A dramatic standoff with police ended after five hours.
The suspected gunman, Robert Lewis Dear of North Carolina, is in custody. He was booked into the El Paso County Jail, was being held without bail and was scheduled to appear in court Monday.
Sources told CBS News that Dear surrendered Friday after realizing that he was cornered and had nowhere to run. Since then, he's been cooperating with investigators.
Law enforcement sources said police were able to tap into the Planned Parenthood building's surveillance camera system, CBS News' Jeff Pegues reports. Near the end of the standoff, they were able to pinpoint where the gunman was in the building.
CBS News' David Begnaud reports that the facility remained an active crime scene Saturday morning with investigators going through it room by room.
Swasey's body was transported under heavy police escort to a local funeral home Saturday morning.
Frightening moments were captured on police scanners after authorities say Dear opened fire on officers who were responding to reports of an active shooter:
"He's shooting at you as you coming in."
"I've been shot. I'm hit!"
With the gunman still on the loose inside the Colorado Springs Planned Parenthood, police were able to rescue people hiding inside the building, including Katanya Craion.
"I heard everyone in the lobby screaming 'get down, get down,' and then I saw the gunman walking with a shotgun just shooting randomly," she said.
Said Ozy Licano: "He was aiming for my head. It's just weird to stare into the face of somebody like that, and he didn't win."
"While this was a terrible, terrible tragedy," said Colorado Springs Mayor John Suthers, "it could have been much worse but for the actions of the first responders, particularly the police officers involved."
The situation was further complicated because law enforcement was concerned the gunman brought explosives.
"We did get officers inside of the building at the Planned Parenthood," said Lt. Catherine Buckley, "and the officers were able to shout to the suspect and make communication with him, and at that point they were able to get him to surrender, and he was taken into custody."
On the police scanner, an officer said: "We have our suspect right now. He's saying that he is alone and he's by himself."
Nine other people were shot but are listed in good condition at a local hospital.
Swasey, the officer who died, leaves behind a wife, a son and a daughter.
Thanks for reading CBS NEWS.
Create your free account or log in
for more features.