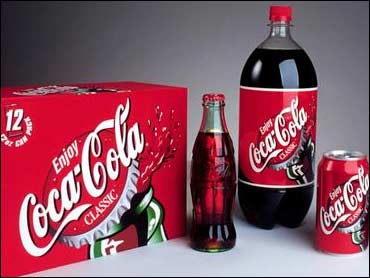 Coke Gulps Down Stake of Coconut Water Co.
Soft drink giant Coca-Cola Co. has taken a minority stake in a coconut water company, continuing its move into juices and teas as consumers spurn soft drinks for health and cost reasons.
The Atlanta-based maker of Coke and Sprite and ZICO Beverages LLC announced the investment on Tuesday. Coca-Cola declined to say how much its investment was worth, other than to say it was a stake of less than 20 percent in the company.
Hermosa Beach, Calif.-based ZICO (pronounced ZEE-ko) said in a statement that it has received a $15 million investment from partners including Coca-Cola, beverage entrepreneurs, distributors, celebrities and others. So Coca-Cola's stake was worth less than that.
The move means another major drink maker is eyeing coconut water as it looks to boost sales.
Last month PepsiCo Inc. announced it was buying Brazil's biggest coconut water company, Amacoco Nordeste Ltda and Amacoco Sudeste Ltds. Terms of the deal were not disclosed.
Sales of soft drinks have been falling in recent years as consumers seek out healthier juices and teas and limit their purchases to save money.
Coconut water - the fat-free, potassium-rich liquid inside young, green coconuts - is popular in other countries and just starting to catch on in the states. According to a report from Merrill Lynch, sales in Brazil are worth more than $300 million a year, while sales in the U.S. are about one-tenth of that.
Coconut water is not to be confused with coconut milk, the liquid that comes from pressed coconut meat.
The product has long-term potential in the U.S. because it has several attributes many consumers are looking for now in beverages, said John Sicher, editor of the trade publication Beverage Digest. The drink is relatively low in calories, natural, new and functional - meaning it provides a purpose to consumers, he said. In this case, some consumers consider it a natural sports drink. Given the potential for the product, he said it makes sense for the big soft drink makers to invest in the category.
"The beverage companies need to innovate and have new kinds of products and the products need to appeal to what consumers want today," he said. "I think that coconut water, it's too early to tell, but it does have some potential."
In April, Coca-Cola said it would buy a stake of less than 20 percent in British fruit and smoothie drinks maker Innocent Drinks worth 30 million pounds, or about $44 million at the time the deal was announced.
This winter, the company saw a setback from the Chinese government's blocking of its proposed $2.5 billion purchase of Huiyuan Juice Group Ltd. because of monopoly concerns.
Now the company wants to get into the coconut water business.
"It's an exciting new category and an exciting new brand in the category," said Coca-Cola spokesman Scott Williamson.
ZICO, a privately held company, was founded in 2004. The company did not immediately return a request for sales figures. The line of ZICO Pure Premium Coconut Water, including flavors like mango and passion fruit, is sold in gourmet grocers, natural food stores, yoga studios and other locations.
Shares of Coca-Cola fell 19 cents to $48.58 in afternoon trading Tuesday, while shares of PepsiCo fell 50 cents to $56.17.
Thanks for reading CBS NEWS.
Create your free account or log in
for more features.