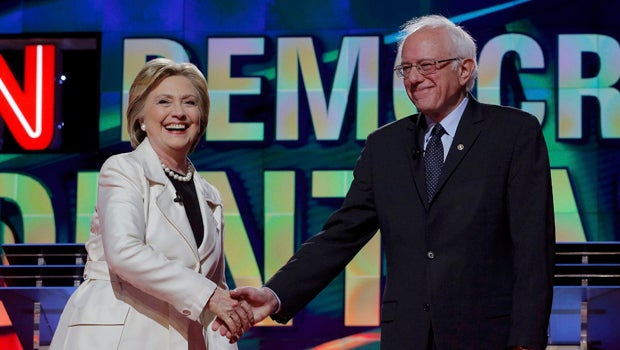 Clinton vs. Sanders on the minimum wage: who's right?
BROOKLYN -- Hillary Clinton said during the Democratic debate in Brooklyn on Thursday that, if she was President, and a $15 an hour minimum wage bill hit her desk, she would sign it.
"Of course, I would," she said.
Bernie Sanders, Clinton's opponent in the race for the Democratic nomination, took issue with her answer.
"I am sure a lot of people are very surprised to learn that you supported raising the minimum wage to 15 bucks an hour," he said. Sanders said instead that Clinton is in favor of raising the federal minimum wage to $12 an hour.
Sanders is correct: Clinton supports raising the federal minimum wage to $12 an hour, not $15. Her position, as described in a e-mail blasted to reporters covering the debate just after their exchange, is "that the federal minimum is just that, and encourages state, cities and workers through bargaining to go even higher, including a $15 minimum wage in places where it makes sense."
Clinton recently joined New York Governor Andrew Cuomo when he signed into law a bill that will raise the minimum wage in New York City to $15 an hour by the end of 2018, and in other parts of the state on a longer timeline. At the debate, Clinton said that this type of legislation is "exactly [her] position."
"I have stood on the debate stage with Senator Sanders eight prior times," Clinton said, speaking over Sanders. "I have said the exact same thing."
Clinton is right about this: she explained at the Democratic debate hosted by CBS News in Des Moines last November that she supports a proposal put forth by Democrats in the Senate.
"I do believe that is a minimum," she said of $12 during that debate. "And places like Seattle, like Los Angeles, like New York City, they can go higher."
She reiterated that stance in Brooklyn.
"I want to get something done and I think setting the goal to get to $12 is the way to go, encouraging others to get to $15," she said, "but of course, if we have a Democratic Congress, we will go to $15."
Thanks for reading CBS NEWS.
Create your free account or log in
for more features.