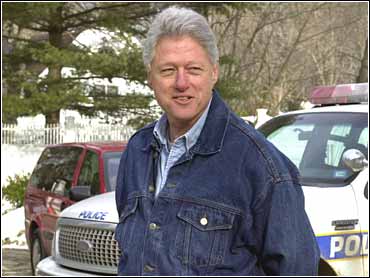 Clinton Signs Record Book Deal
Former President Clinton has agreed to write his memoirs for Alfred A. Knopf, the publisher announced Monday, in perhaps the biggest deal ever for a nonfiction work.

Terms were not immediately disclosed, but the New York Times reported on its Web site that the 42nd president agreed to an advance of more than $10 million. The book is expected to be out in 2003.

That figure could be just the tip of the iceberg. The Washington Post reports the former president has received dozens of inquiries from international publishers who hope to buy foreign rights to the book.

"President Clinton is one of the dominant figures on the global stage," Sonny Mehta, Knopf's president and editor in chief, said in a statement. "He has lived an extraordinary life, and he has a great story to tell."

The widely anticipated memoir "will be a thorough and candid telling of his life, with a primary focus on the White House years."

Mehta did not state how specific Mr. Clinton would get, or whether he would include the Monica Lewinsky sex scandal which led to Clinton's impeachment. Mr. Clinton remained in office when the Senate voted against ousting him.

Knopf, the flagship imprint of the Knopf Publishing Group which is a division of Random House, Inc., is one of the industry's most prestigious publishers and Mr. Clinton's book will be edited by Robert Gottlieb, whose other authors have included Nobel laureate Toni Morrison, the late historian Barbara Tuchman and the late publisher Katherine Graham.

The previous record advance for nonfiction was $8.5 million for worldwide rights to a book by Pope John Paul II in 1994.

"In all the years I've been doing this I've never seen more interest in a book," Robert B. Barnett of Williams & Connolly, who represents the Clintons in their various literary endeavors, told the Washington Post.




The president's wife, Sen. Hillary Rodham Clinton, inked an $8 million book deal with Simon & Schuster for her memoirs earlier this year. Her one-time opponent in the Senate race, outgoing New York City mayor Rudolph W. Giuliani is in the midst of a $3 million, two book arrangement with Tak Miramax.
Mr. Clinton and his wife incurred more than $11 million in legal expenses during their time in the White House. A pair of legal aid funds are expected to pay more than $7 million of that. The Clintons purchased a $1.7 million home in Chappaqua, N.Y., in 1999 and a $4 million house in Washington earlier this year.
The former president, who recently took up tenancy in a Harlem office space that will cost taxpayers $354,000 a year, reportedly makes around $100,000 per speaking engagement.
Mr. Clinton has a way to go to equal the literary leader among recent presidents: Richard Nixon, who wrote nine books on international policy in addition to his memoirs. Jimmy Carter wrote his memoirs plus seven books. John Kennedy penned four. Three are credited to the first President Bush.
©MMI, CBS Worldwide Inc. All Rights Reserved. This material may not be published, broadcast, rewritten, or redistributed. The Associated Press and Reuters Limited contributed to this report
Thanks for reading CBS NEWS.
Create your free account or log in
for more features.