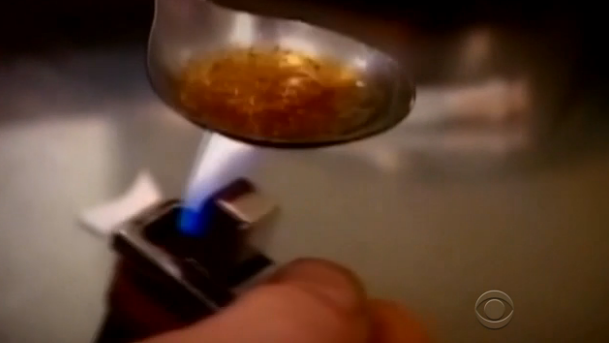 Chicago hit with dozens of heroin overdoses in three days
CHICAGO -- In Chicago, at least 74 people overdosed on heroin over a period of just three days last week. Officials think the drug had been mixed with powerful painkillers.
Brandon Holden was just 23 years old when he was found in a Staten Island, New York, convenience store bathroom with a needle still in his arm, dead from a heroin overdose.
"He could have had so much in life," said Donna Marie Holden his aunt. "He had his fiancé. He just got engaged. He was pretty happy."
Brandon's Facebook page showed he had turned his life around. He was sober for 15 months, before he relapsed.
Heroin overdoses like the ones in Chicago are on the rise. And deaths like Brandon's are up more than 170 percent across the country, according to federal agents.
Dr. Joel Nathan, who has treated addicts for more than 30 years, calls the current problem "actually an epidemic."
"What's happening now is people are coming in who used to use prescription drugs and they're shifting over to street drugs," Nathan said.
And lately, Dr. Nathan said, heroin has become more dangerous when mixed with painkillers, like Fentanyl. Federal agents say the seizure of illegal drugs containing Fentanyl more than tripled between 2013 and 2014.
"Fentanyl is 30 times more potent than heroin," said Dr. Nathan.
And the side effects are serious.
"You get death," said Dr. Nathan. "That's how serious it is."
Fentanyl is suspected in the overdoses in Chicago -- the worst outbreak in nearly a decade.
Police don't yet know whether it was a Heroin-Fentanyl cocktail that killed Brandon, but the effect on his family is the same.
"Everybody thinks it's never gonna happen to them," said Donna. "No, no, not my family. But it does happen to people who say that and it was very devastating."
The DEA is seeing Heroin-laced Fentanyl pop up in communities in the Midwest and Northeast as well. And they are now calling Heroin the number one drug threat to public health.
Thanks for reading CBS NEWS.
Create your free account or log in
for more features.