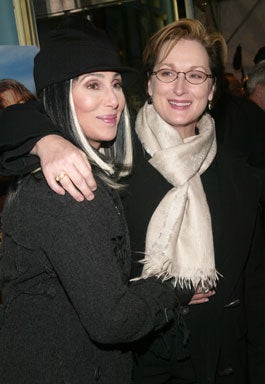 Cher reveals she and Meryl Streep once saved a woman from being attacked
Cher says she and Meryl Streep once saved a woman from sexual assault in the 1980s. The diva appeared on the "Late Late Show" with James Corden during which she opened up on the time the legendary duo rescued a woman in New York.
Cher said that she and Streep were hanging out at the actress' apartment when Streep said she wanted to go get ice cream. Cher said she thought it might be dangerous, but Streep reassured her they'd be safe.
"So we walk out and the first thing we see is some guy hitting cars with a brick, and then we walk down the street and we hear screaming," recalled the singer. "We come around the corner and this gigantic man is ripping the clothes off of this girl. Meryl starts screaming and I start screaming and we run towards this gigantic man and he turns and starts running towards us."
"We split and he ran through us and we ran up to the girl," Cher continued. "All of her clothes were torn and she was clutching her bag. So we're putting her together, kind of trying to get her to look a little bit, you know, like she hasn't just been ravaged."
Once the woman regained her composure, she was a bit starstruck. Cher said, "She looks at us and goes, 'Oh my God! I've just been saved by Meryl Streep and Cher! I'm an actress and I work in a cafe where we sing and all my friends are going to be so jealous!'"
Cher also played a game of "Spill Your Guts" with Corden, during which she decided to eat cow tongue rather than say anything nice about President Donald Trump.
Thanks for reading CBS NEWS.
Create your free account or log in
for more features.