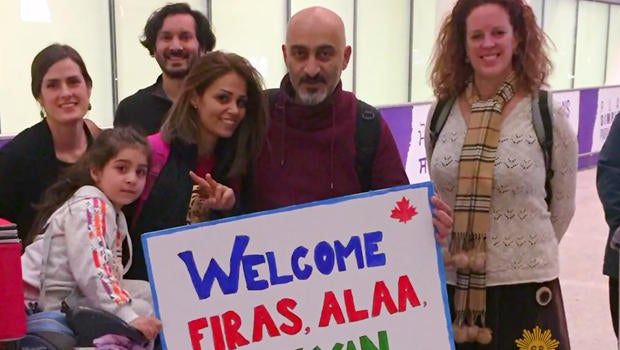 Canada opens its hearts to Syrian refugees
Even as the United States debates its policy toward the tide of refugees from Syria, our neighbor to the North is taking steps to offer more and more of them sanctuary, especially the man our Martha Teichner's been talking with...

By the time the Istanbul-to-Toronto flight finally landed, Jim Estill had been standing around with his sign for hours. All he knew about the Syrian brother and sister he was meeting at three in the morning was their names, Ahmad and Romav.
All they knew about him was that, somehow, Jim Estill had brought them to Canada.
"You are a great man," Ahmad said.
Even in a country eager to welcome Syrian refugees, Estill has upped the ante. A prominent Canadian entrepreneur and businessman, Estill put up his own money -- CAN$1.5 million (US$1.1 million) -- to resettle 58 Syrian families, 250 people, in Guelph, a small university city an hour west of Toronto. Why?
Because he was haunted by those pictures on television of Syrian cities reduced to rubble, and Syrian people dying as they tried to escape to someplace else.
"You don't want to grow old and say you stood by and did nothing," Estill said. "And it's the right thing to do."
Nearly 7 out of 10 (68%) Canadians support their government's acceptance of Syrian refugees. In contrast, 54% of American voters think the U.S. has no responsibility to take in Syrians.
Teichner asked, "The fundamental argument against Syrian refugees in the U.S. is the fear of terrorism. Are you afraid?"
"I would be wrong to say that there isn't some fear," Estill said. "But statistically the fear is completely unfounded. I believe the best way to breed world citizens is to bring them into our community and give them hope."
The emails are heart-wrenching:
"We can't come back to Syria and life here is so hard."

"Help, help, please help, my life in real danger. Help, please."
"I get 10 a day," Estill said. "And I've gotten well over 1,000. Some of them are three pages long with horror stories."
Syrians contact Jim Estill directly, because in Canada individuals can sponsor refugees if they agree to fully support them for a year. Since November 2015, Canada has admitted 40,000 Syrians -- 16,000 of those privately-sponsored. All were vetted by the Canadian government, a process that typically takes 6-9 months.
The hard part is deciding who to choose.
"It's actually a terrible process. It's awful," he said. "We try to pick people who we think will settle well, being able to support themselves."
"So the ideal refugee situation would be a family with children?"
"Yeah, mom and dad with children. And I also like extended families."
Each family is assigned an Arabic-speaking mentor and at least three English-speaking mentors, like Dan Maitland, from among the 800 volunteers Estill has recruited to help the refugees adjust.
"Who gets more out of this experience?" Teichner asked.
"I do," Maitland replied.
Ahmad added, "He's like older brother to me."
Estill likes to say he runs his refugee program like a business. In fact, he puts some of the new arrivals, like Ahmad Abad, to work temporarily at Danby, the appliance manufacturing company he runs. He even gives them time during the work day to attend English classes at the factory.
"I said to him, thank you for what you doing for us," Ahmad said, "but I need to work, I need to eat from my hand. I don't want any, give me fish every day; I need to learn fishing."
Abed and his wife, Roula, arrived in November from the city of Homs, where they owned a clothing factory, destroyed now. They spent nearly three years in Lebanon living in one room with their two sons. One son is still stuck there.
The sign promising an "exciting new retailer" at a mall in Guelph refers to Ahmad. "I think this is dream," he laughed.
A dream come true, thanks to the backing of Jim Estill, who believes Ahmad and his family can and should be running a business again.
Teichner said, "You're wearing a little Canadian flag on your sweater. Why?"
"Because I love this country," he replied.
Already? "Yes, I promised my God and myself I'm going to be very good to this country. Like she protect me, I protect her."
If being sponsored by Estill wasn't good enough, things got even better when Firas al-Mohammed was told his family (wife Alaa and daughter Lilyan) could live in a comfortable apartment free until the end of June.
They were handed a notebook, a comprehensive directory of useful information, even pictures of mentors. They couldn't believe it when they found their refrigerator filled with Syrian food.
Was he surprised by the hospitality in Canada? "Yes. It's amazing. I didn't expect it like that," Firas said. "Everywhere you go, you feel you are welcome in Canada."
He was an oil geologist in Syria; Alaa, a teacher. Their Damascus home is in ruins. The war drove them first to the oil fields of Iraq, and then after ISIS attacks, to Turkey.
Lilyan is speaking mostly English now. Just over two months after their long flight from Istanbul, this Syrian family feels safe and grateful -- and Canadian.
"Just two or three days ago I got my first salary and I paid my first tax, so I am Canadian!" he said.
They decided to keep their welcome signs.
Thanks for reading CBS NEWS.
Create your free account or log in
for more features.