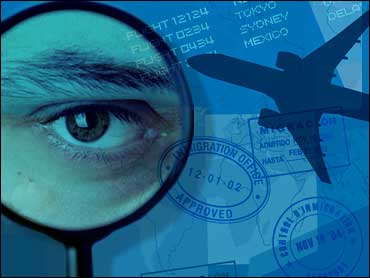 Can the K-1 fiancé visa system be made more secure?
FBI Director James Comey revealed Wednesday that Tashfeen Malik, the woman suspected of shooting 14 people in the San Bernardino, California with her husband last week was radicalized before she ever filled out her K-1 visa to come to the U.S. as Syed Rizwan Farook's wife.
Now, lawmakers are demanding more information about how she got through what is said to be a rigorous screening process. As CBS News' Margaret Brennan reports, Malik was interviewed at the U.S. embassy in Pakistan, and vetted by five different government agencies, her name and picture checked against a terror watch list and her fingerprints run against two databases.
None of it suggested that she might commit an act of terrorism on U.S. soil.
"They say that the vetting process has got all these fail safes but apparently there aren't enough fail safes," Rep. Matt Salmon, R-Arizona, told reporters after a closed-door briefing with Comey and Homeland Security Secretary Jeh Johnson Thursday.
In the wake of the Nov. 13 Paris terror attacks, lawmakers and the administration moved quickly to start implementing security improvements to the visa waiver program. Identifying ways to improve the K-1 fiancé visa poses a challenge in part because it already involves such extensive screening.
The K-1 U.S. consulate interview generally involves probing questions about the relationship between the couple -- how many times they have met, details about the proposal and wedding, evidence that there is a real relationship between the two.
In her fiancée visa interview, Malik was asked about her husband's job as a food safety inspector in California, his birthday and financial records. She also supplied the visa official with pictures of their engagement ceremony in Mecca, a U.S. official told CBS News.
University of Virginia Law Professor David Martin, a veteran of the Homeland Security, State and Defense departments, said there's no easy solution to closing the gaps in the system, but thinks the best way to improve security in the program is to improve the intelligence collection that helps the U.S. create databases it uses for background checks.
"They're never going to be foolproof," he said, noting that someone like Malik - who appeared to make an effort to mask her growing radicalization - can "stay out any situation where our intelligence capacities or the capacities of the countries where they're from or where they're temporarily living would have any reading on them."
Joe Cuddihy, a consultant at McConnell International who previously worked in DHS and DOJ, thinks the U.S. should take another look at the way information is passed between DHS and the State Department during the visa application process, demand more extensive information and verification about the applicant's recent travels, and apply information gathered by the U.S. military and other agencies on the ground in foreign countries.
The U.S. visa program has been overhauled before. The foreign-born perpetrators of the 9/11 terrorist attacks arrived in the U.S. on legal visas, and only two of them were no longer valid by the time of the attacks. In May 2003, the State Department began requiring a personal interview with a consular officer for all visa applications, a process that was written into law by Congress in 2004. The government expanded the use of background checks and improved tracking for visa holders already in the U.S.
Martin said the government has come a long way on "drawing on the widest possible array of intelligence sources," many of which were siloed before 9/11.
But the government has also tried ideas that didn't work out. One post-9/11 program called the National Security Exit-Entry Registration System (NSEERS) required men from certain Arab and Muslim countries who were living in the U.S. to register with the government, get fingerprinted and continually update the government about their whereabouts. Amid criticism, it was eventually suspended in 2011.
The two administrations that have dealt with these questions since 9/11 have created a good security regime, says Robert Divine, a former acting director of U.S. Citizenship and Immigration Services who is now a partner at Baker Donelson. It "balances resources and security with resources and freedom of movement and economic interests" of the U.S.
Still, there is always going to be some degree of risk "that any visa applicant harbors unknown intentions to harm people in the U.S.," he added. "The only way to even try to eliminate the risk is to close all borders for all purposes, which makes no more sense than eliminating driving risks by never using a car."
Divine suggested the U.S. look for ways to augment the screening of people who fit a generic risk profile, and improve its follow-up screening of those who have come here on visas.
For now, the program is being reexamined by Congress and the federal government. Sens. Ron Johnson, R-Wisconsin, and Tom Carper, D-Delaware, sent letters to the Departments of Homeland Security and State Wednesday requesting documents and more information about the K-1 visa program.
White House Press Secretary Josh Earnest was asked Thursday whether changes to the program were inevitable after the San Bernardino shooting. He responded that it "certainly seems the likely outcome, given what's transpired."
And, Earnest added, after the review by the State Department and Homeland Security, "If there are changes that are necessary that can strengthen the program and greater ensure our security, then the President will certainly direct those agencies to implement them."
Thanks for reading CBS NEWS.
Create your free account or log in
for more features.