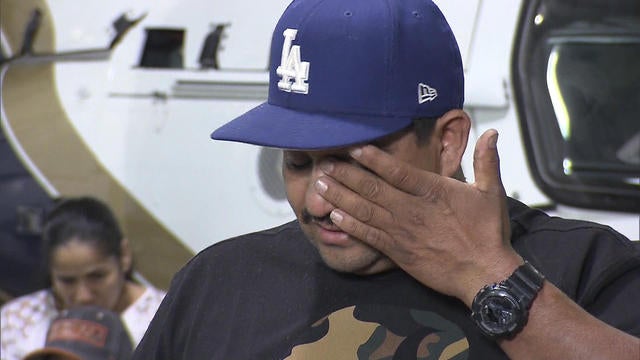 "I had to save them first": Family, rescuers recount "close" escape from wildfires
NAPA, Calif. -- Wildfires have charred ruins in Napa, California. But what was torn apart by a ferocious flames was put back together by heroes from above.
Pepe Tamayo returned Thursday to the home he and his family fled. His 7-year-old son, Jesse, his wife, Graciela, and her parents -- both in their 70s -- escaped the flames separately.
"It was ugly," Tamayo said. "It was close. It was really close."
Tamayo almost didn't make it.
California Highway Patrol helicopter pilot Pete Gavitt was flying rescue missions through heavy smoke, darkness and strong winds. There was room on his helicopter for four when they found five members of Tamayo's family.
"So I told these guys, 'Please, take my family,'" Tamayo said.
"He was holding Jesse up and he didn't want to leave his dad, and I could hear him yelling, 'No, get in it, it will be okay,'" Gavitt responded.
"I was crying, and my son, he was crying too," Graciela said. "And he was saying, 'Mom, if dad doesn't make it, don't worry. I'm going to take care of you.'"
As the helicopter left him behind, and with the fire closing in, Tamayo called his older daughter.
"I called my daughter, and I told her, mi'ja, if I don't see you again, remember I love you,'" he said.
The rescuers made two more trips before they found Tamayo, much to the relief of flight officer Whitney Lowe.
"I grabbed him right above his left chest on a shirt and said, 'You're coming with me,'" Lowe said.
There were hugs all around when rescued and rescuers met again, completing a story of bravery and a father's duty.
"What else can I do," Tamayo said. "I had to save them first."
Thanks for reading CBS NEWS.
Create your free account or log in
for more features.