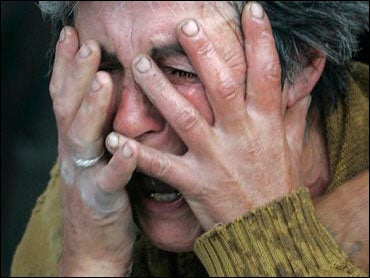 Bush Condemns Russia's Attack On Georgia
President George W. Bush on Monday sharply criticized Moscow's harsh military crackdown in the former Soviet republic of Georgia, saying the violence is unacceptable and Russia's response is disproportionate.
The United States is waging an all-out campaign to get Russia to halt its retaliation against Georgia for trying to take control of the breakaway province of South Ossetia.
Mr. Bush, in an interview with NBC Sports, said, "I've expressed my grave concern about the disproportionate response of Russia and that we strongly condemn the bombing outside of South Ossetia."
The president called the violence in Georgia "unacceptable."
He said he did so directly to Prime Minister Vladimir Putin, who is in Beijing with Mr. Bush for the Olympics, and by phone to Russian President Dmitri Medvedev.
"I was very firm with Vladimir Putin," said Mr. Bush. "Hopefully this will get resolved peacefully."
Georgian President Mikhail Saakashvili said Monday he had signed a cease-fire pledge proposed by envoys from the European Union. He signed the document together with French Foreign Minister Bernard Kouchner and his Finnish counterpart, Alexander Stubb.
Saakashvili said the EU mediators will head to Moscow later Monday to try to persuade Russia to accept the cease-fire.
While Georgia said its troops had retreated from South Ossetia and were honoring a cease-fire, Russia disputed the claim, and U.S. officials said Moscow was only expanding its blitz into new areas.
A Russian general issued an ultimatum to Georgian forces on Monday, insisting that troops near the other Georgian breakaway province of Abkhazia disarm or face Russian forces moving into Georgia.
Georgian Security Council chief Alexander Lomaia said Gen. Sergei Chaban in charge of Russian peacekeepers in Abkhazia conveyed the demand Monday through U.N. military observers in the area.
The Russian move would mark a major escalation in the Russian-Georgian conflict. With most Georgian troops concentrated in the east near South Ossetia, it could be hard for Georgia to repel a Russian offensive near Abkhazia, which lies further west on the Black Sea.
A senior general said Russia had no plans to move its troops from Georgia's two breakaway provinces into Georgian-controlled territory.
(AP/ESRI)

Deputy chief of General Staff Col. Gen. Anatoly Nogovitsyn said Russia did not intend to move deeper into Georgia. Georgian officials earlier reported Russian tanks moving from the breakaway province of South Ossetia into Georgian-controlled territory and heading toward the strategic city of Gori before being turned back.

Alex Rossi, of CBS News partner Sky News, told Early Show co-anchor Harry Smith that Gori was bombed early Friday, and that some civilian locations were hit.

Rossi said fighting around the capital city of South Ossetia had largely quieted Friday and that Russian troops appeared to be fully in control of the breakaway region, leaving Georgian forces to retreat and take up defensive positions.

A Russian general said Georgian forces directed heavy fire at positions around Tskhinvali, the capital of South Ossetia, early Monday even though Georgia had claimed to be withdrawing from the shattered city and called for a cease-fire.

"Active fighting has been going on in several zones," the Interfax news agency quoted Maj. Gen. Marat Kulakhmetov as saying. He is commander of the Russian peacekeeping contingent that has been in South Ossetia since 1992.

Russia also claimed to have sunk a Georgian boat that tried to attack Russian vessels in the Black Sea.

On Sunday, Vice President Dick Cheney told Georgia's pro-American president that "Russian aggression must not go unanswered, and that its continuation would have serious consequences for its relations with the United States," Cheney's office reported.

Cheney spoke Sunday afternoon with Saakashvili, Cheney press secretary Lee Ann McBride said. "The vice president expressed the United States' solidarity with the Georgian people and their democratically elected government in the face of this threat to Georgia's sovereignty and territorial integrity," McBride said.

Asked to explain Cheney's phrase "must not go unanswered," White House spokesman Gordon Johndroe said, "It means it must not stand." White House officials refused to indicate what recourse the United States might have if the attacks continue.

A Russian official said more than 2,000 people had been killed in South Ossetia since Friday; the figure could not be confirmed independently.

Hundreds of refugees from the fighting in South Ossetia sought shelter in Russia on Sunday. They are among thousands who fled the region, and in particular the capital city of Tskhinvali, in recent days as Georgian forces battled for control.

Asked about the possibility of sending the U.S. military or other aid to Georgia, Mr. Bush's deputy national security adviser Jim Jeffrey said, "right now, our focus is on working with both sides, with the Europeans and with a whole variety of international institutions and organizations to get the fighting to stop."

Levin, too, did not see the chance of U.S. military involvement, though he said the U.S. needs to make clear to Russia that its action "is way out of line."

American "military intervention here is unthinkable," Brookings Institution senior foreign policy fellow Michael O'Hannlon told The Early Show's Smith. "Russia is a nuclear state. They are very close to this region and we are very far away."

Georgia, whose troops have been trained by American soldiers, began an offensive to regain control over South Ossetia overnight Friday, launching heavy rocket and artillery fire and air strikes that pounded the provincial capital, Tskhinvali. In response, Russia launched overwhelming artillery shelling and air attacks on Georgian troops.

"We're alarmed by this entire situation, and every escalatory step is a further problem," Jeffrey told reporters.

"The Georgian gambit of trying to push the Russians out of its breakaway border territories seems to have had the opposite effect of consolidating Russian control," reported CBS News correspondent Mark Phillips. "It's still unclear whether this crisis can be contained with only the destruction and loss of life it has caused so far."

At the core of this conflict is Russian mistrust of Georgia's Western leanings and its desire to join the NATO military alliance, reported Phillips. Russia has long been wary of the alliance advancing toward its western border.

The U.S. military began flying 2,000 Georgian troops home from Iraq after Georgia recalled the soldiers following the outbreak of fighting with Russia. The decision was a timely payback for the former Soviet republic, which was the third-largest contributor of coalition forces in Iraq after the U.S. and Britain.

Putin criticized the U.S. on Monday for airlifting the Georgian troops, saying the move would hamper efforts to solve Russia's conflict with Georgia.
Thanks for reading CBS NEWS.
Create your free account or log in
for more features.