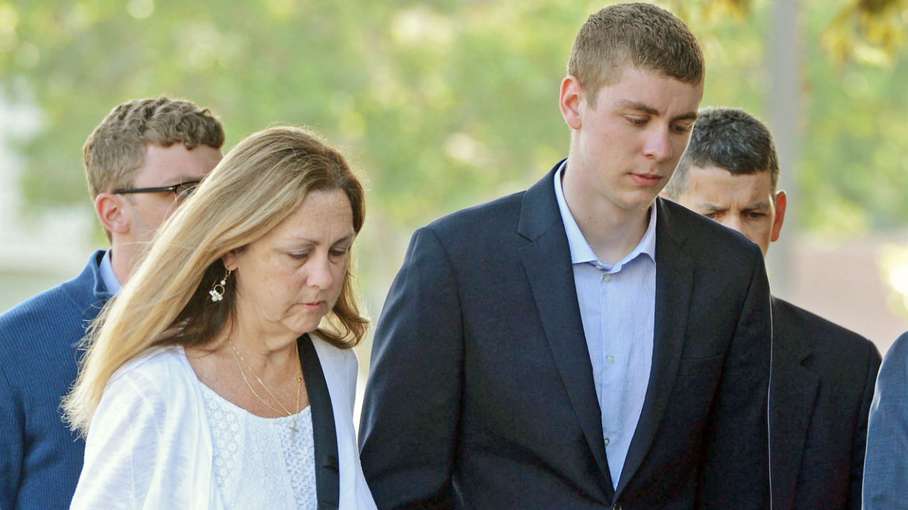 Brock Turner sentence causes emotions to run high in his hometown
OAKWOOD, Ohio -- Sadness over a hometown boy's fall. Anger at a perceived light sentence for a brutal crime. Disgust with an international spotlight.
Emotions are running high in this wealthy suburban town following intense scrutiny of a six-month sentence handed down to a former star student-athlete convicted of sexually assaulting an unconscious woman in California.
The case against Brock Turner -- a student athlete at Stanford University at the time of the assault -- has gripped people where he grew up and observers across the country, with letters to a judge from his family and friends drawing outrage from critics who say they are shifting blame from a 20-year-old man who won't take responsibility for his actions.
Ohio Attorney General Mike DeWine has joined the voices denouncing Turner's sentence.
Turner is likely to spend only three months in county jail and be released in September. The maximum sentence for the charges he was convicted of is 14 years in prison; prosecutors sought six years behind bars.
"If we think this is an isolated case, we're wrong," DeWine told CBS affiliate WHIO on Friday. "Every weekend, and sometimes during the week, there are parties with young kids with alcohol and things like this that are occurring."
"It makes no difference whether it's an athlete or some kid who is not in the spotlight," DeWine said. "The law is blind to that. The law has to treat them equally."
DeWine acknowledged he was not part of the case, but said media reports about the Turner trial concerns him.
"One of the many things that is bothersome is his (Brock Turner's) lack of taking responsibility," DeWine said. "I think that's one of the things that -- it's just an example of the cultural problem we have, where digital penetration is not considered by some to be rape. They're wrong, it is. It's an invasion of the victim."
DeWine said Ohio schools like Oakwood High School need to better teach consent. But he said the responsibility is not all on school districts -- it also falls to parents.
"I will tell you in most schools it's not (being discussed), and it needs to be," DeWine said. "Not only does it need to be discussed in schools, it needs to be discussed in homes."
A group of California lawmakers joined women's rights advocates Friday in urging a state agency to take action against the judge who sentenced Turner.
Eleven Democratic state lawmakers asked the Commission on Judicial Performance to investigate and discipline Santa Clara County Judge Aaron Persky, alleging he may have engaged in misconduct in sentencing Turner to jail time and three years' probation.
Persky said in court last week that he followed a recommendation from the county's probation department and cited Turner's clean criminal record, saying a long sentence would have a "severe impact" on Turner's life.
The unwanted attention is highlighting what some say are cracks in the idyllic image of Oakwood, Ohio, which some locals dubbed "The Dome."
The suburb of Dayton is known for a high standard of living with good schools and low crime rates. But some say that's a veneer for underlying social problems, now exposed by the wrongdoing of a once-favored son.
Many people who went to high school with Turner have supported him online, posting that he was a good kid and lamenting the fact that he wouldn't make it to the Olympics.
Backlash against those comments and others have made some people here nervous to speak publicly about Turner, his family or the town's reputation. A childhood friend and a high school guidance counselor later apologized for writing letters of support urging leniency.
Mark Otto, 19, was a grade behind Turner at Oakwood High School. While the two weren't friends, they shared some classes together.
"My school and my town are known for being quintessential and perfect and nothing bad ever happens and there is no crime," said Otto, who now lives in New York.
But troubles with alcohol and drugs were just beneath the surface, Otto said.
California prosecutors cited several examples of Turner using hard drugs and alcohol in high school and during his four months at Stanford. Text messages recovered from his cellphone showed Turner discussing using LSD and ecstasy and smoking marijuana and dabs of butane hash oil, known as "wax," according to court document.
According to court records, Turner texted a friend, saying he did acid. His friend boasts about "candyflippin," which is slang for taking LSD and the drug ecstasy together. "I gotta... try that. I heard it's awesome," Turner responded.
Kate Skardon also was in several of Turner's high school classes. She said she was shocked by news of the crime.
"I never saw a side of him that wasn't sweet and kind and funny," she said. "It makes you wonder about the people around you that you trust, what they're capable of."
The median household income in the city of about 9,000 is $100,724, more than double the average in Ohio. Per capita income in the overwhelmingly white suburb is also far higher than the state rate, and fewer than 4 in every 100 people here live in poverty.
Many of the older, well-kept homes of brick, stucco and wood run above $250,000, and taxes are high.
"The Dome" nickname is a nod to the high school student newspaper of the same name, and to Oakwood's nature as an enclave.
But some, like Elizabeth Huelsman, said the city has been unfairly portrayed.
"We are a broader community than the papers would lead you to believe. And our opinions on this issue vary as much," said Huelsman, 54, who has lived in Oakwood for almost 16 years.
"Please don't judge everyone in Oakwood by one person's behavior," she said Thursday.
State records show a top-ranked district with a high graduation rate. Eight of every 10 teachers have both bachelor's and master's degrees. The school's academic successes are displayed on banners around its campus.
Others acknowledge there's something to the criticism of a community where children grow up entitled and unaccustomed to want.
"There's kind of this emphasis on achievement and popularity -- and sort of external measures of happiness and success that I think can be really damaging to people," said Heather Neal, 38, a resident who teaches at a nearby community college.
Neal said she's bothered by the letters of support for Turner written by high school faculty and other community members. She said she and her two children -- a 14-year-old son, who will be a sophomore at Oakwood High School, and an 11-year-old daughter going into seventh grade -- read the letter from Turner's father and the statement from the victim to engage them about the controversy.
Turner's parents moved from Oakwood to a neighboring suburb about a year ago. A former neighbor in Oakwood refused to talk about the case, criticizing the media's coverage. A resident of nearby Dayton offered her critical impression of the community as her kids played in one of its parks, though later called to insist her comments be ignored out of fear her family could be ostracized.
Mindy Balster recently moved to Oakwood from a nearby town with her two children because of Oakwood's schools. Taking a break from a jog, she stood by her decision, calling Oakwood a good place to live and raise a family.
"I'm not deterred by it," she said of the controversy. "It could happen anywhere."
Thanks for reading CBS NEWS.
Create your free account or log in
for more features.