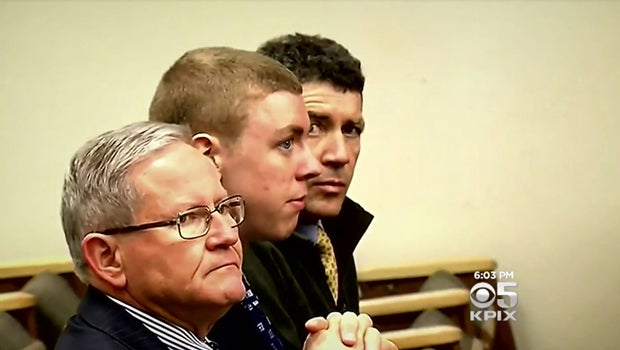 Sex assault victim to ex-Stanford swimmer: "Assault is not an accident"
PALO ALTO, Calif. -- A six-month jail term for a former Stanford University swimmer convicted of sexually assaulting an unconscious woman is being decried as a slap on the wrist.
A California judge sentenced Brock Turner to six months in county jail and three years' probation after the woman who was assaulted read the court an emotional statement that has gone viral.
Turner, 20, faced a maximum 14 years in state prison. Prosecutors had asked for a six-year term.
He is expected to serve three months with good behavior, CBS San Francisco station KPIX reported. Turner will also have to register as a sex offender for life and complete a sex offender management program.
The young woman Turner assaulted told the court she should not be viewed as "a drunk victim discarded behind a dumpster" nor should the scales of justice be tipped in favor of "the all-American swimmer."
"This is not a story of another drunk college hook­up with poor decision making. Assault is not an accident," the victim said, according to a complete transcript of the statement published by Buzzfeed and the San Jose Mercury News. "Somehow, you still don't get it. Somehow, you still sound confused."
She described how the attack left her "closed off, angry, self-deprecating, tired, irritable, empty."
"I pretended the whole thing wasn't real," she said, later adding in a direct address to Turner, "You bought me a ticket to a planet that I lived in by myself."
A light sentence, she said, would make a "mockery of the seriousness of his assaults." She said she has not been able to forgive Turner because he has not acknowledged that he sexually assaulted her.
"You have been convicted of violating me with malicious intent, and all you can admit to is consuming alcohol," the victim told Turner. "Do not talk about the sad way your life was upturned because alcohol made you do bad things. Figure out how to take responsibility for your own conduct."
Santa Clara County Superior Court Judge Aaron Persky said in handing down the punishment that a longer sentence would have a "severe impact" on Turner. Persky said he took into consideration Turner's age and the fact that he'd never been convicted of a serious crime before.
The case has become a flash point in what advocates have called an epidemic of violence against women on college campuses.
Turner, who dropped out of Stanford last year, appeared emotionless during the judge's sentencing in a Palo Alto courtroom. On March 30, a Santa Clara County jury found Turner guilty on three charges of sexual assault, KPIX reported at the time.
Despite his boyish looks, prosecutors have described Turner as the "quintessential face of campus sexual assault" and jurors agreed.
Turner, who had ambitions of competing in the 2016 Olympics, was accused of attempted sexual assault as well as the penetration of a woman who was either unconscious or too drunk to consent to sex.
The assault happened after a night of heavy drinking at a campus fraternity party.
KPIX reported in January that Turner admitted to sexually fondling the woman after consuming nine alcoholic drinks at an on-campus fraternity party on Jan. 18, 2015, but denied raping her, according to a report from the Santa Clara County Sheriff's Office.
The victim was not a Stanford student. She has not been publicly identified.
Police and prosecutors say the victim had three times the legal limit of alcohol in her system when the assault occurred - that she was blackout drunk and unable to agree to sex. Turner's blood-alcohol level was twice the legal limit.
Turner took the stand in his own defense and said he could walk and talk normally. He testified that the young woman agreed to go back to his dorm room.
He also claimed that she was a willing participant in the admittedly drunk sexual encounter that happened in the bushes outside the fraternity party.
The jury decided that Turner was involved in something far more criminal.
The Stanford Daily, the university's student newspaper, said Turner read a statement at Thursday's hearing in which he expressed remorse to the victim and her family.
"I can never forgive myself," he said. He said he hoped that his work in a high school program warning students about the dangers of alcohol would help him atone for his actions.
After the sentencing, District Attorney Jeff Rosen said the punishment did not fit the crime.
"This predator failed to take responsibility, failed to show remorse and failed to tell the truth," Rosen told KPIX.
Turner was immediately remanded into custody, but even his defense attorney acknowledged many people wouldn't be happy with the judge's decision.
"If my daughter was the victim of this, I'd be livid. I'd be furious," attorney Mike Armstrong told KPIX. "I'd be asking for a very serious punishment."
Thanks for reading CBS NEWS.
Create your free account or log in
for more features.