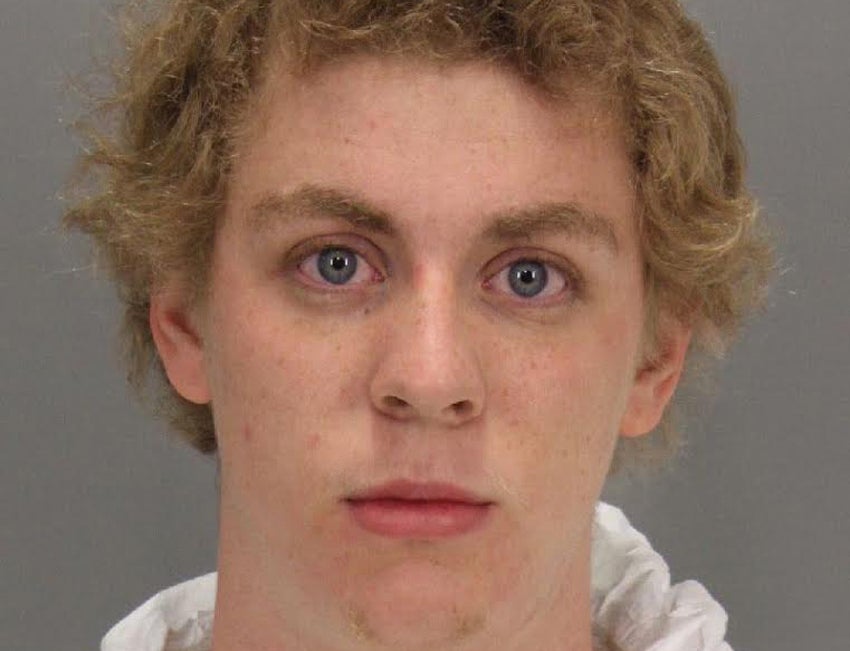 Brock Turner's supporters issue apologies over letters to judge
Two Ohio women who filed letters in support of a former Stanford University student-athlete convicted of sexually assaulting a woman as she lay unconscious behind a dumpster have issued apologies for their statements.
The apologies come after the six-month jail sentence of Olympic swimming hopeful Brock Turner, who agreed to leave the prestigious school rather than face possible expulsion, unleashed a fury.
Santa Clara County Judge Aaron Persky cited Turner's clean criminal record and the impact the conviction will have on his life. The outrage has lasted for days.
Before the sentencing, Persky received at least 39 letters from Turner's family and friends advocating for the 20-year-old. His sister wrote "a series of alcohol-fueled decisions ... will define him for the rest of his life."
Two of those letters came from Kelly Owens, a high school guidance counselor in Dayton, Ohio, and Turner's childhood friend Leslie Rasmussen, who lives in suburban Dayton.
In Owens' letter, she called Turner "a young man of character, integrity." She said that he "seeks opportunities to help others, and is absolutely undeserving of the outcome" in the sexual assault trial, the San Jose (California) Mercury News reported.
In her letter, Rasmussen blamed campus drinking culture and political correctness for Turner's inebriated life choices.
On Wednesday, CBS Dayton affiliate WHIO-TV reported that Owens apologized to her school district and said that she made a mistake.
"Of course he should be held accountable," Owens wrote. "I pray for the victim, her family and all those affected by this horrible event. I am truly sorry for the additional pain my statement has caused. I tell my students they have to be accountable, and Brock is no exception."
In a message posted to her Facebook page, Rasmussen apologized for not acknowledging "strongly enough the severity of Brock's crime and the suffering and pain that his victim endured."
"I fully understand the outrage over Brock's sentencing and my statement," Rasmussen wrote. "I can only say that I am committed to learning from this mistake. I am 20 years old, and it has never been more clear to me that I still have much to learn."
Rasmussen's apology came after critics took to Twitter, Facebook and other social streams to demand her indie rock band Good English, which includes her two sisters, be dumped from at least four gigs that included some in Brooklyn clubs hosting a small music festival called the Northside Festival.
On Tuesday, Rasmussen posted a long statement to Facebook explaining the one submitted into the court record in California two months ago.
"Unfortunately, due to the overzealous nature of social media and the lack of confidence and privacy in which my letter to the judge was held, I am now thrust into the public eye to defend my position on this matter in the court of public opinion," the statement said.
It continued: "Now, my choices to defer college to write and play music, to finally introduce 10 years of hard work to a national audience while working consistently and intentionally on my own personal and professional integrity, has led to an uproar of judgment and hatred unleashed on me, my band and my family."
Rasmussen's statement mattered little to David Kyrejko, co-founder of Industry City Distillery, one of the Brooklyn venues that canceled Good English as soon as the world figured out Rasmussen was in the band and playing there.
Industry City and other venues, along with the promoters of Northside Festival and the festival itself, have been dealing with outraged New Yorkers over Rasmussen's remarks. None immediately returned calls and emails seeking additional comment beyond what they have posted online.
Industry City was to host a number of artists, not just Good English, on June 11.
"Then this whole situation started to unfold and we immediately contacted the producers of the event and demanded that they be removed from the lineup," Kyrejko said Wednesday. "We found out through fans. We were made aware of it Tuesday, almost instantaneously. Our response was that Good English was removed from the roster."
Why? And what of Rasmussen's right to free expression?
"It's pretty simple in my opinion," Kyrejko added. "The support of rape culture is not tolerated. That's why we removed them from our roster. I think she can do whatever she wants, but if you're going to preach that, you're not welcome in our venue. The show will go on. It's going to be a great show."
Thanks for reading CBS NEWS.
Create your free account or log in
for more features.